Entertainment
Maggie Geha Dating To Get Married? Her Cozy Love With Boyfriend Reflects
Some celebrities prefer to tone down their voice when it comes to opening up about their dating affairs, but, there are some who choose the opposite path as well.
One such celebrity to choose that opposite path is the model and actress, Maggie Geha, who loves to vaunt her romantic connection with her boyfriend and has been sharing her cozy love affair through social media.
The couple shares a great bond which has raised quite a lot of curiosities among the fans. All her fans are keen to know when the lovebirds will be taking their relationship to the next level. Well, if you do too, just keep reading!
Maggie Geha Dating To Get Married?
Maggie Geha is currently dating Daniel Joseph Campbell. The couple has not officially spoken about their relationship in any of the interviews; however, they have tagged each other as boyfriend and girlfriend on many of their social media posts.
Geha first introduced her boyfriend Daniel to her fans and followers by sharing a group selfie on her Instagram in March 2017.
Well, it is not sure whether they were dating at that point, but it seems that they were flaunting their relationship to the next level. Likewise, Daniel also started sharing pictures with Geha on his Instagram from May 2017.
Since then, the couple has been sharing their pictures together on Instagram and Twitter.
Back in July 2017, Daniel shared a picture with Geha on Instagram from their visit to Oak Steakhouse Nashville.
Geha also posted the same picture on her Instagram but after a couple of weeks in July 2017.
Similarly, a couple of months later, Daniel shared a picture on his Instagram with Geha with a beautiful fountain behind them, where he admires Geha in the caption.
Likewise, Geha also took her feelings on Twitter, where she was seen complementing her boyfriend Daniel on his birthday. She wished him on his birthday stating 'I love you' with a heart emoji.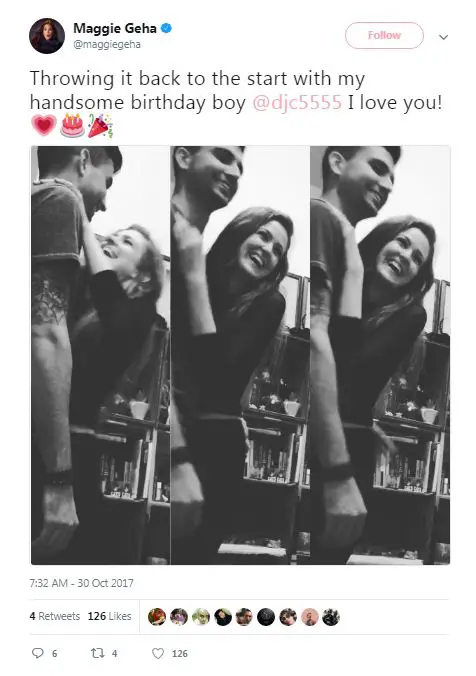 Caption: Geha wishes her boyfriend, Daniel on his birthday (Geha's Twitter)
It is for sure that the couple is enjoying beautiful dating affair and are likely to take their relationship a step ahead. Nevertheless, the couple hasn't spoken anything about getting married and their wedding plans in any of their interviews or social media.
Maggie Geha's Short WiKi Like Bio
Born in 1988 in Boston, Massachusetts, Maggie Geha lives in New York City (NYC). She attended high school in Vermont and then attended college in Newport, Rhode Island. Later, she studied theatre focusing on performance at Marymount Manhattan College.
Geha gained her first professional acting credit in 2011 in the short film 'Taxi Cab Terranga' as Cate. Likewise, she was also the cast in a modeling photo shoot for Lincoln Motor Company. Besides that, she also became 'Miss Vermont USA' in 2004.
Despite her various working credits, Geha is better known for her roles in 'Ted 2' and 'Winter's Tale.' Moreover, she portrayed the role of adult poison Ivy in the US television series 'Gotham' and continues to portray that character.
Think we're missing something? Do let us know in the comment section below!