Entertainment
Manuela Testolini's Wiki: Her Bio, Ethnicity, Married Life With Late Musician Prince, Her Present Husband and Much More
Finding your true love is not that easy. There is one in a million chances when you can find a perfect companion for you on a first try. The founder of In a Perfect World Foundation Manuela Testolini knows that well, as she also found her Mr. Right after a failed marriage.
Manuela Testolini (age 40) is a Canadian businesswoman, who first grabbed the media attention as the wife of late legendary musician Prince. Today, let us stroll around Manuela to know her better.
Manuela Testolini's Married Life:
Manuela Testolini has been married twice. After a failed marital relation with the musician Prince Rogers Nelson better known as Prince, she got married to Eric Benét in the year 2011. Testolini met Eric for the first time in 2006 at a charity event in Los Angeles and got married after dating for five long years.
The pair now lives blissfully with their three children, India Benét (born 1991), Lucia Bella (born on December 21, 2011) and Amoura Luna ( born on July 13, 2014).
India is Eric's daughter from his ex-girlfriend Tami Marie Stauff, who died in an automobile accident on April 24, 1993. Before tying the knot with Testolini, Eric was married to actress Halle Berry.
Their daughter Amoura Luna was born shortly before their third wedding anniversary in July. They also shared the news about the birth of their baby daughter on Instagram.
Born with mixed ethnicity, Testolini is blessed enough to have R&B singer Eric Benét as her husband, as he loves her to the moon and back. In the year 2015, on the occasion of Valentine's Day, Eric surprised his wife by setting up a family photo shoot, as he wanted to give his wife a family picture.
Caption: Manuela Testolini with her husband Eric Benét and three beautiful daughters posing for a family photo on Feb 14, 2015.
Photo Credit: E! News
Background Of Her Relationship With Prince:
The Canadian businesswoman Manuela Testolini married Prince on Christmas Day in 2001. They fell in love after Testolini worked as a consultant for Prince's charity, Love 4 One Another.
After being bound in a marital relationship for around five years, Testolini got separated with Prince in 2006. Their divorce was granted in 2007. Her ex-husband Prince died of a painkiller overdose in April 2016, at the age of fifty-seven.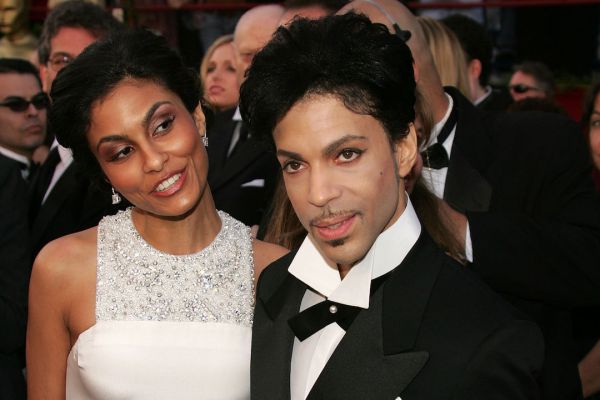 Caption: Manuela Testolini and Prince at the 77th Annual Academy Awards.
Photo Credit: The Boombox
In an interview with E! News in April 2016, Testolini opened up about her relationship with her ex-husband and how he helped her to achieve a certain height of success.
She revealed that she was close with Prince, even though their marriage couldn't last long. Testolini said-
"Prince and I had a magical journey together and I loved him immensely. The world knew him as a musical genius - I knew him as a husband, friend and fierce philanthropist. Philanthropy brought us together and it was Prince who encouraged me to start my own charity over 10 years ago."
She added-
"I just reached out to him a few days ago to let him know that I was building a school in his honor. My heart aches that the school will now be built in his memory."
Testolini also said that she was heartbroken because of the untimely death of Prince. She explained-
"His passing leaves me with such a devastating feeling of pain and loss. The love we shared, the music he made and our life together is forever engraved in my heart. I will always love and respect him. I am heartbroken beyond words."
According to Manuela Testolini's wiki and bio, she is a founder of In a Perfect World Foundation, a philanthropic organization. Likewise, she is also a founder of the designer candle company known as Gamillah.
Stay with us for the emerging updates on Manuela Testolini!