Entertainment
Maria Victoria Henao After Husband's Death? What Was His Real Cause Of Death?
Maria Victoria Henao, who is well recognized as the wife of the notorious drug lord Pablo Escobar, enjoyed a vast amount of wealth with his husband's income. But on the other hand, Maria and her kids also had to live their lives in terror and fear because of her husband's involvement in the crime.
After her husband's death in 1993, Maria and her children again had to face numerous struggles and feared for their safety.
So what actually happened to Maria and her children after her husband's death in 1993? We reveal about her life post-Pablo and also investigate the mysterious death of Escobar.
Maria Victoria Henao: Life After Death of Husband
Maria got married to Pablo in 1976 when she was at the age of 15. Together they shared two children, Juan Pablo, and Manuella. Despite Pablo's life in the vice, he was a family man, and he made sure that his family remained safe and tried to relocate Maria and kids to Germany and Mozambique, but were denied asylum by both the countries.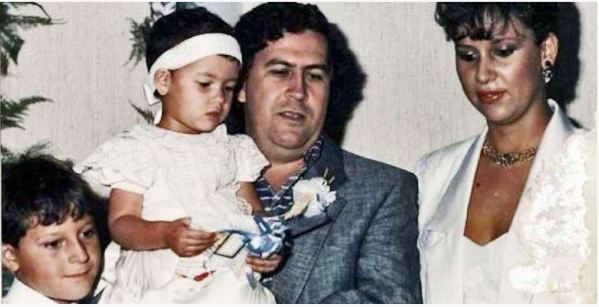 Maria Henao with her husband Pablo Escobar and kids (Photo:heightline.com)
A year after Pablo's death, they were granted entry to Argentina after Colombian government changed their identity.
Maria became María Isabel Santos Caballero while her children adopted the surname Marroquin.The family lived a low-key life in Argentina for five years, but their whereabouts were leaked in 1999. After the public identified them, Maria and Juan Pablo were arrested in charge of money laundering by the Argentinian government.
Ultimately after 15 months of time in jail, she was released, and the charges against her were dropped, citing the lack of evidence.
After serving her time in jail, Maria is living in a mysterious place in Buenos Aires as she was awarded naturalized citizenship from the Argentinian government in 2010.
Who killed Pablo Escobar?
Pablo Escobar, the most wanted criminal, was killed in the early hours of 2 December 1993. There are several theories about who killed him, but none can be entirely believed nor ignored.
Colombian soldiers with dead body of Pablo Escobar (Photo: businessinsider.com)
The first theory claims Pablo to have been killed by the Colombian police along with Drug Enforcement Authority and CIA. Similarly, there are those who believe Los Pepes, the rival gang that had a long-running feud with Escobar, killed him.
However, his son claims that his father's death cause was suicide. In his book Pablo Escobar: My Father released in 2014, he claimed that his father had told him that he did not want to be captured and tortured, so would commit suicide in case he was about to be cornered.
He further added that his father would shoot himself in the right ear while committing suicide. And incidentally, he was shot in the torso, chest and right ear when he was found dead.