Entertainment
Mariah Lynn Allegedly Calls Out To Ex-Boyfriend; Feeling Dating Vibes Again?
Mariah Lynn has always been open when it comes to her love life. The rapper and star of the VH1's reality show Love & Hip Hop: New York has had her fair share of relationships in the past. Maria, 27, who started her rapping career during early teenage years has been linked to names like Rich Dollaz, Cisco Rosado, and James R., although none of those relations lasted long.
Moreover, Mariah, who's always been a controversy queen, has managed to steal the spotlight again, trying to reach out to one of her ex-boyfriends. Today, let us take a glance at what the Once Upon a Time singer did and how her ex-beau responded to the situation.
Mariah Lynn's Recent News and Dating Status
Mariah showed her satirical side to the world when she posted a tweet along with a GIF where she joked about running over an ex. The tweet reads,
Me after running my boyfriend over because I saw him in a #ROMPHIM
The tweet was initially perceived humorous, but when her ex-boyfriend singer James R. disclosed that she was desperately trying to get back with him, Mariah's fans became convinced that she was insecure and vulnerable. Talking about his chance of getting back with Mariah, James said,
"She's still reaching out, but James R has moved on. He wants a baby who gone listen."
James further added,
"She's just hard headed. James R. feels he has no much to offer, and someone else is going to make me feel like the king that I am."
Maria and James' romance had surfaced on the Love & Hip Hop: New York and ended after James cheated on her with Sophiya Body while working for his music video of Bad Girl. Things got worse when James confessed that he had terrific chemistry with Sophiya, which led to Mariah starting a fight with Sophiya during the shooting of the music video.
Even after rejection from James, Mariah's singlehood didn't last long as she was rumored to be dating again, this time with her L&HH co-star Prince. Prince who was earlier dumped by his girlfriend Liz was supposed to be in a relationship with Mariah after she wrote on Instagram, " Every prince needs a princess" along with a photo of her and Prince from the Love & Hip Hop: Miami. She later deleted the picture, but it could not hide from the gazing eye of the reporters.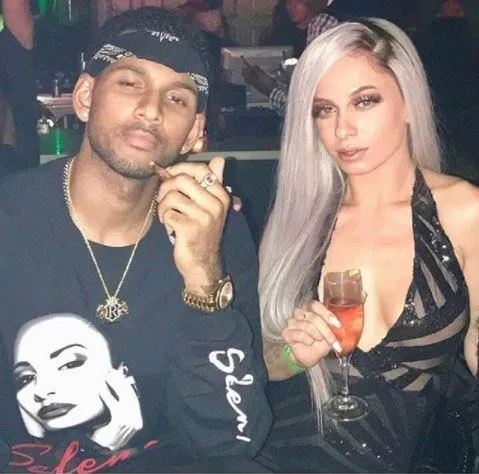 Mariah with her rumored boyfriend Prince (Photo: Mariah Lynn's Instagram)
The theories of their dating never got confirmed as neither of the stars came forth to speak about their alleged relationship.
For now, Mariah is focussing her time on her family. On 22nd February, Mariah posted a tweet where she talked about how she's been busy with work and now wants to take care of her parents and sister. She wrote,
Thank you love they show what they have time for babe, a lot goes into filming, more than people may think. maybe in the future I will decide to show more of how I take care of my baby sister or how dedicated I am to my family and how much I sacrifice everyday
Well, good for Maria that she appreciates her family's love and reciprocates the same back to them.
Meanwhile, it's just about time that the beautiful diva of Puerto Rican and Italian ethnicity will find a loyal boyfriend who's going to treat her like a princess and love her as her family does.