Entertainment
Marzia Bisognin & PewDiePie Relationship Sets New Dating & Net Worth Goals 'Combined'
Marzia Bisognin, one of the highly popular Italian Youtuber, has grabbed many fans for herself through her YouTube channel named Marzia. While in the process of discussing fashion in her vlogs, Mariza has also found love while climbing the height of success on this platform.
Indeed, she has found the man of her dreams and is now relishing the relationship that they share together. This internet power couple has set some new couple goals for their fans to adulate.
Dating Goals, Rumored Marriage
Marzia Bisognin, who also helps her viewers speak Italian, has been romantically involved with a fellow YouTuber, who goes by the name of PewDiePie. Marzia's boyfriend goes by the real name Flex Kjellberg, who already boasts over $63 million subscribers.
Marzia first met Flex online when one of her friends recommended her to watch the "idiot playing video games" on YouTube. In turn, she was really amazed and enjoyed PewDiePie's video thoroughly. Later Marzia sent Flex a message sharing how much she enjoyed the video, which became the initial point of their romance.
The pair officially started dating in 2011 and even appeared together in their collaborated videos. In 2013, the couple was rumored to be getting married and having a baby together.
Don't Miss: Wedding Insight! Paul Khoury & Wife Ashley Greene Get Married To Melt Your Heart
The rumors were finally cleared by Marzia as she tweeted on November 2013 saying that the couple was not taking marriage vows any time sooner nor were they expecting a baby. She clearly denied the rumors.
Instead, the couple is going strong with their dating life and even moved in together. While the couple lived miles apart from each other, Flex moved to Italy to be with his love. As of now, they share a home together along with their two pugs, Maya and Edgar.
Adding to their live-in relationship, the couple has been sharing love along with collaborating in their videos. They even voiced in an animated Halloween series in which they starred the carton version of their two pugs, Maya and Edgar.
Well, they do seem to be a team working together with each other while loving each other dearly at the same time. It seems like the next thing they well collaborate together would be while planning their wedding as now they have been engaged.
Finally Engaged To Boyfriend-Turned-Fiance
While dodging off her previous wedding rumors, the engagement and soon to be wedding ceremony is no any rumor. Indeed, Marzia is engaged with her long-time boyfriend Flex aka PewDiePie.
See Also: Elsa Patton In 2018! Near Death Situation & Plastic Surgery That Didn't Go Well
Flex finally got down on one knee and presented Marzia with an engagement ring and asked her to marry him. The news of their engagement quickly circulated in the media as Mariza posted the happy news on her Instagram
Mariza, who has a net worth of $2 million, posted a picture of her showing off her engagement ring while Flex planted a kiss on her cheek. She captioned the picture saying,
"Felix proposed!! ❤️"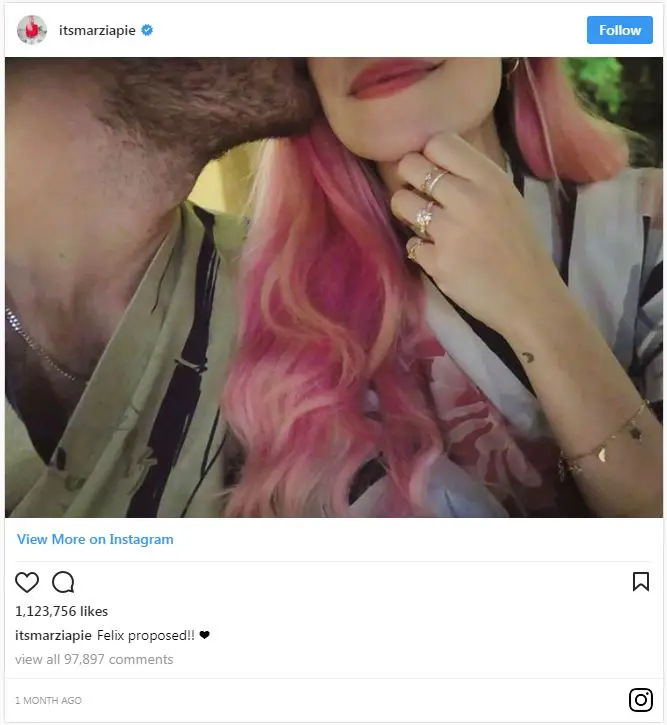 Marzia showing off her engagement ring (Photo: Marzia Bisognin's Instagram)
Well, the couple had their engagement in April 2018 and it seems like they are looking forward to tying the nuptial knot having a family soon. However, there has not been any official news regarding the matter.
Hints Upcoming Wedding?
With the engagement and upcoming wedding on the way, Marzia recently addressed insights on her wedding through a video on YouTube in which she took an online quiz revealing her preferences for marriage.
During the quiz, she divulged how he prefers to have her tasteful and timeless themed big day. On the quiz, Mariza chooses to have a candlelight dinner at a sunset for her honeymoon choice.
Adding to it, she revealed that her special date night would be something unique like a paintball or a pottery class. She even disclosed that she looks forward to having her wedding reception at a botanical garden. As for her wedding dress, she would like better to have a long sleeved dress but bit out of the box for the ceremony.
Read Also: Stephanie Weber Age 29, & Fiancé Parker Young Welcomes Baby Girl 'Jaxon', Bundle Of Joy!​​​​​​​
Turns out the couple has finally taken their wedding seriously and has begun with contacting different venues. While the wedding dates are not out yet, the video only raised expectations from her fans.