Entertainment
Matt Di Angelo Is All Loved Up With New Girlfriend; Has A Whirlwind Of Dating Affair Hanging In Past
The presence of a love mate in your life means a lot and the support of your love partner leads you to find strength in life. Moreover, all of a sudden, you feel like things are never going to go the other way in your life. Sharing the same feeling is "EastEnders" actor Matt Di Angelo, who is seen head over heels in love with his new dating partner and girlfriend.
So let us take a look at their love relationship and also address the previous dating affairs of the actor.
Di Angelo's Love Relationship With His Girlfriend:
Di Angelo is a handsome man, and he surely has lacked no female attention in his life. But sorry ladies, he is not single as he has his beautiful girlfriend to support through this life.
Di Angelo and his girlfriend Sophia Perry are all loved up and are adorable together. Although they are yet to reveal the exact time of the initiation of their relationship, they have not been hiding their love from the fans and the media.
Di Angelo famously shared a shot of Sophia over on Instagram where the beauty was standing in a pool in a peach colored bikini as she showed off her toned tummy and a bronzed glow.
But it was not the first time Matt shared their photo on social sites. He shared a post back in days when they were set to attend a wedding together as well.
Moreover, the star actor has been very active about his love relationship with Perry as we see him post pictures with her on a frequent basis.
Moreover, the fans often wonder if this couple is going to take their relationship to the next level and get married. Well, thus far, the pair has not revealed anything about sharing a husband-wife relationship with each other, which is why we might need to wait and see if the couple tells anything exciting about their relationship.
But Matt has played a married man on screen and has gushed about it on his Instagram as well.
Di Angelo's Past Love Affairs:
Di Angelo is quite the ladies man. Before Perry, he was once in mad love with his "Strictly Come Dancing" partner Flavia Cacace.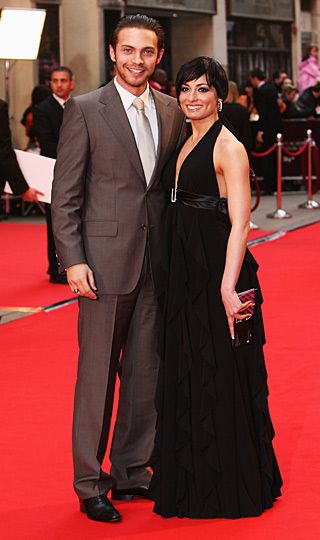 Caption: Matt Di Angelo fancied Flavia Cacace back in 2007.
Photo Credit: whosdatedwho.com
Opening up to The Dailymail back in 2008, he said,
"When I'm with her I have a stupid, schoolboy grin that says, 'I think you're amazing',"

"I love her little pixie ears, her chic short hair, her transfixing smile. And that body, that six pack. She's stupidly attractive. Every guy in Britain knows it.
He also added,
"She looks drop-dead gorgeous in her dancing outfits. But to me, she's just as amazing when her face is scrubbed clean of make up and she's wearing baggy tracksuit bottoms."
Matt further exclaimed,
"When dancing sometimes we had to look like we wanted to rip each other's clothes off. I wasn't sure what was real and what wasn't.

"It wasn't until the final I realised I fancied her. We were together from 8am till 3am and because she was so excited, she looked extra beautiful.

"When I saw her in the Mrs Santa Claus outfit, I knew I'd fallen for her."
However, he never spoke and confirmed is his fantasy turned into reality and if he got to date Flavia.
But in 2008, Di Angelo was then linked with singer Michelle Heaton. Moreover, Michelle was accused of cheating on her then-husband Andy Scott-Lee with Matt. But the singer herself denied the fact and said that she did not sleep with Matt or was unfaithful towards her then-husband.
'I didn't sleep with Matt,'

'The only thing I did wrong was find him attractive and cute – which woman wouldn't – and as a married woman I shouldn't have been thinking this.

'Nothing happened, we met in Ireland, got on really well and that was it.'
Michelle also added that the friendship between her and Matt was ruined because of that.
She said,
'[He] won't even talk to me anymore,'

'I rang Andy after I saw the story, saying that he was out of order for blaming Matt.

'But nothing happened because Matt was completely mad about Flavia.'
However, Matt and his connection with women do suggest one thing that he is not a gay!
But that is just a rough assumption from our end as he is yet to speak on his sexuality. But dating a woman now kind of eliminates those rumors and proves that he is indeed straight.
Stay with us to stay updated with the personal life of Matt Di Angelo!