Entertainment
Meet Maya Wiley Loving Family With Husband; Age & Parents Info
Serving as Counsel to the Mayor of the city of New York between 2014 and 2016, renowned social justice and equity expert, Maya Wiley advocated for sweeping changes by expanding affordable broadband access across New York, advocating for human & gender equity, and stressing on the effectiveness of the City's support for women/minority-owned businesses.
Now, the Henry Cohen Professor of Urban Policy & Management at The New School Milano School of International Affairs, Management & Urban Policy, the D.C. native - when she isn't fighting for a more significant common cause at large - appears keen on enjoying the fruits of motherhood.
While doing so, she hopes to pass down the wisdom that her parents had instilled in her to her daughters. Along with her husband-like partner, Maya wishes to live up to her family name all the while fostering strong relationships with people in her life.
Shares Daughters With Husband-Like "Life Partner"; Relationships Strong As Ever
Maya, age 54, is easily one of the most revered racial justice and equity experts, working not only in the greater New York City Area but the whole of America.
Listed as 100 Most Influential People in New York City by State Magazine for two consecutive years in 2014 and 2015, she also chairs the New York City Civilian Complaint Review Board (CCRB), an independent oversight agency for the City's Police Department.
Explore:- Is Dawn Staley Married? Relationships & Sexuality - Finally Discussed
Given her ranking in the New York society, it's only right that the mother of the two daughters - Naja, age 18, and Kai, age 15 - attracts husband prospects with an equally impressive background. Her daughters' father & her "life partner" is just that.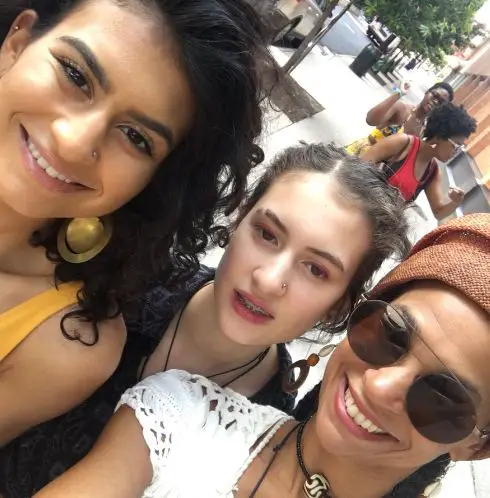 Maya Wiley (left) and her daughters, Naja (right) and Kai (middle) smile for a selfie circa August 2018 (Photo:- Maya Wiley's Twitter)
Maya's rumored husband, Harlan Mandel is a respected name in the world of finance. Presently the CEO of Media Development Investment Fund(MDIF), Harlan is a business lawyer by profession and holds a law degree from Columbia University Law of School.
As scarce as the information about her previous relationships are, the civil rights activist seems to have found a husband-like-partner in Harlan. With her longtime lover's backing, she continues to raise their two daughters on the values imparted on her by her family.
For her daughters' part, they don't seem excited about Maya's grey hair and often ask her to dye it -- a fact she happily divulged in a March 2019 interview with The New York Times.
From Advantaged Family; Parents Instill Social Warrior Genes In Her
Maya's war against social injustices and racism runs deep!
Equally Inspirational Family:- Who Are Erinn Westbrook Age 27, Parents & Siblings? Explicit Details
Daughter to civil rights icon George A. Wiley & a white mother, her parents' passion - more or less - shaped her formative years. She often credits her family's long struggle with race-related politics for sprouting progressive ideologies in her.
Although her parents never battled financial woes, they would often spend a large chunk of time surrounded by people on welfare. In a 2014 interview with Politico, she explained,
"We were not a disadvantaged family. And yet I spent much of my childhood in a really low-income neighborhood in an inner-city school and with parents who were fighting very hard [in] the intersection of race and poverty in America.. "
Safe to say, she hasn't let her parents down with her activism, and neither has her brother. In a way, she gave continuity to the family legacy by founding the Center for Social Institution.
Her other notable contributions include working for the Open Society Foundation in the U.S. and South Africa, the NAACP Legal Defense & Educational Fund, Inc., the American Civil Liberties Union and U.S. Attorney's Office for the Southern District of New York.
Life As TV Pundit & Commencement Speaker
Since August 2018, Maya has been working as NBC News contributor as well as MSNBC News' in-house legal analyst. At her network gig, she describes her look as "boho meets B.A.P."
Other MSNBC Personality:- Maria Teresa Kumar Age 44 Bio Reveals Husband Identity & Family Status
A graduate of Dartmouth College in Psychology, the mother of two earned her law degree from Columbia University School of Law in 1989.
On 24th May 2019, Maya addressed The Sage Colleges' Class of 2019 at its 102nd Commencement. At the time of the announcement, the President of Sage Colleges Christopher Ames hoped that her speech would bridge the gap in the divisive American society.