Entertainment
Model Ali Michael Dating With English Boyfriend: What About Her Affair With Marcel?
Today, we have a story about a celeb whose fans have been unhappy. Her fans think that she should mend her broken relationship with her ex- boyfriend.
Will you get surprised if I said the boy in the above picture is Ali Michael's new boyfriend? Yes, American fashion model Ali Michael, 26, has now moved ahead in her life. Ali is currently dating English model Jack Belgrove, whom she has mentioned as English boyfriend on one of her Instagram post.
Caption: Ali's new boyfriend Jack, who was previously dating English journalist and television presenter Billie JD Porter.
Some photos of Ali and Jack Together:
Google Family Portrait:
Ali's Ex- Boyfriend: American/Canadian Photographer and Model Marcel
Ali and Jack look cute together, don't they? But if you had seen the previous pair of Ali and Marcel, her ex-boyfriend, then you would surely argue.
Ali and Marcel Castenmiller, 30, were one of the most loved couples. They were often seen working and spending time together.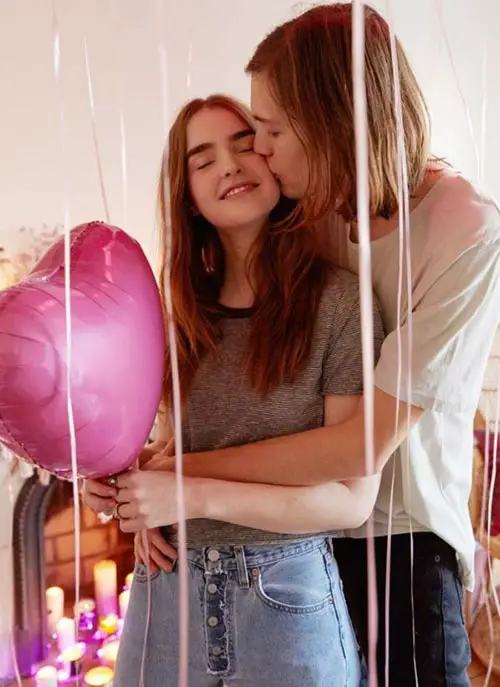 Caption: ALI MICHAEL & Marcel Castenmiller POSE FOR URBAN OUTFITTERS' VALENTINE'S DAY SHOOT, 2015
Source: notey.com
How did Ali and Marcel Meet?
Ali revealed in a 2014 interview about how she followed Marcel after being impressed by his Instagram pictures. She said,
"Yes, well so I had a fake account, the name of which I cannot reveal. My friend and I had started this fake account so we could secretly follow people, or people where it would be creepy if they knew we were following them."
After applying the trick to follow Marcel, Ali managed to meet him in an event. She learned from one of Marcel's friend that he is coming to the event, and she didn't miss to go there. She told,
"So then there was this event at the Bowery and my friend invited me and I went because I heard his friend — and probably he — was going to be there. So of course I went."
Ali used to claim that she was thankful to have found him. All those workings and quality time they spend together were the most beautiful part of her life some time ago. She had told,
"No, not at all! But it's been so cool. We've done some awesome stuff together and, with working together, it's like: we want to hang out anyway."
But unfortunately, later the harmonious relation between Ali and Marcel ended. The split did not only affect them but all her fans who had adored their relationship more than anything.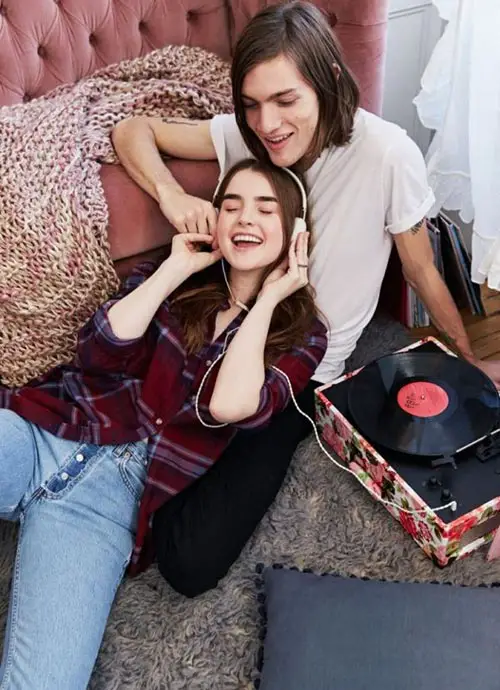 Caption: Ali and Marcel listening music together. They are no longer together.
Source: notey.com
Fans reactions
Here we have some of the tweets from their fans who expressed disappointment post their break up.
@alimichael 's new bf looks like diiv aka sky's omg.. ALSO WTH HAPPENED TO ALI AND MARCEL?!! ????????????????????

— ali (@alimayfury) November 6, 2015
ok but at this point if @alimichael and marcel ever breakup, Urban Outfitters will have no choice but to go full throttle hara-kiri

— Paris_Bot (@brattyppatty) February 6, 2015
Ali's Short Bio:
Born on May 15, 1990, Alexandra Nicole Michael (known as Ali Michael) is a fashion model. She grew up in Colleyville.
She joined the profession at the age of 15 after winning the Fashion!Dallas/Kim Dawson Model Search contest. Ali completed her graduation from Grapevine High School in May 2008. Then, she moved to New York to continue her modeling career.