NBA shooting guard, Monta Ellis was the go-to man when it came to scoring for the Golden States between 2005 to 2012.
The former Milwaukee Bucks and Dallas Mavericks shooter - who made his transition to the Indiana Pacers in 2015 - was named as the best-improved player in the 2005-06 season. Following consistent performances, he became a crucial figure in the Pacers' lineup in the 2015 NBA season.
Married Status
Apart from his sporting career, Monta Ellis is a responsible father to two children; son Monta Ellis Jr. and daughter Myla Jai Ellis. He is also a loving husband to wife, Juanika Amos.
The duo crossed paths for the first time in 2009. After dating for a year, the pair got married in 2010. The husband and wife were living a beautiful life with their family when Monta was accused of questionable behavior in 2011.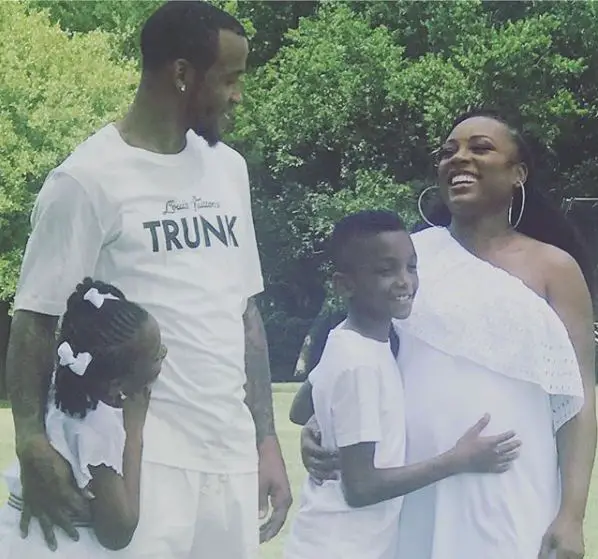 Monta Ellis with pregnant wife Juanika, son Monta Ellis Jr. and daughter Myla Jai Ellis in May 2019 (Photo: Monta Ellis' Instagram)
A Golden State Warriors employee filed a sexual harassment lawsuit against the shooting guard, accusing him of sending explicit messages several times a day. However, the trial was rendered off with no conclusive evidence, and Monta was declared innocent.
As of now, Monta and his wife Juanika are happily spending quality time together and expecting a third child soon. The delivery date, meanwhile, is not revealed by the athlete.
Net Worth, Salary
Playing the bulk of his career for the Golden State Warriors, Monta Ellis skipped the college basketball career and was directly drafted into the NBA.
For a player who came out as Mr. Basketball USA from high school in 2005, it was a great challenge to compete in the taunting NBA league. But, the highly skillful youngster adapted very well and became the go-to man for the Warriors for several seasons.
NBA 2019 Champion:- Fred VanVleet Wife, Son, Parents, Net Worth
During his early time at the Golden States, he received a salary of $770,610 for the 2005-06 season. However, after establishing himself as a regular in the first team list, his salary went through the roof. He signed a hefty $11 million contract for six years.
As of now, his total net worth amounts $31 million.
Bio & Now
Monta Ellis was born on 26 October 1985 in Jackson, Mississippi to a proud single mother Rosa and two brothers in a family of three.
As a teenager, he took inspiration from his older brother Antwain Ellis, who was the best basketball player in the neighborhood. Watching his brother play, Monta gained the skill set required to play against big players.
Oldest NBA Rookie:- Andre Ingram Wife, Family, Net Worth, Salary
His above-average height of 6 feet 3 inches (1.92m) and weight of 83kgs helped him gain the upper hand against his opponents. He played high school basketball for the Lanier High School where he averaged a staggering 45 points per game. Then, he was drafted for the Warriors, and the rest is history.
The point guard has also embedded tattoos in his body, honoring his basketball career. As of now, the 33-year-old is eyeing a return to the court following a regular season, which saw the Golden State Warriors wave the player goodbye.