Very few people get happiness by marrying their soul mate, but it is even fewer who can do it after making a mistake on choosing the correct partner. For Star Jones, she got lucky to have found love after a wrong decision. Know more about her personal life, weight loss and more here.
Star Jones is a well-known celebrity, but she has had her share of problems. Learn about her past problems with a dreadful marriage and weight gain to how she found happiness afterward. Also, where is her ex-husband now? Who is her current boyfriend?
Her Marriage and Ex-Husband:
For those of you who has not known about her wedding, she had married Al Reynolds on November 13, 2004. They had a very grand wedding as well which featured 500 hundred guests, 3 matrons of honors, 12 bridesmaids, and 4 flower girls. But only after 3 and half years of marriage, Star filed for divorce against Al on March of 2008.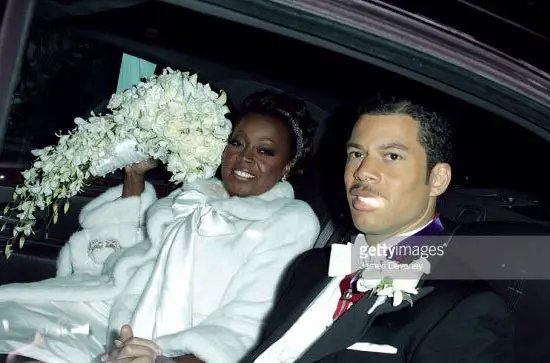 Caption: Star Jones and Al Reynolds during their Wedding Ceremony in 2004
Source: gettyimages.com
When asked for her thoughts on an interview she gave to huffingtonpost.com on 2011, she simply mentioned
"Several years ago I made an error in judgment by inviting the media into the most intimate area of my life,"
But one of her friends was bolder enough to share her statement in the same interview, she said;
"Al was never there for Star," "He hasn't made any money in the last three years. He has been living off of her.
Her husband, Al also clarified himself in a statement published on people.com on 2008 in his 'MySpace' page writing his side of the story. He had also written,
"What I want people to know is that I am not the caricature portrayed by the media."
He said ending his post with
"So ... Please don't try to define me; don't try to categorize me; and most of all, don't label me. Instead, JUST GET TO KNOW ME. And if you see me, just call me Al."
Where is Al now?
If you are wondering where he is now, then we are not sure. His interview with 'essence.com' in 2009 revealed that he was a Professor at the Florida Memorial University. He also laid to waste of his false image as a freeloader and gay rumors in that interview.
Her Boyfriend and Dating?
She is presently dating her new boyfriend, Herb Wilson. You can see them in the twitter post above posted by basketball player Grant Hill with the singer, Tamia. They were spotted together since 2008. There has been no news about their break-up so we can suppose that the two are still dating. They were spotted together just last year on the beach when Star was seen in a much fuller figure compared to the time she talked about her weight loss after a gastric bypass surgery in 2012.
Caption: Star Jones on her weight loss at the Wendy Williams show in 2012.
Star Jones' Short Bio:
Starlet Marie Jones was born on March 24, 1962, in Badin, North Carolina, US. She graduated from American University with a Bachelors Degree in Law and a JD degree from University of Houston Law Centre. She has an amazing net worth estimated at being about 18.5 million dollars.
She is presently keeping busy as the writer and producer for the TV series 'Daytime Divas' releasing in 2017. She has appeared as a co-host for the show, 'The View' since 1997 till 2016. She has also appeared in the documentary, 'Unsung Hollywood' in 2016.
#American lawyer
#journalist
#writer
#television personality
#fashion designer
---