Entertainment
Musician Daniel Johns: Is He Dating Someone? If So, Who is His Girlfriend?
If you know musician Daniel Johns, one of the 25 most under-rated guitarists in the world then you must have wondered about his personal life. Well being the musician who has rocked all over Australia, he must have many female fans. But who is he dating or does he have a long-time girlfriend.
He is currently dating Estelita Huijer, a fashion blogger, and designer. They have been together since 2012, but the musician was first spotted with this beauty back only in May of 2013 when he returned to Surry Hills after celebrating his 34th birthday. Even so, the name of his girlfriend wasn't revealed then. However, aAfter dating for just 2 years, Johns said 'Me and my girlfriend have a thing where neither of us can sleep in silence' in an article published by dailymail on May 2015 which the beauty he was spotted with was Estelita herself. Daniel had also shared his photo with his girlfriend a year and a half ago.
Caption: Daniel with his girlfriend Estelita Huijer
There is not much about his new girlfriend. However, when scrolling down her Instagram account, we discovered that she is interested in clothing and posts quite a lot of racy pics.
Despite the fact that the couple seems to be happy with each other, there have been a lot of rumors about their relationship coming to an end. Another article published by 'dailymail' on 24 July 2016 reported Johns being spotted with a mystery brunette girl who sparked, even more, rumors.
His Girlfriends and Dating History?
The actor was previously involved with a former model girlfriend, Louise Van De Vorst from June 2008 to April 2012. The couple had met after crossing paths, and a mutual friend introduced them to each other. Later after 4 years of relationship together, it was reported that the musician had broken it off. Louise later got engaged to the musician and actor Jaime Robbie Reyne in 2015.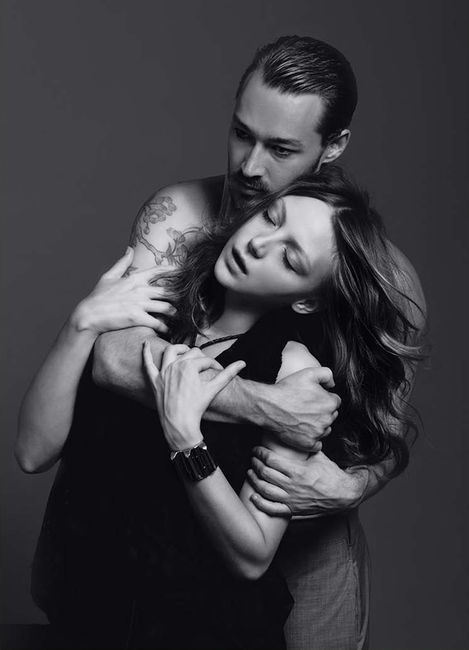 Caption: Daniel Johns and Louise Van Der Vorst in a photo-shoot For Russh Magazine
Source: imgfave.com
Married in the Past: Wife?
But before all this as well, the 'Silverchair' band member was married to Natalie Imbruglia, an Australian-British singer-songwriter, model, and actress, so he is surely not gay. They had met for the first time in 1999 and after dating for 4 years, they married on New Year's Eve of 2003. Their marriage also lasted only 5 years, and they split due to the pressure of their work in January 2008.
The couple released a joint statement regarding their divorce stating,-
"While we are very sad that our marriage has ended, we want to make it clear that our parting is amicable and we remain friends. This mutual decision has not been taken lightly or quickly. However, our career demands and our lives in different parts of the world have brought us to the point where unfortunately this difficult decision was necessary for both of us. We have simply grown apart through not being able to spend enough time together. We have issued this statement to set the record straight and to eliminate any need for speculation. We will not be making any further public statements whatsoever in regard to this very private matter and politely ask that people respect our sincere wishes in this regard."
Caption: Natalie Imbruglia talks about her engagement with Daniel Johns in a video posted on 2007.
Daniel Johns's Short Bio:
Daniel Johns was born on 22nd April 1979 in Newcastle, New South Wales, Australia. He grew up in Merewether even though he attended and graduated from the Newcastle High School in 1998. He formed a band when at a very young age of 12 with with members Ben Gillies and Chris Joannou the same cast behind his present band 'Silverchair' which is currently inactive.
Besides being a musician, he is also an actor and writer. In 1998, he was seen in a movie named "Slugs" and in Vietnam War Story (TV Series) in 1987
He has an absolutely amazing net worth estimated to be around 20 million dollars. Recently, 'the music.com' reported on August 26 that he would be collaborating with Luke Steele to make some futuristic songs. Besides, He has participated to sing some songs cartoon series, 'Beat Bugs' this year.