Entertainment
Olivia Attwood Age 27 Wiki: From 'Bloody Tall' Height To Boyfriend & Dating Of love Island Star
English reality star Olivia Attwood rose to fame after entering into the reality show, Love Island. She also secured the third position on the show with her love-companion Chris Hughes.
While reality shows are becoming her claim to fame, the reality star derives her multiple romance from the show itself. Engaged in the romantic relationship with multiple fellow contestants, Love Island's star could not sustain as she had another fellow waiting for her outside the show.
Why don't you follow down the famous model turned reality star's wiki!
Dating On Love Island; "Romance For Fame And Money"
The reality star, Olivia Attwood, whose family hails from England, is dating her ex-boyfriend, Mike Thalassitis. Well, like a normal lovebird, the couple has been through many break up and patch-ups.
Previously, Olivia, age 26, posted a tweet writing in a now-deleted post, "Ok I tried." Following this, the couple unfollowed each other on social networking sites. Also before getting to the show Love Island, she shared some romantic moment of her life with her ex-boyfriend. She stated:
"I've had roses bought for me, or going to a hotel where the guy's been in before you get there to dress the room. I've had an ex boyfriend take me to the airport and upgrade my ticket. I quite like those old fashioned romantic gestures.
Following this, after her split from her boyfriend of four or five years, she was heart-broken. She stated:
"Yes my ex boyfriend. We were together for four or five years and he ended it, which came totally out of the blue. I was devastated. Then he did change his mind and try to get me back but I was done then. I don't think he'd watch me on this show – he'd find it too hard. I wouldn't get back with him, it's done."
After enrolling in the show of singleton Love Island, she had to pair up with Marcel Somerville after she did not step forward for a single guy and he was not picked up by any girl.
Also, she shared an awkward romance with Sam Gowland, she fell in love with another fellow island companion Chris Hughes. They were so close to each other that Olivia also admitted having slept with his dirty boxers while the boys were out.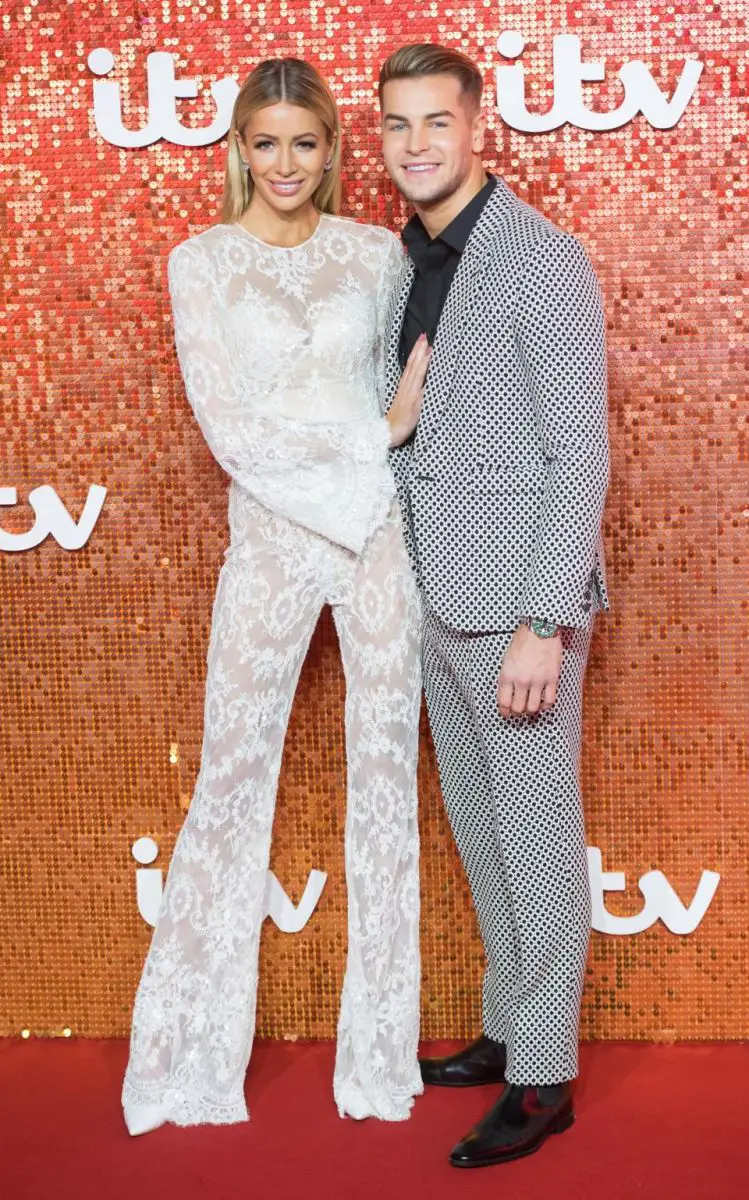 Olivia Attwood with Chris Hughes (Photo: thesun.co.uk)
Following their stay on the show, Olivia also ditched Chris for another contestant, Muggy Mike and again went back to Chris again before the couple came third on the finale.
Also, the rumors hit on social media and viewers speculated that the blonde brunette was with Chris and she was using the show to earn a height of fame and money - and actually had a guy waiting for her on the outside.
The couple had a very rocky relationship after coming third on the show. Also, Chris Hughes called their relationship quit after she partied with her ex-boyfriend at Faces nightclub in August 2018. The couple's breakup was captured on camera for their TV series, Chris and Olivia: Crackin' On.
LIke the viewers had made speculation about her another boyfriend waiting for her, the news about her reunion also came after Olivia split with her Love Island boyfriend, Chris Hughes after six months together.
"Dating Two Guys At Same Time"; New Boyfriend Out From Reality Show
Chris Hughes also claimed that his ex-girlfriend Olivia was playing the double game as she was dating him and Bradley Dack at the same time. And in April 2018, she came public with her relationship with her ex-boyfriend Bradley Dack. The fans had speculated about their reunion after they were spotted enjoying a spa weekend together on a night out and on a shopping.
As their reunion had already been known, Bradley shared the first sparkle of their relationship on the social media, where the couple appeared to be cozied up with Olivia's arm around Chris.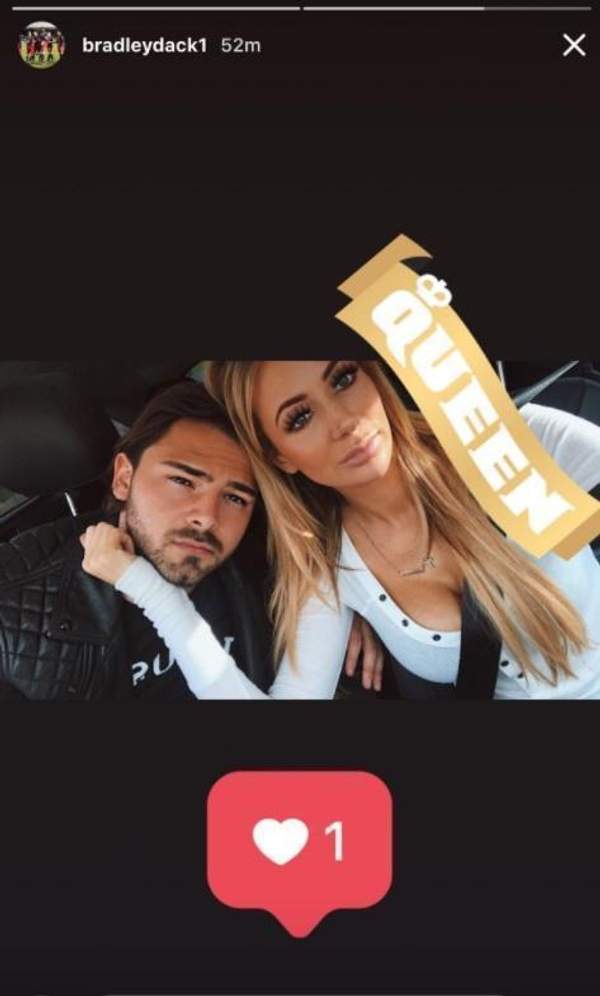 Olivia Attwood with boyfriend, Bradley Dack (Photo: Bradley Dack's Instagram)
Similarly, she also reportedly took her fellow contestant of the Love Island, Amber Davies to watch her boyfriend's team Blackburn Rovers playing football. Also, she appeared to have inked Bradley's shirt number on her arm which she shared on the Instagram video.
However, Olivia still claims that they are not officially on 27 April 2018. She said:
"Brad and I are still seeing how things go, and there still isn't an official label on us at the moment. I wouldn't move right now – I'm really happy with where I live, and I couldn't live somewhere quiet!
On the other hand, after labeling her relationship not official, she claimed that she wanted to be her relationship more serious. She claimed:
"We're seeing each other. It's going well. Bradley makes me really happy, I lost my identity with Chris but I feel like I'm getting it back now. I'm hopeful that it'll turn into something more serious, but I'm hesitant to put a label on it at the moment."
Well, also a model, she seems to have thought to start a family with her ex-boyfriend as she wanted the relationship to turn into a serious one.