Entertainment
Openly Gay Jillian Michaels Has Children; Will She Get Married To Her Partner Now?
Different people have different preferences in life. Some want to get recognized by their personal life and some just put up their professional life.
Talking about Jillian Michael, she is very familiar among people, due to her private and working life both. She has been parenting her children with her partner of years but what about getting married? Let's find out more about her relationship and whether her partner of years is a soon-to-be wife or not, in our story today.
Jillian is parenting two Children with her Girlfriend:
The fitness guru Jillian Michaels has been with her partner Heidi Rhoades for several years. For now, they also share two sons. Heidi Rhoades gave birth to a son, Phoenix Michaels Rhoades on May of 2012 and the same week they adopted then two years old daughter, Lukensia Michaels Rhoades from Haiti.
As of now, both mothers are enjoying their parenthood and are seen going in several outings with their children. Talking about her kids, Jillian said,
"Seeing my two kids together is a magical feeling. Motherhood changes your DNA. My kids are now an integral part of who I am.'
Further, Rhoades added,
"It's not the way we had planned it! But that's how our life works. It's always big. It could never be something like one child at a time."
That was about some chemistry that Jillian's family shares.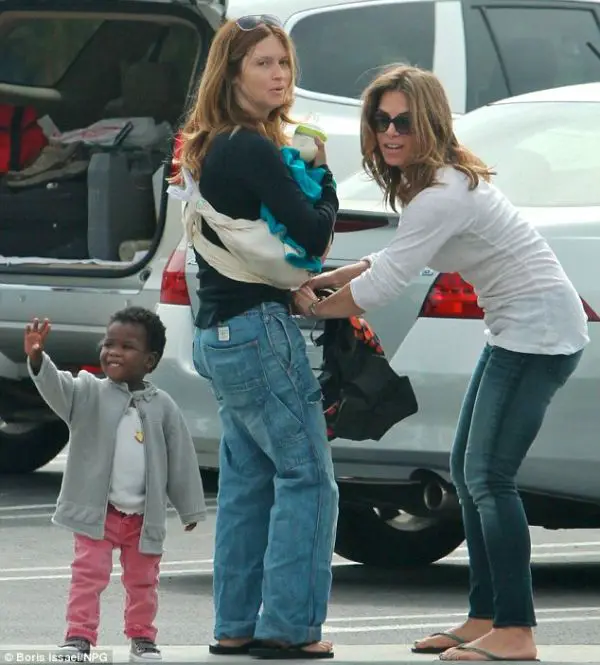 Caption: Jillian Michaels and Heidi Rhoades went on an outing with their children (2012).
Photo Credit: dailymail.co.uk
And they do make a great family.
Jillian is already Engaged:
Talking about their relation, as reported, they have been dating for three years before Jillian revealed she was gay in 2011. Further talking about their relationship, what we have known is Jillian Michaels a top-notch when it comes to keeping secret about her private life.
That might be the reason, not much is known about the couple, but undoubtedly we are very much familiar that the duo made their relationship official after getting engaged on March 2016.
Caption: A heart-warming proposal by Jillian Michaels for her longtime girlfriend, Heidi Rhoades (March 8, 2016).
After all, Jillian did that on national TV on her show "Just Jillian." And the proposal was undoubtedly heart-warming and also very thoughtful. Jullian played a montage, and at the end of the video, her family carries a board which reads "Will You Marry Me?." Before revealing the engagement ring, Jullian said,
"I know I'm an a–hole all the time, but if you'll continue to put up with me, I would like you to marry me,"
She continued,
"Heidi is the perfect person for me. The only place where there's like a solace…a safe-haven is with my family and Heidi is the nucleus of that family. She's the glue that really holds everything together and I think without that, I would be lost."
Now that is very cute and beautiful, right?
As of now, no vocal is heard from the couple about their marriage. But probably both of them will tie the knot and make us familiar with the happening news.
We just like to wish the couple a happy married life ahead.