Entertainment
Peter Kraus' Bachelorette Journey Ended? Came Out Without a Dating Affair and A Girlfriend-Why?
As fascinating as the concept of going down on knees and putting forth the ring proposing the person of your dream appears to be; the commitment that needs to go along with the proposal might require a proper thought being vested, and that my friend isn't that fascinating.
Perhaps not necessarily the people in love would be ready for the commitment to be made and it's understandable, as not committing sounds better than making one and breaking it later.
The Bachelorette contestant Peter Kraus, despite being in love, came out of the show without an affair resulted by some commitment issues. But what was the reason behind him holding back for taking further his love for his girlfriend, Rachel Lindsay?
With the trainer-cum-reality star being photographed with another Bachelor Alum recently, has Peter finally matured enough to settle down? Let's take a closer peek at the matter to find out!
Split From Bachelorette Girlfriend Following Startling Confession
The Bachelorette's then couple, Peter Kraus and Rachel Lindsay had their initial bond as strong and as beautiful as it could be. Everything was going fine between the two; both were seemingly in love with one another, and they were very vocal about it.
Don't Miss:- Lydia McLaughlin Age 37 Wiki Reveals Parents & Hefty Net Worth In Detail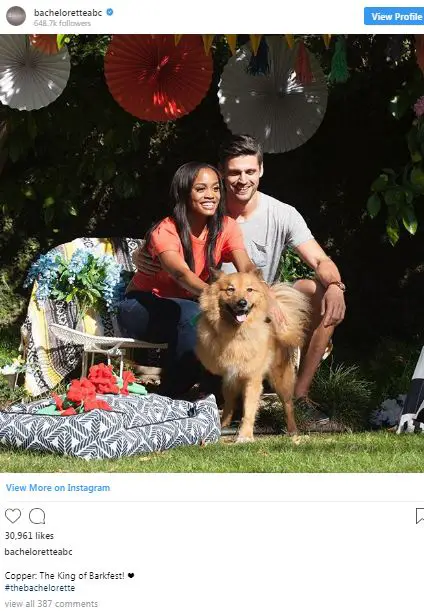 Peter and his Bachelorette love interest Rachel (Photo:;- The Bachelorette's Instagram)
Talking about the perfect connection he and Rachel shared from the get-go, Peter said,
"I feel like we've had a good connection since the very start, With Rachel's it's an instant connection — I mean it's not hard to connect with someone who's that intelligent, sophisticated, adventurous, outgoing, all that. She's really all those things you kind of look for in a partner, so it was easy to fall for her real quick."
Admitting to the fact about Peter, Rachel as well stated,
"Peter was someone who sparked my interest from the beginning,"
He even expressed his feelings that involved Rachels presence giving hopes to their relationship,
"She was holding my hand and putting her head on my shoulder. It reminded me that the feelings that we had originally are still there. So it gave me very high hopes."
Moreover, after dating one another for quite some time and Peter having met Rachel's family, he confessed,
'You do mean the world to me…I am falling in love with you, I'm not ready to lose Rachel."

But sadly, things started falling apart!
Interesting:- Meet Troy Delmege Age 36 On & Off Girlfriend | Dating Again After Split?
The 31-year-old lawyer from Dallas, Rachel wanted Peter to commit to proposing her at the end of the show, to which he was reluctant. Rachel even put forward an ultimatum over the dinner, claiming Peter that she didn't 'just want a boyfriend.'
Replying to Rachel's ultimatum, Peter sadly said,
'I don't know where to go from here, to be honest,'
Afterward, Rachel made a heartbreaking statement,
"For the first time I'm thinking Peter and I may not work out,"
The Bachelorettes' duo, Peter Kraus, and Rachel Lindsay's cute looking chemistry shattered to pieces after that!
The fans of the show were leaning towards their duo to come out as a couple. Even the star of the former season of Bachelorette, Ali Fedotowsky predicted the same in an interview a week before the finale, where she mentioned Peter had the chance of winning,
"At first I was so sure it was Eric, and then I was like: 'No, it's definitely Peter, Now, I mean, I'm still kind of set on Peter, just because he's getting the edit of being unsure. I feel like he's getting that unsure edit to throw us off, and it's going to be him in the end. She's just so into him, you can tell!"
However, their relation split just on the base of the commitment not being made and Rachel finally ended up being together with Bryan Abasolo.
Discover:- MSNBC Ari Melber Dating Status After Split With Wife, Who Is New Girlfriend?
Dating Now: A New Girlfriend In Picture For Bachelorette Star?
Following the immense success of season 13 of The Bachelorette and recognizing the popularity of Peter among the female demographic, the execs at the Bachelor franchise had touted the 33-year-old Wisconsin native to star as the lead in the then-upcoming season of The Bachelor.
Despite the massive fanfare, Peter decline to participate in the show. He would eventually be replaced by Arie Luyedyk Jr. Had Peter not declined the offer, he would have met his present rumored girlfriend Bibiana Julian.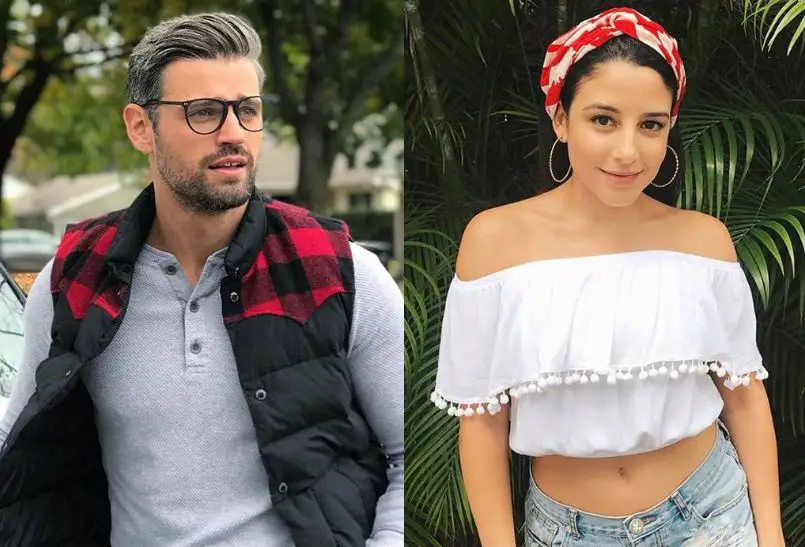 Peter and his rumored girlfriend Bibiana become latest Bachelor contestants to spark romance (Photo:- EOnline.com)
But as fate would have it, the rumored pair were able to spark an off-screen romance. Peter and Bibiana fueled dating rumors as they were photographed attending a Miami Heat game on 3rd December 2018.
No sooner, a source close to the lovebirds confirmed the dating rumors in an interview with the E! News. The yet-to-be-identified source said:-
"Peter and Bibiana have been friends for a while now through the Bachelor franchise, but most recently started hanging out alone. There is definitely a romantic connection there and they are casually dating."
The news of Peter and his rumored girlfriend Bibiana romance had come little less than a week after the latter was pictured kissing pro-wrestler Nikki Bella in a "steamy" Total Bellas trailer.
Read Also:- Pete Davidson Dating Months After Painful Ariana Split, Who Is New Girlfriend
Peter Kraus' Wiki Unveils Age & More
Model turned reality star, Peter Kraus, who made a name for himself with his connection with Rachel Lindsay on the 13th season of The Bachelorette, was born on March 19, 1985, in Wisconsin and is 33 years of age.
Before making his reality debut, Peter worked as a personal trainer and owned the fitness business. Kraus is also a graduate of Madison Area Technical College in 2010 with an associates degree in dietetics.
Although not much of his personal life information is out, the public is aware of the fact that he has a brother, niece and a nephew.