Entertainment
Pregnant Jillian Harris, Has Not Married Yet!, Gave Birth to Baby Boy With Her Fiance
The most beautiful feeling for a woman is when she knows that she is carrying a life inside her. And with the every passing month the wait and eagerness to hold the baby in your hand, feel longer than, it is in reality.
The host of "Love It or List It," Jillian Harris has waited patiently to become a mother and knew this feeling very well. And today she is a mother her baby son with her fiance. So, let's dig in to find out more.
Pregnancy Announcement:
Jillian Harris' pregnancy was reported on March 5, 2016, and Jillian shared her pregnancy with fiance Justin Pasutto through her blog post too. On her blog, she shared that finding out about her pregnancy has been the happiest moment of her life and expressing her happiness she said,
"In late 2015, right before my 36 birthday, we 'practiced for baby' … and got lucky; we found out 12 days BEFORE my 36th birthday. HAPPY BIRTHDAY TO ME!!!"
It's not only Jillian but her fiance Justin was equally excited for the arrival of their baby, and he shared his happiness through Instagram on March 4, 2016, along with a beautiful caption,
'So everyone has been waiting and waiting and waiting and frankly I'm tired of everyone telling me to lock it up... I mean if you know Jill she will loose the ring. So I came up with the best invention ever for the love of my life. A little baby miracle in her tummy, Words can't express how lucky and blessed we feel to introduce a new life into ours and that our wish has finally come true. @nachocilantro, on the other hand, isn't quite sure what that means for him but he's excited too."
Jillian's excitement on becoming a mother was evident in her Instagram posts. And one of the beautiful moment was when she shared that she was16 weeks pregnant with a baby bump through Instagram on March 8, 2016.
Jillian Harris and Justin Pasutto's Baby Bliss!
After patiently waiting for months, Jillian gave birth to a healthy baby boy at Kelowna, British Columbia on August 5, 2016, at 6:02 a.m. Their son Leo was born healthy and weigh six lbs., 12 oz. at birth. She confirmed the news to PEOPLE exclusively.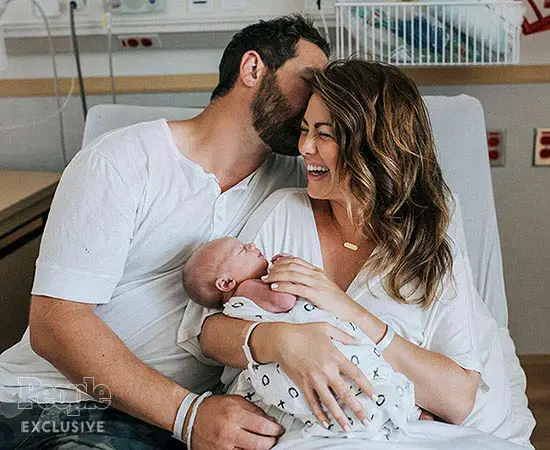 Caption: Jillian Harris and Justin Pasutto with their newly born son, Leo (5th Aug 2016).
Photo Credit: People
And Jillian even shared the first photo of baby Leo, followed by another photo, with her son and her fiance Justin through Instagram on August 7, 2016.
Jillian Harris' Relationship Status?
Jillian was previously engaged to Ed Swiderski, who is now married to Natalie Bomke while Jillian and Justin aren't husband and wife yet.
But when they were boyfriend and girlfriend, they got to share the joy of being parents, the most amazing feeling for two people who love each other.
Along with the joy of being parents, Jillian and Justin have another reason to celebrate as they are engaged now. And Jillian announced her engagement to her longtime boyfriend Justin through an Instagram post on December 25, 2016. Along with a beautiful caption,
Well THAT was SOME Christmas morning!!!!! OH MY GOD my heart cannot handle this much LOVE!@slipperygoose you've made me the HAPPIEST girl in the world.
In life, if you experience love then you experience criticisms too, and Jillian life is no different as she had experienced criticism regarding her plastic surgery.
Tackling the Criticism
Jillian is no stranger to criticism. She knew how to deal with them when the story of her plastic surgery came out. So, to tackle the criticism about her pregnancy was like a walk in a park for her.
Caption: Jillian Harris before and after surgery (published in Jan 2015).
Source: ca.hellomagazine.com
In an interview with Hello Magazine in January 2015, she revealed that after people had bullied her about her appearance online, she felt pressure to get plastic surgery.
"Some people are mean. I've found the best way to cope with this is to just feel sorry for them. Think about it...how many emotionally wonderful people will jump onto the old world wide web and lash out at someone they have never met? Not many."
She added,
"So if someone says your [sic] fat, have a hot dog nose (yes this happened, and yes I got a nose job because of it) choose the route of empathy instead of anger."
That's the way you deal with your haters Jillian.
Jillian Harris' New Show "Jillian & Justin"
The new show of Jillian Harris and her fiance, Justin Pasutto titled "Jillian & Justin" debuted on Wednesday on June 21, 2017, at 10 pm in the channel W. The show gave a sneak peak into her life and talking about the same, in an interview in June 2017, Jillian said,
"is a really crazy roller-coaster ride through the last year of our life."
Moreover, Justin added and said,
"What the show touches on the most is whatever our life kind of threw in front of the camera,"
Born on December 30, 1979, in Peace River, Alberta, Canada, Jillian Harris is a Canadian television personality and an interior decorator. She was a contestant on the Bachelor and finished in the third place. She was later chosen to be the Bachelorette, for its fifth season. She currently appears on Love It or List It and runs a fashion blog.