Entertainment
Race Actor Stephan James Reveals His World Hero; Who Can It Be?
Only a few stars get an opportunity to do biopic movie of great leaders and sportsperson. Amongst them, actor Stephan James is one of the luckiest stars, who got a chance to play the role of a great leader Martin Luther King and athlete Jesse Owens.
Despite grabbing the biopic opportunity the actor is still craving to act like his favourite world hero and is vehemently searching for the chance. So, for now, let's find out who is the hero that James is in love with followed by his dating mystery.
The Race Actor's Mystery Hero; Another Leader Or Athlete?
Having given an opportunity to portray the famous athlete runner Jesse Ownes, actor Stephan James confessed the runner to be his hero and described him as the personality more prominent than the American figure.
Influential African-American Figure:- Race Matters' Author Cornel West Wife Rift; Education, Net Worth & Facts
But while getting hold of a famous runner athlete, Jesse Owens in the movie "Race,"(2016) James revealed his wealthy experience on how he had trained himself to fit in the role and how he precisely delivered the same body language produced by Owens on his legendary game of winning six gold medal at the 1936 Summer Olympics in Berlin, Germany.
On an interview with the People, James further clarified about his intense training and how he looked upon Owens. He said,
"I had to program my body and mind to a very particular style of running, so I had to make sure I was paying attention to the details in how he ran, how he started, how he finished and what his face looked like. J If you asked me to sprint, I'd probably sprint a little bit like him just because I'm so used to running like him."
The movie also landed the actor with ample of fame and showered with more videos on his doorstep. But despite working on several biopics, James disclosed about his hidden desire of wanting to work as a superhero more than any periodic films or black movies. He mentioned,
"I can't say I've plotted out the next five years or anything like that, I'm looking forward to reading great scripts and telling great stories. I'm not partial to any one thing I don't just do historical films, I don't just do black films, period pieces, I want to be able to tell a plethora of stories in different genres whether it's sci-fi, different thrillers, action films. I want to play a superhero one day, those are the things I think about and just having the opportunity to be able to play characters."
Well, though the actor has enacted in several biopic movies, he sincerely wants to play the role of a superhero encompassing different genre. Hopefully, he'll be a part of a film sequel to the Batman returns four or the return of Superman.
Relationship With Co-Stars & Gay Rumors
In the year 2016, when talking about his character in the movie "Race", the actor revealed about not dating anyone seriously but disclosed about having fun on and off followed by the qualities he desires in his girlfriend to a source when asked about his dating profile, he said:
"Honestly, I'm only 22, so I've just been focusing on my work. That's the most important thing to me at this point in time. So yeah. I'm obviously having fun and ... yeah that's about it. Someone smart, independent, somebody who doesn't need me, and somebody who's accomplished and has goals."
Besides his dating spree, the actor did not disclose any details with whom he was dating, so there remained a dilemma if he was dating a woman or was gay?
Celeb Facing Similar Rumor:- Roma Maffia Bio, Husband, Gay, Family
While there seemed to be hidden shared chemistry between his on-screen co-actress Sanna Lathan of the Shots Fired(2017). The speculation rose when he uploaded a picture with co-star captioning it as "Love and Sundance Festival" which was shot at the recent Sundance Festival 2017.
Followingly, Sanna shared a beautiful quote of slipping into intimacy without the knowledge via her Instagram, which might be an expression of love towards the star on the occasion of Valentine's Day.
The rumor never got addressed yet, but they might have shared an unknown relationship which they wanted to keep with themselves and enjoy it privately. Maybe with a caption and intimated love quote there existed confined chemistry.
But at present, James is neither married nor has a wife but he seems to have found a perfect partner.
Girlfriend Talks: Is Stephan Finally Dating?
2018 was a big year for Stephan; some would even argue that it was his breakout year.
Portraying the lead role of "Fonny" in the critically acclaimed If Beale Street Could Talk and then as Walter Cruz in the series Homecoming, he managed to truly solidify himself as one of the most exciting talents in Hollywood in 2018.
His professional success seemingly spilled over to his romantic life as well. Rumor has it, Stephan is currently dating a relatively unknown woman by the name of Kaila Dickson.
He and his rumored girlfriend were all over each other during their appearance at the 2019 WSJ, Magazine Talents and Legends Dinner Honoring Lucas Hedges at Mr. Chow in Beverly Hills on 28th January 2019.
New Romance In 2019:- Larry Caputo Dating Again After Divorce, Who Is New Girlfriend?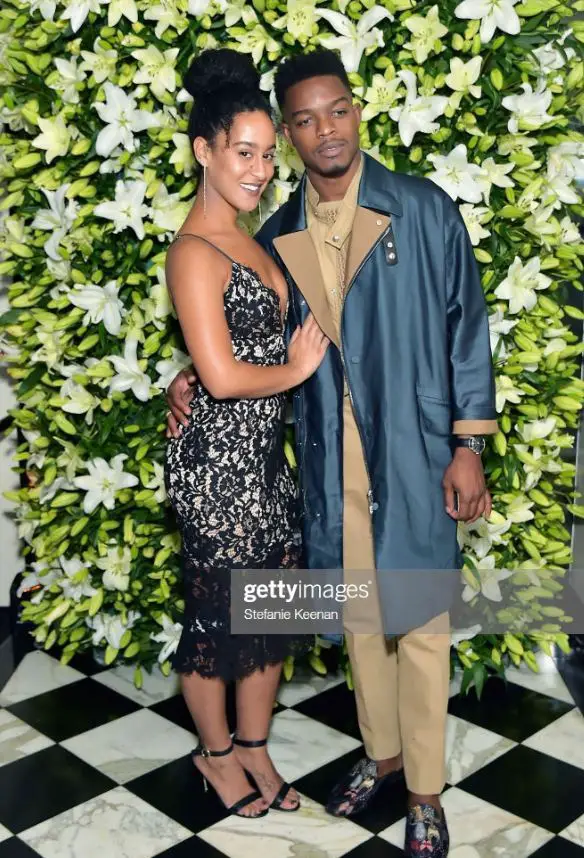 Stephan James fuels dating rumors after his alleged girlfriend Kaila Dickson accompanies him to an industry event in Jan 2019 (Photo:- Gettyimages.com)
Earlier that month, the lovebirds attended the Instyle and Warner Bros 76th Annual Golden Globe Awards Post-Party. At the red carpet event, they didn't hold back on the PDA.
Ironically enough, Stephan has opted not to flaunt Kiki on his social media. Perhaps, there's a reason to keep their relationship lowkey? Only time will tell!