Entertainment
Rachel A DeMita Reveals Dating Status & Boyfriend Plans Amid Height Of Career
The former Basketball player, Rachel DeMita is well-appreciated with her hosting skills in NBA 2KTV.
The elegant and charming young lady has made an interesting profile in the sporting world. And with her personality, her followers are eager to know about her dating life. But is she dating or concerned in her career?
For those who are seeking the unsolved question of her personal life, you are welcome to spend your time!
Rumored NBA Boyfriend; Boyfriend Should Be Vegan Too!
The beautiful former basketball player, Rachel DeMita was rumored to be dating a man of the same profession back in 2014. She was rumored to be dating the American basketball player, Kevin Durant and had been seeing each other since his birthday in New York City.
They were noticed leaving the party together and was spotted kissing.
However, the basketball-loving pair never officiated themselves as a couple. Even if the pair were dating, they are not together anymore as Kevin Durant got a new girlfriend, Cass Anderson who sits on a Wifey section during his match.
As for the model, Rachel remained far from dating but expresses her opinion and past dating experiences on her YouTube channel.
In a YouTube video titled STORYTIME! (MY AWKWARD VALENTINE'S DAY) // Rachel DeMita, the reality star revealed her awkward Valentine's day story. She explained she planned her first Valentines with her high school boyfriend. Like every teenage girl, she bought gifts and chocolates and was excited to spend with him. However, her then-sweetheart did not wish her and she ended up giving away all the gifts to her girlfriends.
But at the end of her day, Rachel's boyfriend surprised her with balloons and a huge teddy bear. Despite all, their relationship could not long last.
Apart from that, she expressed more of her opinions in a YouTube video titled Marriage And Kids, published in February 2018. She was asked whether she was to date an NBA player or not and the reasons for it. And she just ignored the question and told
"I will never answer it"
Similarly, in the same video, she was asked what she would name her baby. In which, she revealed that for a baby she needs to be married first. And to get married she needs to have a boyfriend which she does not have for now. She further hinted that she is single and is not interested in any dating relationship.
Well, Rachel took to Twitter with a tweet questioning about boyfriend back on 10 April 2018. But she did not answer her question leaving her fans more curious to know about her relationship status.

Rachel DeMita's boyfriend tweet in April 2018 (Photo: Rachel A Demita's twitter)
Similarly, her fans are curious to know about her boyfriend. Since she is a vegan and one of her fans also asked him her boyfriend needs to be vegan too? And in the video, "Do I Only Date Vegans?" that dated back on 28 April 2018 she revealed the boy she is dating should be vegan. But he should respect the fact that she is vegan.
Dating Confirmed; Boyfriend's NBA Player
After disclosing the quality of her boyfriend, the -27-year-old host finally found the one whom she is flaunting all over her Instagram.
The talk show host has been dating the NBA player, Andre Roberson since 2018. She confirmed her rumored relationship with the Oklahoma City Thunder guard by sharing the adorable image on the Instagram story in June 2018. In the shared story, the heart emojis floated around her and Andre's head.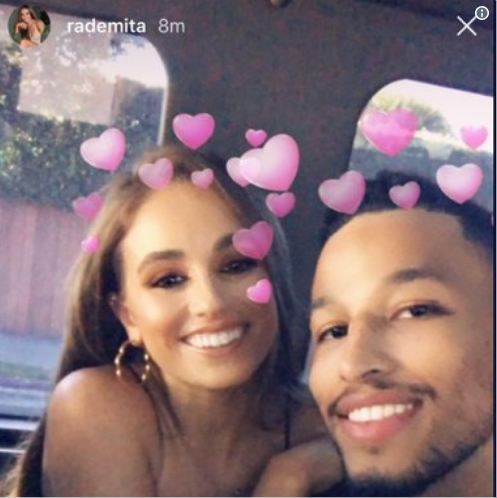 Rachel A DeMita posted an Instagram story with boyfriend Andre Robinson (Photo: bleacherreport.com)
Since the pair has been flaunting their relationship over a couple of months, they have kept their meeting inside their mystery box. They have been rumored to have been dating after Rachel tagged Andre's Instagram handle in a post on 13 June 2018.
Similarly, Andre also gave weight to the newly blossomed relationship as he posted the pictures with the 2K TV host on Instagram on 24 July 2018. Following the post, numerous followers gave the best regards to the couple.
Career, Net worth
Born on 14 June 1990 as the only child of Jack and Shannon DeMita, Rachel hails from Ohio.
The actress, who stands at the height of 5ft 8 inch, was an All-American basketball player and earned a full-ride division 1 scholarship to Old Dominion University in 2008. She never thought to pursue the Basketball as her career in the future. In one of her Youtube video, she opened up about the reason behind quitting basketball. And she felt that Old Dominion was not the right pick for her and got enrolled into the American University.
Even though she is in love with the basketball, she took a different path and pursued her passion for the basketball. As of now, she produces and hosts sports shows like NBA 2KTV which is the first ever TV show broadcast through a video game.
She has also started her career as a YouTube star. She has a personal Youtube channel, where she uploads videos about the lifestyle, fashion, and beauty. She earns estimated monthly earnings between $ 184 to $2.9 K which makes her estimated yearly earning from $2.2 K to $35.3K. Additionally, the average salary of the Talk Show Host in the United States is $75,000 per year, so with her well-appreciated career and skills she might earn a high salary from her hosting career.
Well, with her youtube career and hosting profession's salary, there is no doubt with the high net worth she earns. But as of now, she has not disclosed the exact amount of her net worth.