Entertainment
NFL Star Randy Moss Turmoil; Why Didn't He Turn Girlfriend Into Wife?
One of the most successful and equally controversial figures in the NFL history, wide receiver Randy Moss knows how to astonish his fans both on-and-off the field.
Randy, who played for several teams during his career including the Minnesota Vikings, Oakland Raiders, New England Patriots, and more, has survived through both the highs and lows of his days.
Like his football career, Randy's personal life has also gone through some rough roads, but now he has made amends to his past and currently enjoys a prosperous life with his wife and kids. However, his current wife isn't the one Randy always loved. He once was together with another woman, whom the footballer couldn't turn into his wife.
Wonder what happened between the player and his girlfriend that ended Randy's relationship with the mother of his children. Let's find out!
Ugly History With Ex-Girlfriend: Mother Of His Kids
Randy never had a good history with women. Some have accused him of misconduct whereas Randy has blamed some of blowing his money away.
Back in 2008, a friend of his named Rachelle Washington accused him of committing "battery causing serious injury" and even got a restraining order against the former footballer from the Broward County 17th Judicial Circuit located in Florida on the sixth of January.
Don't Miss:- Jessica Serfaty Gets Accused by Husband After Divorce! Abandoned Son For Real?
However, Moss denied the accusations and said it was a cheap trick to extort money from him. Randy, who was previously in a relationship with Libby Offutt, also had a lot of ups and downs in his former romance.
The 41-year-old former footballer has also accused his former girlfriend of blowing his $4 million worth of money on drugs and abandoning their kids. Libby, who is the mother to four of Randy's kids: two daughters named Sydney and Senate, and two sons namely Thaddeus and Montigo; however, denied the accusations.
She claimed to have been drug-free for several years and mentioned that her ex-boyfriend was trying to distance her children away from her. While showing the results of her drug tests which showed no signs of any substance abuse, Libby told TMZ that Randy was upset as she wanted to meet her children on Christmas.
"I drove 4 hours on the 26th to take my kids their Christmas presents and his wife wouldn't let me see the kids or even leave their presents for them. He was mad and acted very immature, saying false things that the children are gonna read eventually, subjecting them to more unnecessary emotional stress. And why bash the woman that brought 4 of your children into this world?!"
However, Randy also doesn't possess a clean slate as previously he had been charged with domestic battery after a heated argument with Libby in November 1996. The incident happened while Moss was returning his then two-year-old daughter, Sydney, to her mother's home in St. Albans on his then girlfriend's car. As the former athlete dropped his offspring, he got engaged in a violent argument with Libby and it embroiled to the highest level which had to be settled by police's interference.
There were bruises and minor cuts on Libby's arms and neck. She reported that he had repeatedly forced her to sit down while also throwing hot water on her.
The police arrested both of the ex-couple on misdemeanor charges of domestic battery. Later the footballer talked with Vault about his shameless act of putting hands on a woman. He described the act as the most regretful offense of his life and did not want anything to happen like that in the future.
See Also:- She's Fired! Conservative Commentator Tomi Lahren Is Permanently Banned from The Blaze
Although Randy hasn't maintained a smooth relationship with his children's mother, still he has a close bond with his kids. On 3 August 2018, when Randy was honored with the Pro Football Hall of Fame enshrinement; he chose his eldest son Thaddeus, who is also a footballer, to be his presenter.
Similarly, his daughter Senali recently started pursuing her career as a YouTuber and has even released a video titled Senali Moss 2018 Myrtle Beach classic Highlights.
Low-Key Married Life With Wife
Randy is currently married to a woman named Lydia; however, he hasn't revealed how they first met or when they got married. The couple has kept their married life away from the spotlight, and Randy usually keeps his wife out of the media gossips.
But back on 13 February 2015, fellow footballer, K. Feezy shared a picture that decoded the mystery of Randy's wife. In the photo uploaded on Twitter, K. Feezy and his wife could be seen together with Randy and Lydia.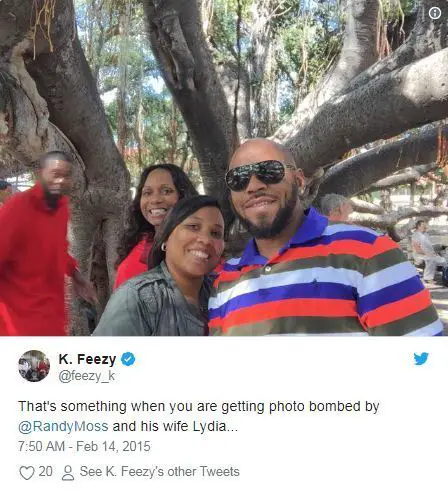 K. Feezy and his partner get photobombed by Randy and wife Lydia (Photo: K. Feezy's Twitter)
More From LiveRampUp:- He's Hired! Patrick Ewing Back to Georgetown as Men's Basketball Coach, View His Contract Details
Even while receiving his Pro Football Hall of Fame, Randy thanked his wife and children for being there for him during his struggle some days.
"Faith. Family. And football. That's what makes Randy Moss. In that order. Nothing else inside the circle."
The West Virginia native usually keeps his family life out of the limelight, but the unexpected happened when Randy walked the red carpet along with his wife in 2017. During the NFL Honors Red Carpet back on 4 February 2017, he attended the programme with his wife at the Worthan Theater Center in Houston, Texas.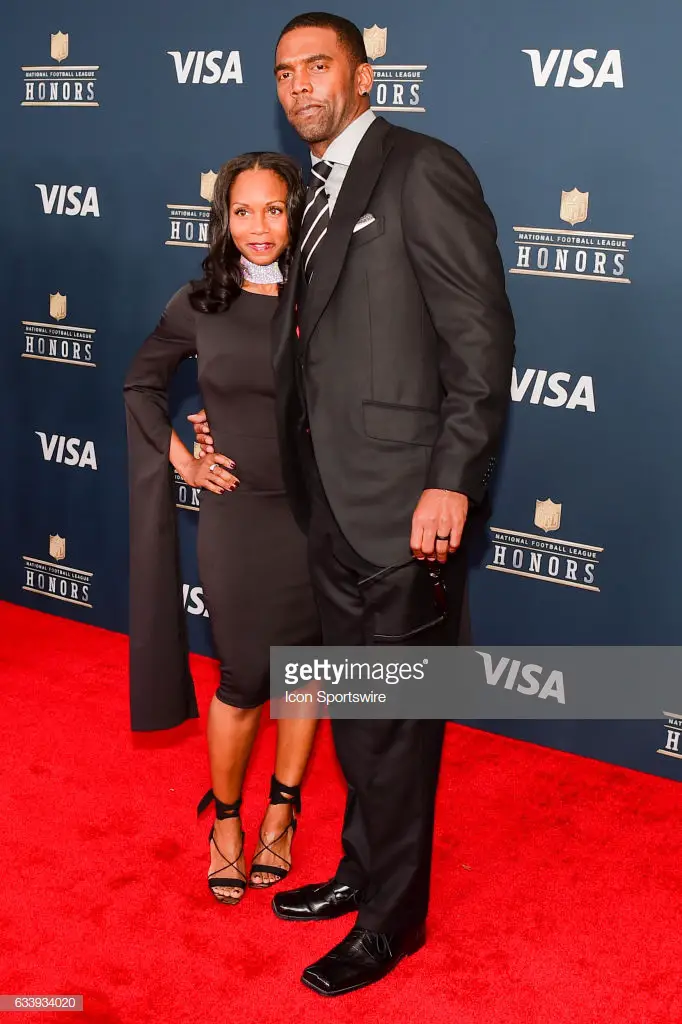 Randy Moss, wife Lydia attended the NFL Honors Red Carpet in 2017 (Photo: gettyimages.com)
There have been no reports of Randy and his wife bearing any children of their own. But, with such a loving marriage, one can't rule out the possibility of Randy becoming a father for the fifth time soon.