Entertainment
Richard Wilkins Happy with Marriage Equality in Australia! Bestows Marriage Equality Tribute to Son
There is no denying that there are no set boundaries for love! People have always tried to suppress love; labeling it by caste, creed, and sexuality. However, love always wins at the end of the day!
Australia has just learned the same, as it has voted "YES" to same-sex marriage. It has been a celebratory thing for many across the country, and one famous person, who is over the moon hearing this news, is renowned TV presenter Richard Wilkins, who has paid a touching tribute to his son on the occasion of love winning in the Aussie land.
So, let us learn more about this amazing story in this segment below!
Richard Wilkins Is Proud Of His Son After Australia Voted "YES" To Gay Marriage:
This Wednesday was a historic day for everyone in Australia, as everyone witnessed love winning, vanquishing all the boundaries as same-sex marriage (marriage equality) was voted "YES."
Now, that has taken Richard Wilkins to cloud nine; he paid a touching tribute to his "beautiful" son Christian, who is a gay rights advocate.
After Wednesday's segment of the "Today" show ended, he looked at the camera and said,
'Look. I just want to say something.'
He then added,
'It was a significant day yesterday for Australia, which has of course resonated around the world - and it was also a very profound day for my family. My son Christian has been a passionate advocate for marriage equality.'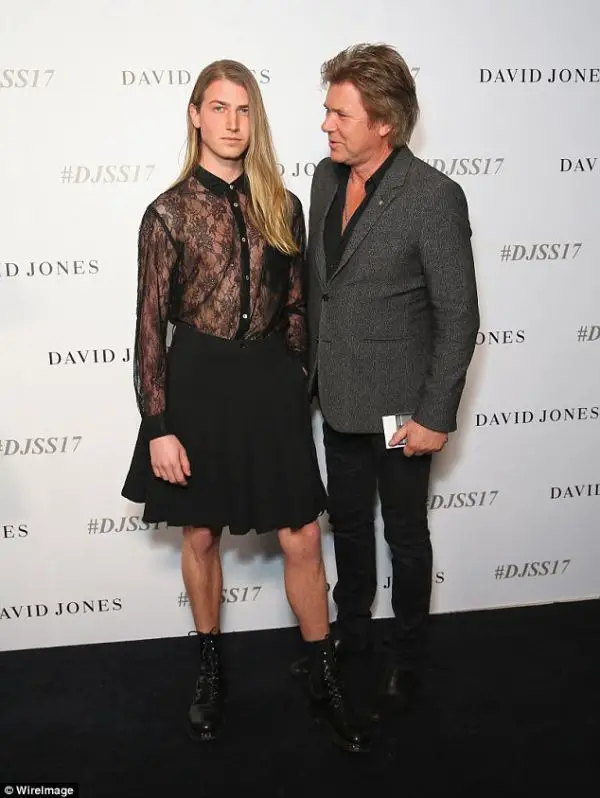 Caption: Richard Wilkins paid a touching tribute to his 'beautiful' son after Australia voted "YES" for marriage equality.
Photo Credit: Dailymail
And even after the words were choking him and tears were almost streaming out of his eyes, he did not stop praising his courageous son for standing up for what he believed in.
'To see the joy and relief on his face yesterday made me very happy and extremely proud of my beautiful boy, It feels to me like we all grew up a little bit yesterday. I love you very much darling, very proud. Thank you.'
His son, who is a gay and goes by the name of "Prince" on the social world, was seen celebrating this victory in his own manner with his close friend Andrew Kelly.
While attending the 'GQ Men Of The Year Awards' on Wednesday, Christian and Kelly were seen arm-in-arm and shared an embrace and a celebratory kiss on the cheek. They had "love wins" badges on their clothes.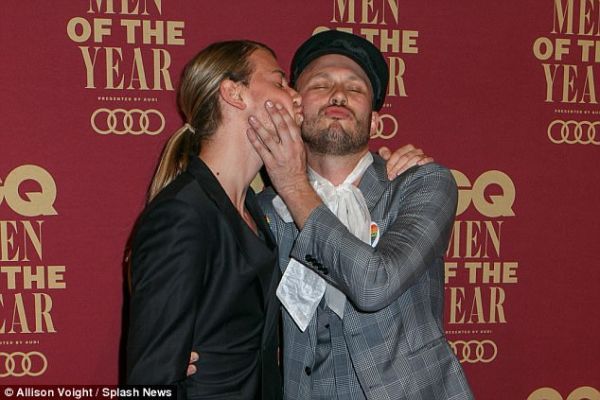 Caption: Christian "Prince" was seen kissing his close buddy Andrew Kelly on the cheek.
Photo Credit: Dailymail
Richard, who became a father when he was just a teen, has four more children other than Christian, two sons, Adam and Nicholas and two daughters, Rebecca and Estella.
Out of them, Adam was born with down syndrome when Richard was just 18. But the 44-year-old son, Adam is Richard's main strength as per him. During an interview, he opened up on how being a teen father changed his life.
It was a 16-year-old girl who I didn't know very well and she fell pregnant... so we got married of course,'
He then added,
'I didn't quite know how to handle all that at the tender age of 18, but now I often refer to him as my rock,'

'I don't know what would have happened to me if I hadn't been forced to suddenly grow up at the age of 18,'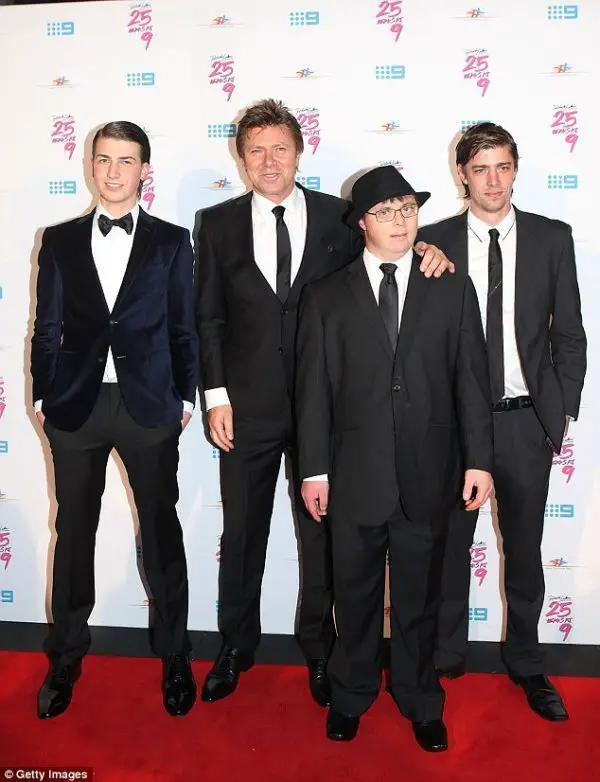 Caption: A family man who is always up for being supportive towards his kids (Right-Left Christian, Richard, Adam, and Nicholas Wilkins ).
Photo Credit: Dailymail
And did you know, Richard is no stranger to being in multiple relationships? Richard has even admitted that 'marriage is not his specialty.'
He has been involved in some broken marriages. Some were his former wife Michelle Burke, who is the mother of Christian, Lynette who is the mother of Adam, Nicholas, and Rebecca. The mother of Estella is Colette Dinnigan, who is a famous Australian fashion designer.
He was further in a relationship with Rebecca Naso and Bronwyn Jones. He even dated Rebecca Gibney and Totti Goldsmith and is currently dating his girlfriend Virginia Burmeister, who recently upstaged him at the GQ Men of the Year Awards.
Quite the ladies man eh?