Entertainment
Robert Osborne Did Have Some Health Issue But Is His Illness Back Again?
Aging is the body's way of saying it is not what it used to be. The great Robert Osborne has an "old is gold" classic persona that most would only hope to have as a legacy. Robert Osborne is famous for his multiple shows and host in many films that landed him an Academy Award.
The legends are legends for a reason. Recently Robert has had some health issues and had to cancel some of the occasional festivals he usually partakes in enjoyment. His illness has cost him some time from his career, reading, though, we find out more as he talks about his struggles in health.
Not "Gone with the wind" yet, his early sickness:
The well-respected writer started off an actor, and finally host Robert Osborne is now eighty-four years of age still fighting the good fight, he wrestles his way to stand bold and vigorous for his beloved fans.
The news about his sickness first heard during March of 2016 missing the Cameron Menzies Lifetime Achievement Award suffering from the severe flu. Getting back up again seems Mr. Robert still has a few tricks left up his sleeve recovering.
It was back in 2011, when he took a leave of absence due to, as he says, "Minor surgery" without specifying the exact cause of the problem. During which time he had to take a vacation from his TCM family.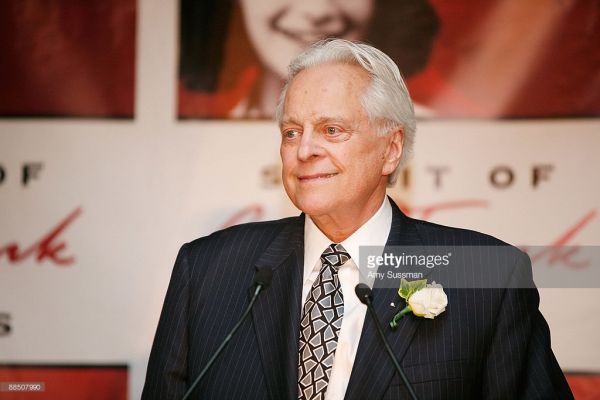 Caption: The Great Robert Osborne smiles handsomely while he poses for the camera at the 13th Anne Frank Awards Gala on June 15, 2009, at The Pierre Hotel.
Photo Credit: gettyimage.com
The classic man has a love for movies without a doubt. Coming on personal life, however, has taken a toll regarding his regular smoking habits with friends, business partners and some of the biggest stars such as Bette Davis as he stated during an interview on CBS News:
"Did you ever smoke a cigarette with Bette Davis?"
And Robert replied:
"Oh yes, many,"
During a Hollywood event.in which Robert missed twice, he was first absent due to issues regarding his health, and he wrote a statement to his TCM family's website:
"One of the things I look forward to most is TCM's annual Classic Film Festival. Those four days each spring are always high points of the year for me, so I'm disappointed I won't be able to join you at this year's Festival. As that old saying goes, "Life is what's happening while you're making other plans." A health issue has come up which requires attention, so I'll be taking time off to focus on that and enjoy some vacation time. I know you're in good hands with all of our Festival hosts, including Ben Mankiewicz, who will offer you the best Festival-going experience. I've seen what's been planned and it's going to be great, as is the programming scheduled on TCM in the coming months, which I'll be watching right along with you. Meanwhile, I look forward to joining you again soon."
Caption: Robert during his time as starting off as an actor around 1989.
Being there when TCM first started, introducing his first network screen "Gone with the Wind" on April 14th, 1994 and he has also written his first book, "Academy Awards Illustrated." There is not much detail into Robert Osborne's personal life nor has he any children or wife that has been recorded.