Entertainment
Romeo Miller Faces Some Racial Issues For Having A White Girlfriend; Dating Anyone Right Now?
Racial issues have been prevalent in the society for a long time now, and even in the 21st century, some celebrities had to face criticism for being in love with a person of a different race, but love does not have any race. Because Love is love.
And sharing a similar belief, about love is multi-talented personality Romeo Miller who has faced criticism for dating his white girlfriend, and people even advised him to leave her and find another girl. So What does Romeo Miller has to say about the criticism? Let's dig in.
Faced Racial Issue For Having A White Girlfriend:
During an interview back in April 2015 on the Meredith Vieira Show, Romeo Miller addressed the criticism he was facing for dating a white girlfriend and expressed that for him a person's race does not matter, but him being in love is more important.
Caption: Romeo Miller comments on criticism for dating a white girlfriend.
Romeo shared that the reaction of people when he started posting his pictures with his girlfriend, Toneata Morgan in 2015. He stated,
"It's crazy to think that in 2015, when I start posting pictures of me and my girl — obviously I'm Black, she's white. I didn't think that would be a problem,"
Further, Romeo told that people suggested that Toneata was with him for her own reasons, not love and said,
"A lot of hate mail and hate comments was on there. They're like, 'Why are you with this girl?' 'She's only with you because of this."
Moreover, Romeo said that he had dated girls of different races, and race did not matter and added that Toneata captured his heart at the moment, so she was with him when he said,
It's sad because honestly if anybody knows me, all the girls I've dated, I've dated girls who've been as Black as Akon and white as Casper. It don't matter. It's all about the heart. In this time and place, she's the one who captured my heart. She could be blue, green or yellow and it would have been her."
Romeo first introduced Toneato publically to TMZ back in January 2015, when TMZ asked Romeo Miller about the blond girl he was dating.
Caption: Romeo Miller introduces his girlfriend, Toneata Morgan in camera.
As 2016 approached, Romeo broke off with his white girlfriend Toneata Morgan, which faced racial issues and in an interview in January 2016 and he said,
"At that time, the person I was dating, she was a different race … she's White, I'm Black. At that time in my life, I wasn't aware that that was still a big deal,"
"There's a lot more craziness going on in the world. A problem shouldn't be whether I like somebody that's Black, Chinese, Puerto Rican, or purple. If I love you, I love you for you."
Further, Romeo shared that it as deliberate to show that love knows no color and said,
"I think that's the cool thing I was able to show on this TV show at that time in my life is that love is colorless at the end of the day, and you can't live for other people, I haven't been in many relationships, but what I learned from that relationship is that you have to make sure you're happy."
After his break up with Toneata Morgan, no other affairs have surfaced the media, so it can be speculated that he is either single or just trying to keep his love life out of the press's attention.
Multi-talented Romeo Miller appeared in his father, a rapper Master P Miller's family reality show, "Master P's Family Empire" along with his siblings Cymphonique Miller, Hercy Miller, Veno Miller, Mercy Miller and also his other siblings are Young V., Inty Miller, Italy Miller.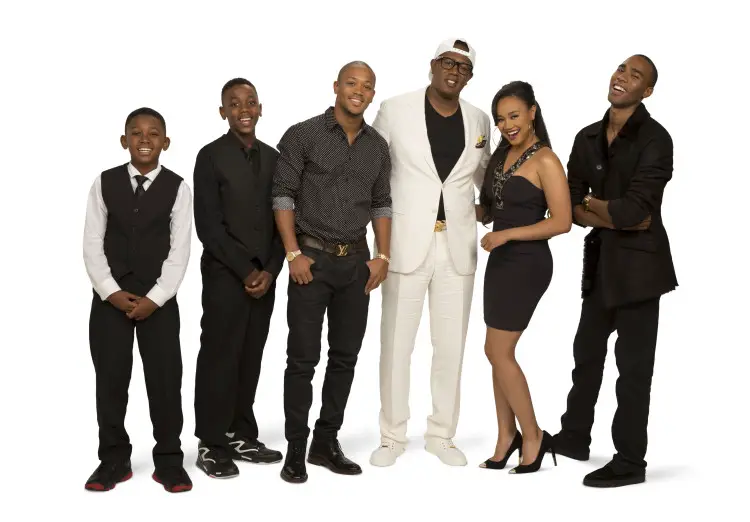 Caption: Romeo Miller posing for the photo along with his family.
Photo Credit: chicksinfo.com
Moreover, Romeo Miller has also started a hashtag campaign of 3 praise hand emojis to spread positivity around the globe and to help many future little doctors, lawyers, superstars, teachers, presidents, etc, etc., reach their goals and shared the same via an Instagram post.
It is evident that Romeo Miller loves kids and using the power of social media he wishes to make a difference in the life of children and help them reach their goal. And all his fans hope that Romeo Miller soon starts a family of his own with his kids to shower his love upon!