Entertainment
Roxanne Pallett Budding A Relationship? Dating Anyone Now After Split With Actor Boyfriend?
Building a relationship requires two individuals willing to work things out together, so not everyone has a good resume in regards to building proper long lasting relationships. And once a connection is initiated, it's difficult for celebrities to maintain privacy; when paparazzi are all over the place.
33 years old British actress Roxanne Pallett, famously known for her character 'JO' in ITV's Emmerdale, has had a daunting experience in regards to her past love life. Despite the bitter experience of love she had, is she looking for love now? Is she working on building a relationship? Let's find out.
A Budding Romance?
Roxanne Pallett, who got her Fame for her character 'Jo' in ITV's Emmerdale has gone through few horrid experience in the matter of love, causing her a massive heartache. But has she recovered from it yet?
As spotted back in 27th July 2016, Roxanne Pallett had a smile on her face as she was enjoying a low-key lunch date on Wednesday with a 'mystery man' in London's Primrose Hill.
Giggling as the conversation was building up and slurping the milkshake in between, she was seen having a good time with the handsome lad.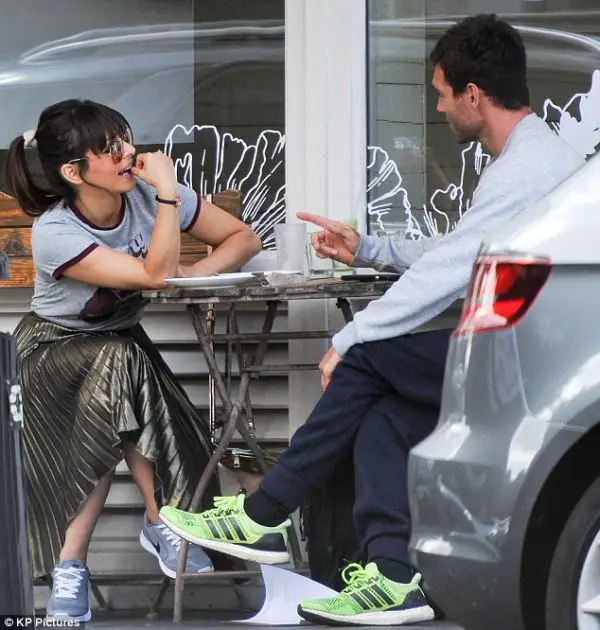 Caption: Roxanne smiles as the chatter with the mystery man continues.
Photo Source: Dailymail.co.uk
However, Roxanne is yet to reveal any other information regarding the mystery man and her relationship with him.
But, by the looks of it, the heartache seems to be in the verse of healing!
Spotted in a Wedding dress, is she getting Married?
Roxanne getting married would be a bummer for every male fan sharing crush on her, but is there any truth in that?
Roxanne was spotted wearing a wedding dress on Sunday, 12th February. Fortunately enough for her fans, she flaunted that look just for the 2017 BAFTA TV awards.
She did grab a plentiful attention with that look she carried, but the fans are relieved to know it wasn't a real marriage. Her Glimpse from the award ceremony: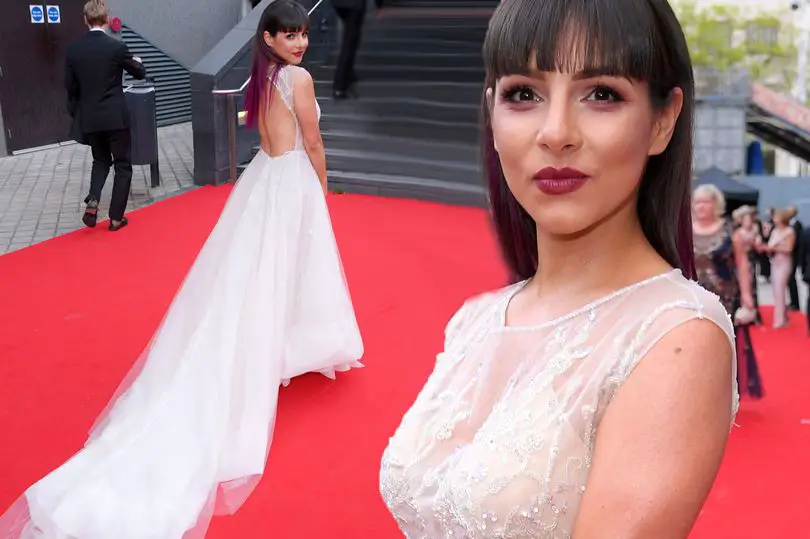 Caption: Roxanne Flaunting the dress with grace at the BTFA TV awards
Photo Source: Mirror.co.uk
Roxanne's series of Relationships!
Not everyone is blessed equally in every aspect of their life. Despite being successful, talented and withholding such a beautiful looks; the actress unravels the bitter fact of being unlucky in relationships.
In Roxanne's Interview with Lorraine, the brunette said:
"I'm really unlucky in love. I was out of work."
Roxanne was reported being in a relationship with Harry Neale, who was 7years younger than the actress. They met while the duo was on the Rocky horror show tour, and Roxanne was seemingly happy with the man, but just after six months of dating, the couple split up in August 2013. An out looker revealed,
'She kept saying, 'He's not who I thought he was. I feel such a fool. It's all been an act at my expense and I fell for it.'
Though the couple never confirmed their relationship, Roxanne had a fair amount of bad dating experiences, which she explains:
"'I met a 42-year-old but he said he couldn't pay for our date because he'd spent all his money on social media.He dumped me in Costa... Not Costa Rica, Costa Coffee! Then the next day I got The Wedding Singer."
Last February, Blue's Simon Webbe was in the limelight as he was pictured kissing Roxanne. Moreover, just two months ago, she was also assumed to have initiated a bond with a new co-star, Elliot James Langridge.
Elliot, 28, and Roxanne were also spotted practicing kissing scenes between takes on the Manchester set and therefore seemed a little too committed to the craft, but Simon was quick about the denial that there was any romance between them.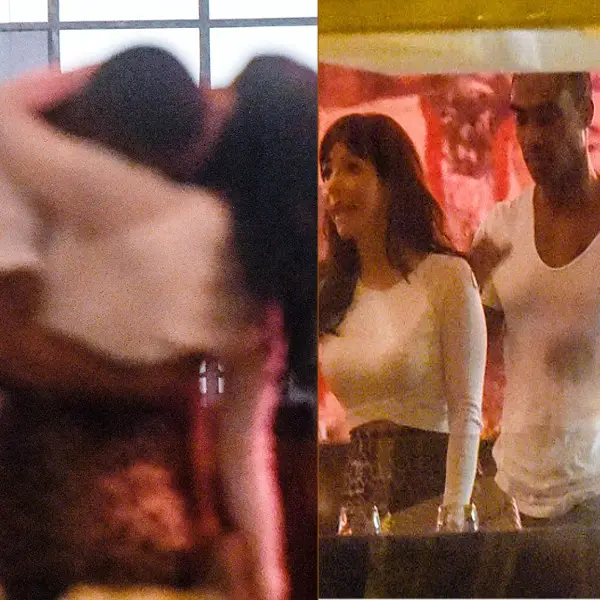 Caption: The pair of Roxanne and Elliot evidently hit it off after meeting in Roxanne's adopted hometown of Manchester.
Photo Credit: DailyMail
Roxanne's relationship that fairly got noticed was with former Coronation Street actor Richard Fleeshman, who she dated from 2001 until 2007.She then was linked up with footballer Danny Simpson in 2008, before being in a six-month relationship with Harry Neale in 2013.
Talking about her first love; Roxanne posted on Twitter saying:
Celebrating #Shakespeare today. Reminds me of my 1st boyfriend at school. We shared a Kit Kat on the banks of Carlisle Castle learning R&J ?

— Roxanne Pallett (@RoxannePallett) April 23, 2016
Roxanne's comeback for Emmerdale:
An impactful impression once made's hard to let go, especially when she has built a personality; the fandom for which is well built. Roxanne has been the example for such personality through her character 'Jo' since the impact she had on the viewers from Emmerdale was massive. No wonder the viewers are still keen on seeing her back in the role after eight years of time. But is she coming back though?
Having given an impactful performance as 'Jo,' the show Emmerdale always had their doors open for the actress, in case she desires on making a comeback.
She was approached by the team a couple of years ago, but the source revealed she wasn't available, as she was engaged in her prior work commitments.
During an interview with THE SUN Roxanne told:
"I got a call a couple of years ago about a return but sadly I was out of the country filming so it wasn't to be."
She further stated:
"Emmerdale left the door open which is a huge compliment and I would totally consider a return if it was right for both the writers and me."
After a long awaited moment, now the actress seems to be dropping off some good news, i.e. tha fans may expect to watch her perform in Emmerdale again.
Roxanne, an American actress, and singer; started her acting career from the year 2005, working for the show Emmerdale. After that, she never looked back in her career and kept moving forward.
Besides Emmerdale, her other acting credits include her performance in the Wrong Turn, Lake Placid 3, Devil's Tower, and much more.
Through her successful career till date, she has surely accumulated a splendid net worth, however, Roxanne, like her mystery man, has kept the net worth under the wraps.