Entertainment
Safaree Samuels Alleged Married Life And Wife Got Debunked! Introduces A New Girlfriend Now
Being one of the leading lights is equally a boon and a curse. Their personal life is in the eyes of the fans who are keen to get to know them.
Even if the celebrity provides no any hints or information regarding his personal life, several rumors and speculations are born, which might affect their profession as well as their personal life.
In this regard, we will be pulling the curtains behind Safaree Samuels. Some say he is secretly married and is living with his wife. But is the truth though?
Safaree Samuels alleged Married life!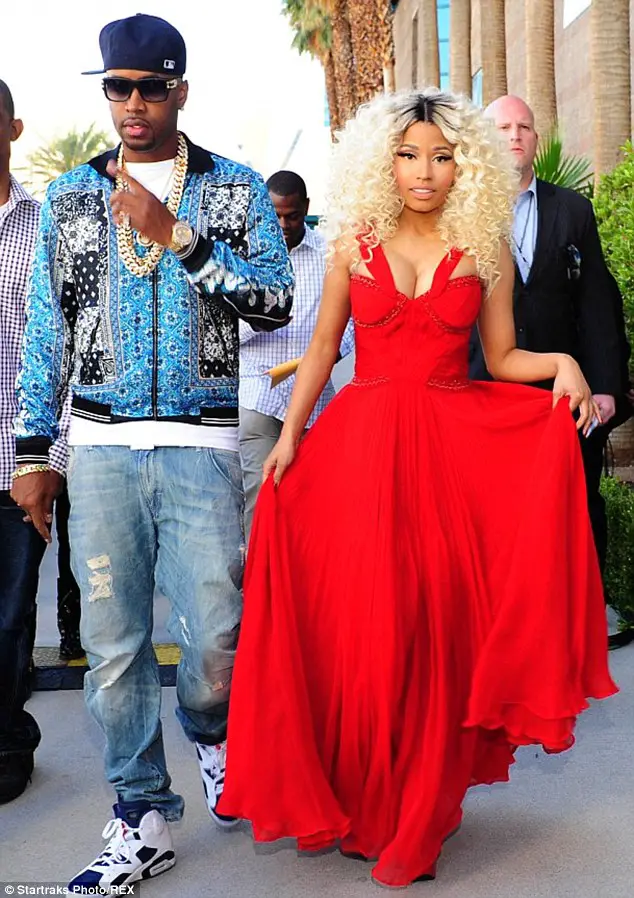 Caption: Safaree Samuels and his ex-girlfriend Niki Minaj during an event.
Photo Credit: Dailymail
Thirty-five years old Safaree is best known for his twelve-year affair with Pinkprint singer Nicki Minaj. When he dated Nicki Minaj from the year 2002 to 2014, he was alleged to be married to her.
After the pair separated, MediaTakeOut revealed that they parted ways with a divorce. The story about their marriage and divorce was very much surprising which stated-
"Nicki Minaj and Safaree Samuels are married. ... All details to the divorce are filed under seal. The court's website shows court dates for the divorce of 'Samuels vs. Samuels' — which will continue for the next few months."
It added-
"We have no idea how long Safaree and Nicki were married, or if they have a prenup but it makes sense now why Safaree could be alleging abuse against Nicki."
However, the allegations are proved to be false after Gossip Cop debunked the MediaTakeOut's story, where they confirmed that Samuels and Minaj were never married.
Samuels' sparked a New Romance:
Soon after the rumor about the marriage with Nicki Minaj faded, Safaree Samuels sparked a new romance through Instagram. Thirty-five-years-old Samuels and his new girlfriend Star Divine aka "West Coast Barbie" went public with their romance earlier this year in February.
The pair flaunted major PDA earlier this year on Feb 14, by sharing two sexy photos where Samuels posed shirtless and his lady love clad in lingerie. Star shared the hot picture of the duo on her official Instagram account with a caption-
"Hey Big Head, In Real Life ???? #HappyValentinesDay ????."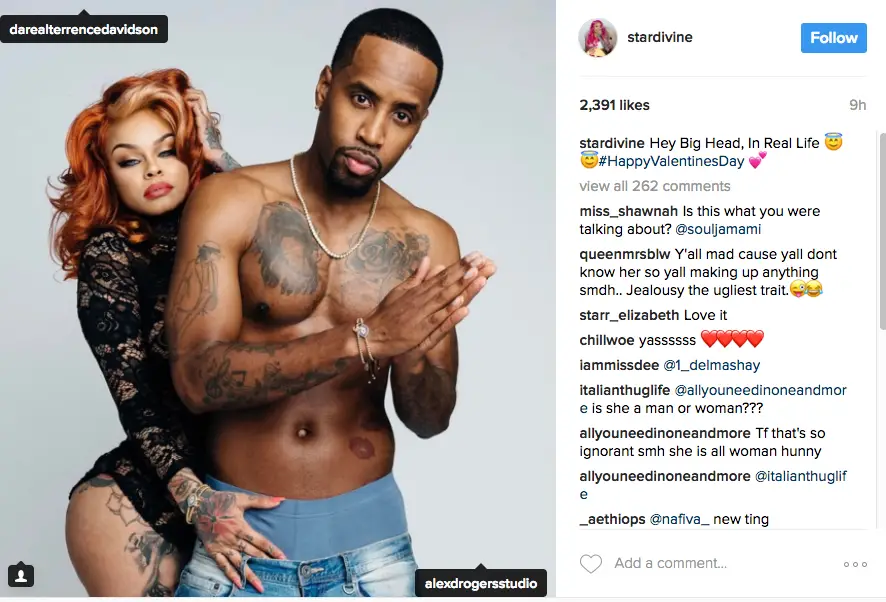 Caption: Star Divine's Instagram picture with Safaree Samuels shared on Valentine's Day.
Photo Credit: SOHH.com
Star was reported to be featured on the next season of Love & Hip Hop: Hollywood, where we will get the information about their budding romance.
Popular as the cast of the VH1 reality show, Love & Hip Hop: Hollywood, Safaree Samuels is also a rapper and songwriter. Born on July 4, 1981, Safaree began his career in the early 2000s.
By this time, he has already managed to attain a certain height of success with large fan following and net worth of $2 million. Moreover, Samuels has also appeared in television shows like Wild 'n Out (2015) and K. Michelle: My Life (2016).