Sian Welby's life changed forever when she went from working in retail to becoming a meteorologist of Channel 5. While the pretty lady laughed through everything( even odd jobs), she thanked her stars that the channel executive noticed her through an advert and offered her to become a face of Channel 5.
After a few weeks of a crash course in meteorology, Sian got launched as the new face of the reputed channel. More than just a pretty face, the Brit shot to fame via her movie-related pun-filled reporting of the weather. Her videos went viral and made her an international darling!
Sian Welby's Bio
The talented journalist was born on 3rd September 1986 in Nottinghamshire, England. She spent her childhood in a loving family, but they were short for money. Sian's nurse mother and traveling salesman father worked hard to make ends meet.
Explore On Another Meteorologist:- Meteorologist Matt Noyes Bio, Age, Wife, Family
Being a diligent daughter, the Brit started working at the age of 14. Her first job was washing pots at The Cross Keys in Upton. Then, she went on to become a waitress at Waitrose in Newark. However, she left the job to work in retail at New Look in Newark.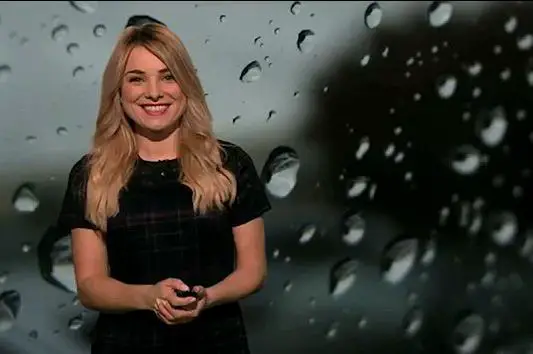 Sian Welby in her element hosting weather forecast in Channel 5 (Photo: www.dailymail.co.uk)
While on a day off she went to New! Magazine advert for a small role; it was via the advert she got noticed by Channel 5 executive and Sian's life took a surprisingly good turn.
Boyfriend Details
Sian's love story is a typical millennial one!
She met the love of her life, her boyfriend Jonno Turner on Twitter. He was commenting on a friend's feed when Sian joined in, and the pair kept chatting on the social media site.
For You:- Weather Channel Jacqui Jeras Husband & Family, Details Wikipedia Can't Give
Finally, one day the guy put forward his desire to meet Sian, and the first date in 2013 led to an intimate relationship between the two. Also, it doesn't hurt that The Volvo Ocean Race employee's boyfriend is smolderingly handsome. The pair do make one good looking couple.
Although the loved-up pair live together in London, they are yet to take the plunge and get married.
Sian's Height, Weight And Ethnicity
For the longest time, the meteorologists thought that her height was 5 feet 4 inches (1.62 m), but she got the shock of her life when she got herself measured and found out her real height.
Well, she is two inches shorter than her expected height; she stands at 5 feet 2 inches (1.57 m) with a complementing weight. Also, the talented host is of white ethnicity.
Education And Salary
Sian went to Minster School in Southwell where famous alumni, actor Mathew Horne pursued his education.
Talking about her job, she left her much loved a gig on Channel 5 and went on to become radio and TV presenter at Notts. Courtesy of her career, she boasts a salary of $54,306 per year.