Entertainment
Beautiful Sophie Dymoke: Blissful Married Life With Her Husband And Baby, Her Bio?
Mathew Goode may be warming big movie screens, but there's someone who has him weak in hearts for years.
The actor has been dating Sophie Dymoke, someone out of celeb world, for more than a decade-long time period. Sophie Dymoke is not a married woman but the relationship she shares with Mathew is no less than a wife.
Let's unravel the love story of Sophie Dymoke and The Imitation Game star Matthew Goode!
Decade-Long Relationship; Three Children With Dating Partner
Sophi Dymoke has started her dating life with the actor Mathew Goode since 2007 and has been going strong ever since.
The couple has been living together more like a partner, but yet to be pronounced as husband and wife. The couple has taken their relationship for a more-than-a-decade-long time period and has turned the parents of three kids.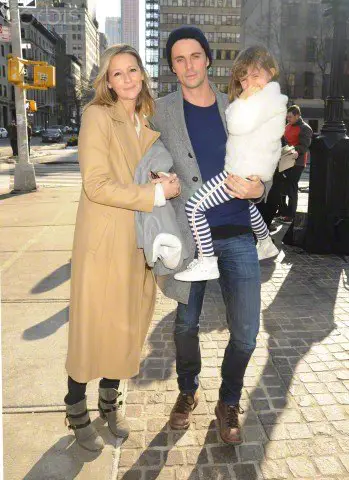 Sophie Dymoke with partner Matthew Goode and daughter Matilda Eve Goode (Photo: tumblr.com)
The couples are blessed with three children, a baby daughter Matilda Eve Goode born on March 1, 2009. In September 2013, they were blessed with another baby daughter and named her Teddie Eleanor Rose Goode and later in August 2015, they were blessed with a baby boy and named him Ralph Goode. However, the couples have only been sighted together with the eldest daughter.
Recalling about how they first met, Sophie's partner recalled in an interview with metro.co.uk on February 2010. Matthew Goode talked about the starting of his relationship and what it has led to. He reminisced about the events nostalgically saying,
"I was living in Clapham and she was on my doorstep when I came home. Literally. I thought: 'Fu***** hell!' She was a friend of my neighbour."
He was also asked whether Sophie was fine with the explicit homosexual content that Goode has to take part in Watchmen, which he promptly responded with,
"No, she's not, thankfully. She's normal. Which is great. I don't have to worry about her saying: 'I'm just going off to do this film with Brad Pitt,' and you read the script and it says: 'She rides him frantically.'"
When he was asked about how the couple decided to have a baby first before marriage, Goode said,
"Yes, mainly because I don't have a pot to piss in at the moment and weddings can be quite expensive if you want to do it with all your mates rather than at your town hall."
He further continued about how he prepared himself for playing as a dad,
"I've cut my drinking down. And I'm going to spoil my daughter rotten but not so much that she turns into a spoiled little bitch. Her mum's too wonderful a person to let that happen. I'm not, but she is."
No doubt, Matt is a good father but also he is an excellent husband too. Here are a few pictures of Goode and his wife-like-figure together.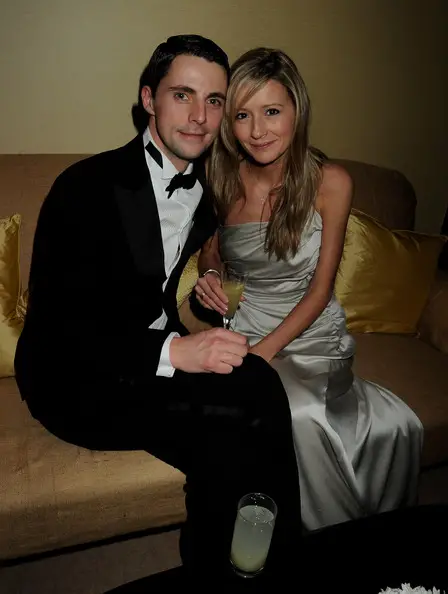 Matthew Goode and Sophie Dymoke at the BAFTA Soho House Grey Goose after party on 21 February 2010 (Photo: zimbio.com)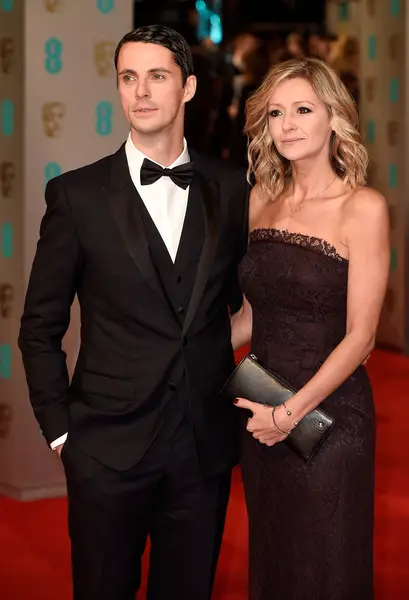 Matthew Goode and Sophie Dymoke attending the EE British Academy Film Awards at The Royal Opera House in February 2015 (Photo: zimbio.com)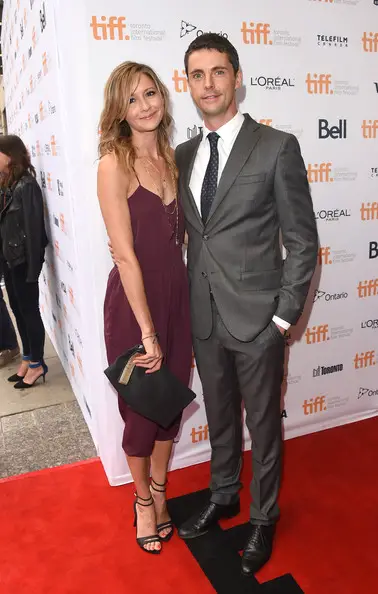 Sophie Dymoke posing for pics alongside Matthew Goode at 2014 Toronto International Film Festival (Photo: zimbio.com)
Ironically, however, Matthew Goode worked alongside Matthew Rhys got the chance to work on a TV show which would be a dream job for any Wine Enthusiast. In contrast to his previous statement, the show named 'Wine' previews him and Matthew Rhys, sitting under the Tuscan Sun in the Italian Countryside, drinking and enjoying fine wine.
Sophie's Short Bio:
Sophie may not hail from Hollywood's spotlight but she works in fashion as per her dating partner. In an interview with independent.co.uk on February 2013, Mathew stated,
"She used to work in fashion, and just to help us out [financially] recently she went back to working for MiH jeans."
The couples have been living a happy family life of five, and there have not been any rumors about the couple to split neither are there any news about the couple to arrange a wedding ceremony for themselves and getting married.