Entertainment
Steelo Brim Mentions Having Dating Affair And Girlfriend On Twitter; Who Is The TV Personality Engaged To?
Lots of things have changed in this information platform since Twitter has been introduced. People and celebrities tend to reveal their information on Twitter.
Following the trend, famously known as Mr. Trill, Steelo Brim has revealed information about his girlfriend on twitter. Is he engaged?
Engaged or just bluffing?
Although he had been bluffing time and again about his relationships on Twitter, this time he revealed that he indeed has a girlfriend. He said on April 5, 2016, on his Twitter:
It looks like, Brim is in a relationship and has already been engaged. Although he has not revealed his partner's name, he said on May 15, 2016, that:
His tweet looks like he is making fun of his to be wife on Twitter and has admitted the fact that real life isn't funny. Well, he seems to be in a serious relationship. Steelo Brim has not forgotten to wish his fiancée on her birthday and hasn't indeed forgotten to ask his followers on what to do for her birthday. He tweeted on June 15, 2016:
He has not revealed the span both of them were dating, but it seems that they are in a serious relationship.
Sexually assaulted a porn star?
Earlier in 2015, MTV's "Ridiculousness" star Sterling "Steelo" Brim was alleged of sexually assaulting a porn star named Mary Jean in NYC. Law enforcement sources told that Steelo Brim and porn star named Mary Jean were hanging out on April 21, 2015, but Jean claims things went south fast. Mary said to daily news:
"This isn't a play. It's something that happened, and I'm hurting. And he's switching everything around and trying to play the victim. I was physically attacked. He's making me seem like I'm wrong,"
Moreover, she added:'
"He just starts punching me, he tries to hit my face, he hits my boobs ... in the most violent way I've ever been touched. And I'm driving and I can't defend myself."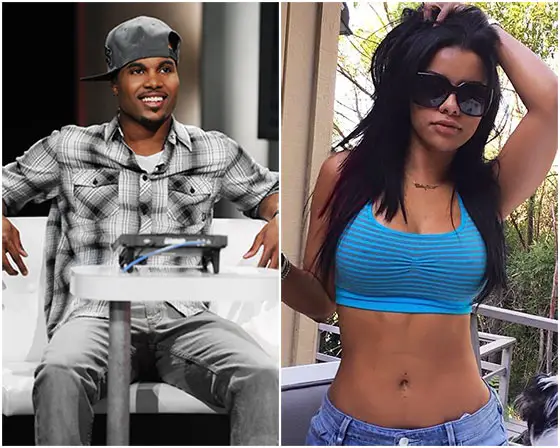 Caption: Stello Brim and Mary Jean were involved in an incident in 2015.
Photo Credit: Self
But the story gets strange in a scenario where Steelo says that Mary refused to let him out of the car as well as threatened him to tell people he had raped her if he got out.
Steelo also said that he weighed his options in the car and decided to leap from the moving car. He added that he tucked and rolled on the street from a moving car which caused injuring his arm as well as his Rolex.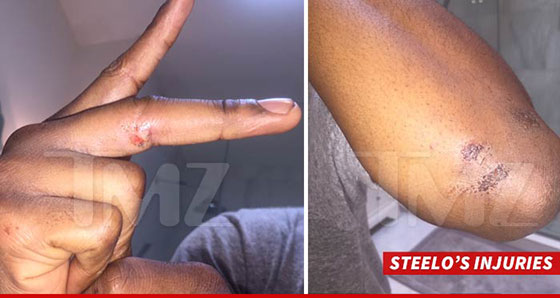 Caption: Steelo's injury as he claims of his feat of getting out of a moving car.
Photo credit: tmz.com
Although the verdict has not been decided yet, it will be interesting to know who is the real culprit. As per Brim, Mary refused to let Brim step out of the car which is a harassment issue. But end results are yet to know!
Steelo Brim and Family Mourns Over Nephew's Death
Steelo and his family are going through tough times as Steelo copes with the loss of his 3-year-old Nephew. The cause of the death was reported as 'accidental drowning' as it turned out that Steelo's nephew and his family were visiting him in Chicago. Paramedics were called immediately after the young boy was found unconscious in the pool.
It was announced that he had passed away in the same afternoon. Brim was quoted talking about his loss stating,
'Last weekend, my beloved nephew passed away in a tragic accident. We will miss him dearly and ask for prayers and privacy during this time of mourning.'
He further thanked friends and fans for their words of support on Twitter and thanked them for the help in the time of need.
A Short Wiki-Like Bio on Brim:
Sterling "Steelo" Brim was born on June 5, 1988, in Chicago, Illinois to a family of Pastors. The Television personality moved to Los Angeles at the age of 19 to pursue a career in Music and worked in the industry for Radio and Artists and repertoire before getting his big break after Reality TV Star and Professional Skateboarder Rob Dyrdek invited him to be the co-host of his show 'Ridiculousness' on MTV. This started Steelo's career, and he is still part of it, until this day.
Brim who is 28 years old by age had tweeted that a kid asked about his salary and said that he earns $140 per episode in 2016. Being an American producer, television host as well as actor, he has a net worth of more than $3 million dollars. He earned most of his net worth working as the co-host of MTV's show Ridiculousness.