Entertainment
Stu Laundy and Sophie Monk's Split Rumors! Does It Hold Any Truth?
While being famous as a celebrity, one cannot be far away from rumors and speculation. Similar is that case with the reality star Stu Laudy and his relationship with his girlfriend Sophie Monk, as they too have been circled with the breakup rumors time and again.
But does it hold any truth? Let's take a closer look at the matter to find that out!
The Relationship Status Of Stu Laundy And Sophie Monk!
Among the contestants in 'The Bachelorette: Australia 2017,' who made efforts to win the heart of Sophie Monk; Stu Laundy emerged victoriously, but many claimed that Stu and Sophie knew each other even before the show.
According to reports on DailyMail on October 23, 2017, Laundy had already set up a date for Sophie before the show, and they enjoyed a dating affair as well. An insider disclosed to the magazine as,
''Everyone is saying Soph and Stu didn't meet just once before the show started. They actually dated each other briefly."
Additionally, the former contestant Luke Mcleod claimed that he was eliminated by Sophie on purpose to 'remove' competition with Stu. After his elimination, Luke shared that he had noticed 'chemistry' between Sophie and Stu.
''There were obviously guys who came into the house and I noticed almost straight away that there was a connection with one of them. Maybe she just wanted to remove someone from the picture (so as) to not complicate things too much so she could focus on developing a relationship with that person.'
Well, Stu who is 44 years of age, also disclosed that the reason for his participation on the show was Sophie as well as his kids. He stated,
''I really felt like Sophie and I clicked, all be it for ten minutes, but more so than I've clicked with anyone since my ex-wife. I ummed and ahhed a lot ... and it was because of my kids [I joined the show]. My two little ones are big fans.''
Moreover, Stu, who separated from his wife four years ago, confirmed his split with ex-wife Rachel, this year around late September. Although his married life with wife failed, the marriage gave him four children to cherish as his family.
Stu and Rachel still co-parent their children; Stu was recently spotted dropping off his daughters at home after spending an afternoon with them.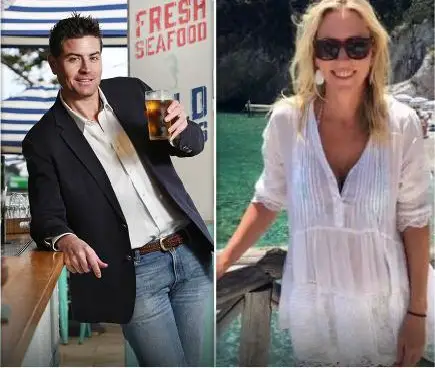 Caption: Stu Laundy and his former wife, Rachel.
Moving on from the failed marriage and seeking love. Stu confessed his love for Sophie on the finale of 'The Bachelorette' and the emotional Stu confessed his feelings to Sophie as,
''I'm in love with you... It's not like puppy love. I just needed to talk to you. I'm so frickin' emotional. It's a nightmare. You've been so good to me. And you put me back together somehow. I'm in love with you.'
Video Caption: Stu Laundy finally says 'I love you' to Sophie Monk in the finale of 'The Bachelorette.'
Video Credit: DailyMail
However, since the finale of the show, numerous rumors emerged saying that the couple has already split. But, Sophie made an responded to the rumors of the split and declared that they were still together.
Sophie made a random woman clear out the stories and verify the couple's relationship and even shared the video of the same via Instagram back on October 27.
Once again in an appearance on 'The Project 27,' Sophie and Stu addressed their break-up speculations and further cleared the air by confirming that they were together.
Caption: Stu Laundy and Sophie Monk address their relationship status on 'The Project 27.' (Published on October 27, 2017)
Recently on November 17, the rumors of the split rose again, as it had been some time since the couple made their last appearance and a while ago on October 30, the paparazzi had caught the couple in a tense situation in an underground car park, hinting that all is not well in the paradise.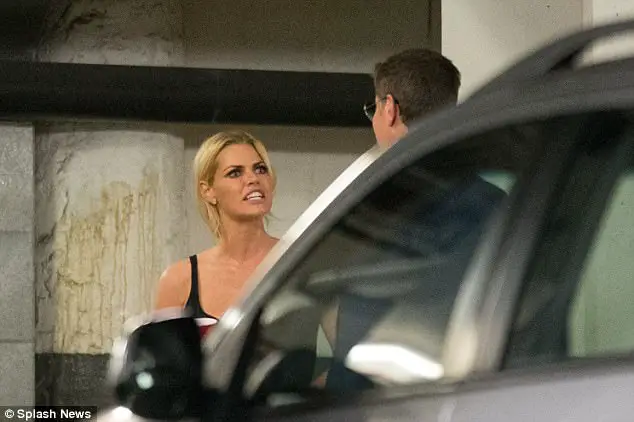 Caption: Stu Laundy and Sophie Monk caught amidst disagreement in an underground park.
Photo Credit: Daily Mail
Additionally, the couple didn't share pictures with each other since the day of disagreement report. On the other hand, FM Star Em Rusciano also told Daily Mail Australia on November 4 that she doesn't think the couple is together anymore,
''I don't think her and Stu are together. And I think that's probably going to come out in the next few weeks.'
Well, Sophie addressed those rumors yet again, but this time, humorously!
When Sophie hosted McDonald's SuperCrew Awards on mid-November, she jokingly said that the couple had 'broken up' and that she is pregnant as well as married; indeed they were together.
''Even though the media says [we've] broken up, I'm pregnant and married, I'm still with the guy,''
Following that, recently on November 21, the couple yet again proved that their romance is still on; they were pictured sharing kisses and cuddles outside the terminal at Sydney Airport.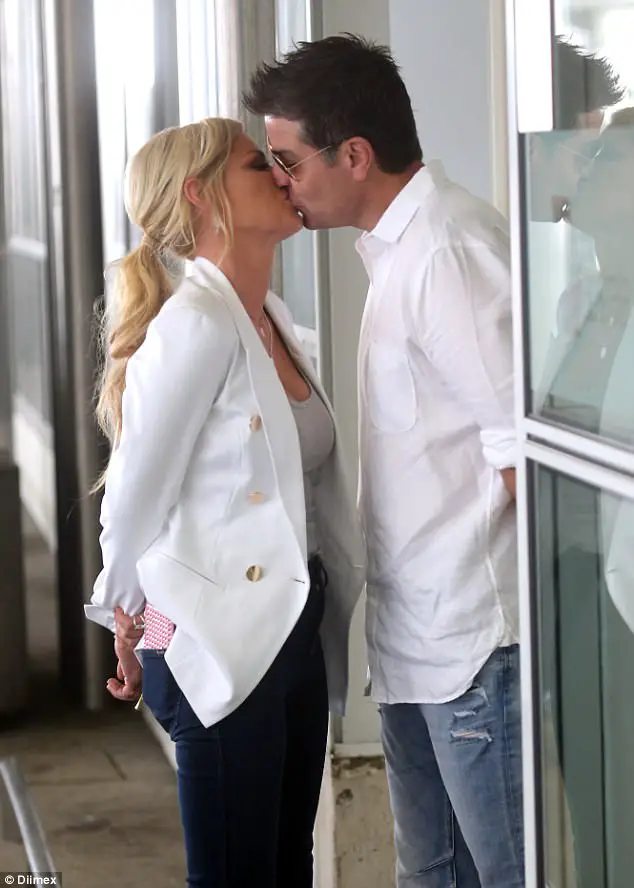 Caption: Stu Laundy and Sophie Monk share kisses outside the terminal at Sydney Airport.
Photo Credit: DailyMail
Well, it's now safe to say that the couple is still happily together!