Entertainment
Theo Campbell Wiki: His Age, Height, Girlfriend Issues And All About the Love Island Contestant
The Team GB's 400m sprinter, Theo Campbell is creating multiple scenes with his entrance in a British dating show of ITV2 network, Love Island. This show involves breakups and hookups as its core part, where the real stars speak up their real-time dialogues.
Contrary to his fact, Theo seems to have created infamous vibe before signing up to the show with his breakup issue. So, what was the issue and with whom was it related?
We make an attempt to keep you well informed about the reality star through his short wiki like bio, which sums up his general information as well as love life.
Must Know Details About Theo Campbell:
Theo Campbell is a young man aged 25, with an impressive height of 6 feet and 5 inches. He is an active athlete, who plays for the team GB and currently has set his target for the event 4x400m relay in the 2020 Olympics in Tokyo.
The focused athlete, however, keeps other personal information related to his parents and other family members concealed.
While the year 2020 seems too far to talk about, we can view Theo these days in a reality show on ITV, not as an athlete, but as a handsome hunk in search of a partner to make love.
Theo began creating buzz soon after his arrival by keeping a maximum number of girls in his sights. However, his initiation with a gorgeous lady named Amber Davis went worse, as she seemed to be agitated with the guy due to his statement:
"73 per cent of the public think that you are playing a game."
Furthermore, he also reasoned the statement as:
"It does look like crocodile tears sometimes."
Soon after that, Amber left the ongoing dating and moved on with another guy named Jamie Jewitt. But later, they started sharing talks and spending time with each other with the passing days.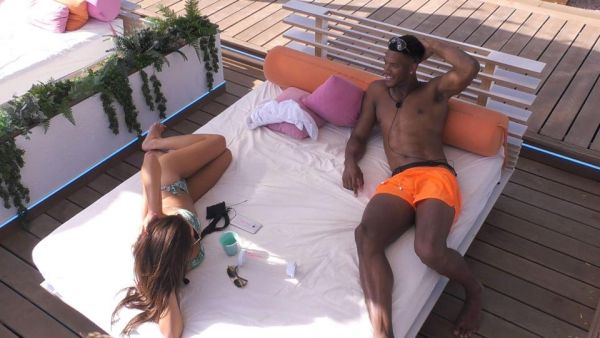 Caption: Theo and Amber in a conversation while lying on the bed.
Photo Credit: thesun.co.uk
However, Theo has proved to be a 'love rat' for dating multiple girls at a time. Meanwhile, he has been keeping up with Tyla Carr for whom he is having bad terms with another contestant, Jonny Mitchell.
Theo even took Instagram to share an image mentioning them as a couple.
According to the recent reports, Theo Campbell had a girlfriend named Chloe Demaret, who seriously slammed the relationship before his arrival on the show.
Chloe, on the contrary, was so frustrated that she shared her private messages through Twitter.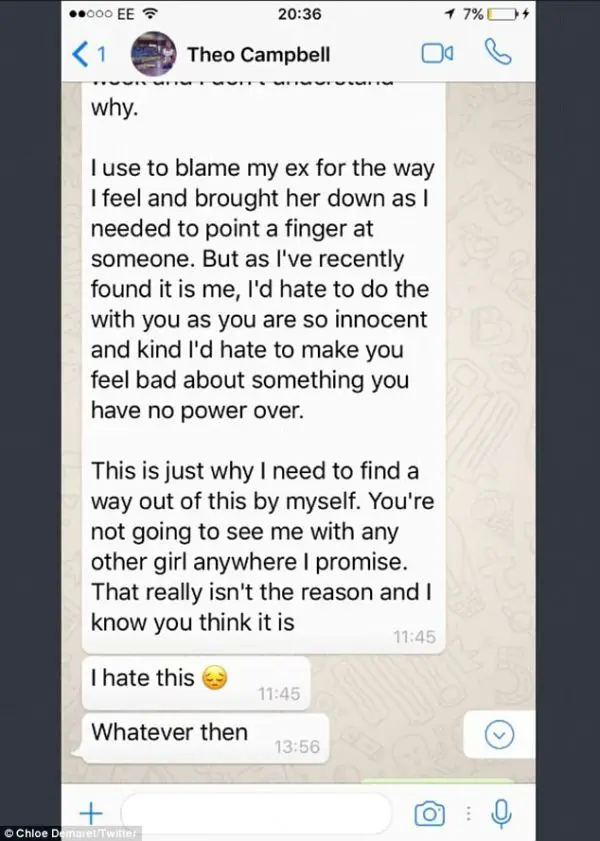 Caption: Private messages shared between Theo and Chloe.
Photo Credit: Twitter
Theo later began begging his girlfriend to come to see him.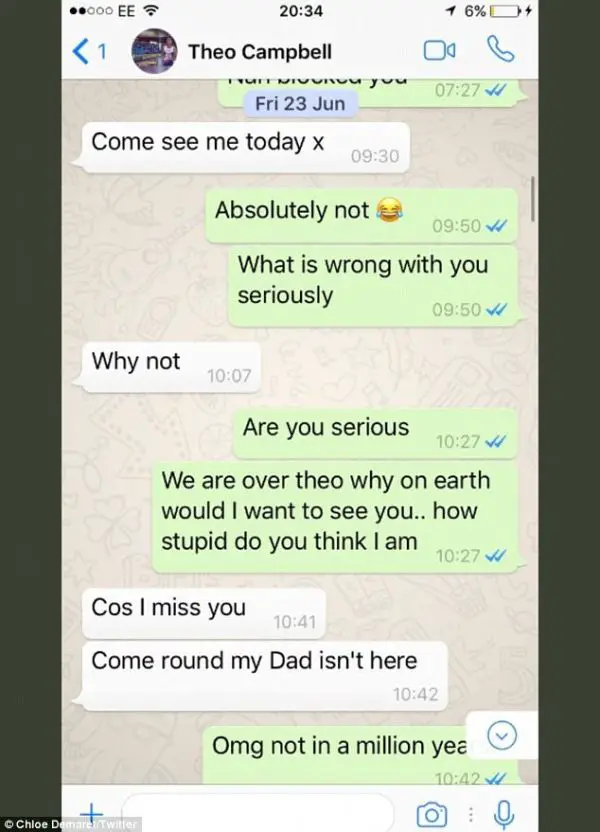 Caption: Private messages shared between Theo and Chloe.
Photo Credit: Twitter
The conversation got more serious, and finally, Chloe called off the relationship with the athlete.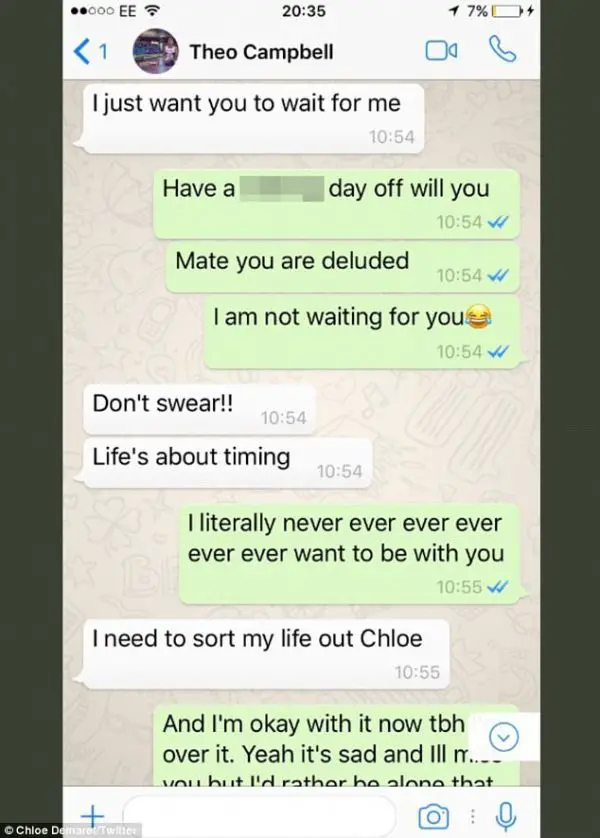 Caption: Private messages shared between Theo and Chloe.
Photo Credit: Twitter
Additionally, other unusual facts about Theo also got revealed which will make everyone's eye open. In 2013, he got nabbed by police as he was trying to flee after grabbing a woman's handbag from a kebab shop.
However, he got a one-year conditional discharge and had to pay 60.50 pounds to Bath JPs. More shockingly, his mother was also a criminal, who got jailed for 12 weeks for criminal damage and assault in April 2011.
Stay with us for the emerging updates on Theo Campbell!