Entertainment
Unmarried Bruno Langley, Popular From Gay Role, Staying Friendly With Girlfriend For Sake of Son
The 'Coronation Street' star, Bruno Langley can be easily be mistaken as a gay in real life because of his similar role in the show.
Is he married? So, what about his son? Also, know about his relationship with his past girlfriend, with whom he shares the responsibility of parenthood.
Bruno Langley, is a historical figure in 'Coronation Street' being the one to portray the first ever openly gay character in the soap. After starting with a passionate kiss with NickTisley (Adam Rickett), he went on to have a romantic relationship with Karl Foster which was the first gay storyline for the soap.
The actor has had delivered such a convincing performance that many people would easily mistake him as gay in real life.
Raising his Son with his Ex-Girlfriend: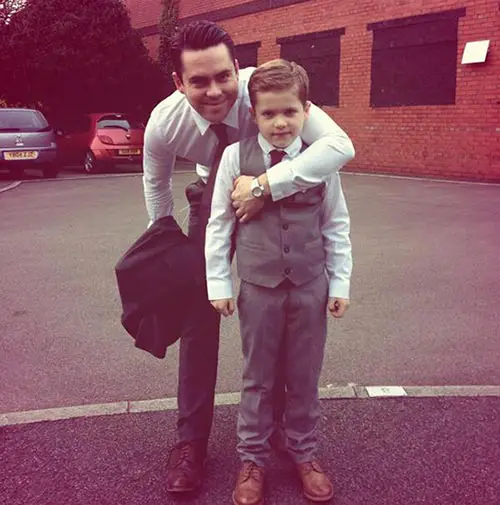 Caption: Bruno with his partner then-partner Victoria Ruscoe and the then two-months-old Freddie
Source: liverampup.com (photo)
The 33-year-old may not be married, but he still has a son. He was dating Victoria Ruscoe from a period of 2002 to 2012.
Victoria Ruscoe is a beautician who is currently 30 years of age. Their son, Freddie, was born on May of 2007. Even though the couple were no longer together, in November of 2013, they announced that they would be raising their son together.
Interest in Theatre:
Did you know that the actor has not only starred in films and television series but also has immense interest towards theatre? He has portrayed the lead and major roles in the dramas like Romeo in 'Romeo and Juliet', Ali in the 'Night Sky', Geoffery in the 'A Taste of Honey' and many other big scale plays. He is also a very good musician.
Short Bio
Bruno Langley was born on 21st March 1983, in Taunton, Somerset, England. He got his education first from Harpur Hill Primary School, and he later attended the Buxton Community School. He was trained from North Chesire Theatre School. Apt in piano, Langley played the cello until the age of 16. He then decided to pursue a career in acting.
Some of his recent activities include June 30, 2016, when many of his 'Corrie' co-stars came to support him during the launch of his EP. Similarly, on July 27, he said that his character, Todd could easily take on the show's villain, 'Phelan'.
Caption: Corrie's Bruno Langley On His Music Career And Love Life | Loose Women, 2016
Source: Loose Woman