Entertainment
She's Still Loved! Vanessa Grimaldi's Boyfriend-Turned-Fiance Nick Viall Speaks On Their Split
The Bachelor star, Vanessa Grimaldi has something to feel joyous; her ex-flame finally breaks silence on their split.
Following the split from his ex-fiancee Vanessa Grimaldi, The Bachelor alum Nick Viall has unveiled that he has been going through a hard time these days. He has also revealed other facts regarding his recent split on Monday, August 28 as he attended the Wrangler by Peter Max line debut party in Los Angeles.
What Did Vanessa Grimaldi's ex-Fiance, Nick Viall Reveal?
Grimaldi's reality star boyfriend, Nick seems to be having some tough days after calling it quits with his former flame. He also admitted that he has been leaning on his friends and family to get through the difficult situation. He told Us Weekly:
"In times that aren't great, you have to kind of spend time with your loved ones."
He then added,
"I'm lucky enough to have friends outside of L.A. I'm heading back to Chicago this weekend, which I think will be good for me. I'm trying to stay positive, being around friends and family. It helps me stay positive. And you know, what helps me is just kind of believing in yourself. It's obviously easy to get insecure and feel bad about yourself. You get in your head about things when things aren't working out for you."
Moreover, Nick talked about Grimaldi and said that they are still in touch and he loves her too much.
"I still love her very much. I'm not afraid to say that."
Having said that he loves Grimaldi, Nick added,
"I like to try new things, get out of my comfort zone. I know I have a lot of work to do in that arena. And it's fun to try and I always appreciate the opportunity to try new things and that's been a lot of fun. I'm always trying to stay busy, especially right now with things."
Furthermore, he managed to say that he, his friends, his family, and Grimaldi are still each other's support system.
"My friends, my family and Vanessa and I are still very much each other's support system. We're trying to do that and it's a challenge at times, but we still realize that we're there for each other."
Well, Nick also seemed to be interested in re-flaming his love with his Vanessa, as he said,
"I mean of course, right? And again, I was still lucky enough to find it with Vanessa."
But the million dollar question is- Is Vanessa Grimaldi interested in rekindling their romance?
Grimaldi has also broken her silence sharing a picture via Instagram on Monday, August 28.
It was a picture of her with a friend, which she captioned with an emotional message and wrote that she was leaning on a friend in the harsh situation and hoping everything to be fine some day.
Well, talking about the initial portion of the duo's relationship, timeline Grimaldi and Viall shared engagement rings during the season 21 finale of The Bachelor, after a surplus of datings in the show.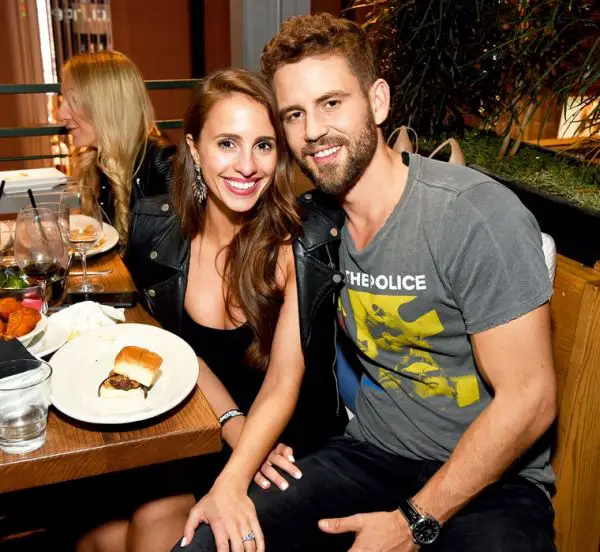 Caption: The then engaged couple; Vanessa and Nick attending the Dancing With The Stars season 24 premiere celebration this year.
Photo Credit: usmagazine.com
However, in a sad turn of event, the two decided to split on August 25, as they jointly made a statement to end their engagement to Us Weekly.
"It's with a great amount of heartbreak for the both us as we have decided to end our engagement. We gave this relationship our all and we are saddened that we did not get the fairytale ending we hoped for. We will continue to be there for each other no matter what. This hasn't been an easy decision, however, as we part ways, we do so with lots of love and admiration for each other."
A Short Wiki-Like Bio Of Vanessa Grimaldi:
A month away from celebrating her birthday, Vanessa Grimaldi was born on September 29, 1987, in Montreal, Canada, and has reached the age of 29. She is a Libra woman, who has worked as a special education and also worked as an Italian teacher in her hometown, Montreal.
Moreover, she has also smattered in acting and appeared in few episodes of Being Human and Blue Mountain State.
Vanessa belongs to an Italian family but hasn't revealed details about the members. However, she includes them in her social media and frequently mentions them in sweet messages.
She has also shared a picture of her mother on the special day of International Mother's Day.
Vanessa has been famous for her appearance in the 21st season of the reality show called The Bachelor, where she was a frontrunner including the Arkansas inhabitant, Raven Gates, Kristina Schulman and Corinne Oylmpios.
Stay with us for the budding updates on Vanessa Grimaldi!