Entertainment
What's The Age Of Bella Ramsey From Game Of Thrones? Has Parents Who Dare To Defy Her Badass Nature
The dramatic storyline and equally dedicated Actors; justifying their characters impeccably, led GAME OF THRONES to be one of the raging shows in the history of Television drama series. 'GOT' is also best known for introducing new prominent characters as the story builds up.
Bella Ramsey, who depicts the character of Lyanna Mormont is also one of the best castings that have been made on the show. Few minutes into her acting, in the Season six of the show and she was all over the tabloid for her fierce character that she played with such ease.
For a girl so young, is she equally fierce in her offscreen life, or, are her parents; the one taking things under control?
Is Bella Ramsey Equally Badass Apart From The Onscreen Life?
The show is full of distinctive characters, who have made an unforgettable impression on the mind of viewers all over the world, just by delivering eternal justice to the character they portray.
Moreover, this show comprises of dominant lady characters such as Arya Stark, Cerci Lannister, Sansa Stark, Mother of Dragon, Missandei and much more. And to stand out, performing with those veterans who have been on the show for six complete seasons, we need to take a bow on Bella Ramsey for what she delivered. She earned plenty of encomium with her acting skills.
Don't let her age(12) and height fool you; for, her talent has no bars. Her character is the legitimate combination of fierceness and badass nature, but she isn't in charge of things when her parents are involved.
As per reports, Bellas parents don't allow her to watch other episodes of 'GOT' except for the one she has acted in because of the age restricted scenes. But apart from that, she is equally confident in real life. When asked in an interview, what she loves about her character, Bella replied-
"I like Lyanna's fierceness and maturity – I have that in common with her, not so much the fierceness, but everyone always says, 'I can't believe you're only twelve.'"
She further shared one of her experience:
"After the audition, we were at the dinner table and I kept being Lyanna. My mum got really scared of me because I wouldn't stop. If anyone started laughing at the table I just said, "Don't laugh in my house. You don't laugh at me. Pass me the salt."
For all those who want to revive their memory, here's the clip of Bella's performance from last season.
Caption: Bella Ramsey's bit from Game of Thrones.
From her dialogue delivery to her facial expression and her body gesture, she has done justice to every bit of her role. No, wonder she is called the breakout star of the season six as she has taken the fanbase by storm.
However, she has kept her personal life a matter of privacy, and that leaves us wondering if she has siblings and if they are as badass as she is.
Some more insight into Ramsey's character- Head of House Mormont:
In an official interview released by HBO, Ramsey mentioned her favorite Lynna Mormont moment.
"I loved the script for episode 10 ["The Winds of Winter"] — how she doesn't care that she is the youngest person in the room, and proceeds to shame the three leaders."
Furthermore, she talked about how it took her time to realize how important her role was.
"It took me a while to realize it, I actually woke up one morning, and the first thing I thought was, 'Wow, I really am integral to the story line."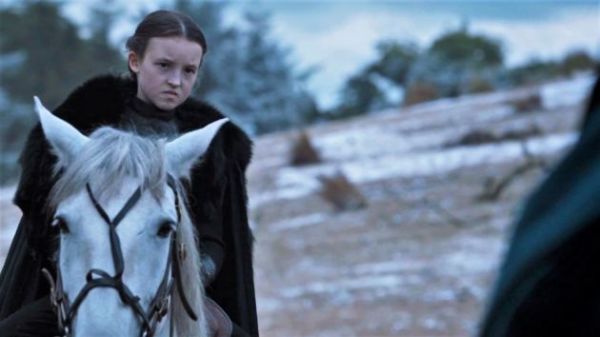 Caption: Bella Ramsey while giving Ramsey Bolton's character a Death stare
Photo Credit: Winteriscomming.net
Now that the season seven has begun, Lynna is still making her character look equally fierce as she commands Lord Grover to go with the idea of the King of the North- 'John Snow.'
Caption: Head of House Mormont commanding Lord Glover in the first episode of Season 7, Published on Jul 17, 2017.
Make sure to tune into HBO for catching up with the character of Lynna Mormont in the upcoming episodes of season 7.
Stay with us for the latest updates on Bella Ramsey and Game of Thrones!