Entertainment
While Maintaining Privacy Has Shelley Hennig Revealed Anything Dating Affairs? Has A Daughter With Boyfriend Or Just A Misleading Fact?
Celebrities often shield their love life over dating or boyfriend from constant conjectures of people maintaining privacy. Amidst, maintaining confidentiality has a model and actor Shelly Henning has become a mother of her boyfriend's child let's dig in.
Shelley Henning Dating Affairs:
Shelley Henning was rumored to be dating Jay Kenneth Jhonson from 2007 to 1012. Their dating rumor sparked after Jay and Shelley started getting cozy beyond the screen. But the buzz subsided as no other evidence about their relationship surfaced.
Again, later that year, Shelly Henning was linked with Thomas Dekker, but it turned out to be a rumor too. Moreover, the Teen-wolf star Shelley got mushed up in another rumor, that she was dating actor Ben McKenzie in 2013, but that subsided as well.
After McKenzie, no other rumors regarding her dating has surfaced over the media. Currently, Shelly Henning is not dating anyone and is enjoying her single life, as evident in her Instagram posts.
Shelly Henning went through many dating rumors in the past, but neither Shelly nor her rumored boyfriends admitted the relationship, maintaining the dignified silence.
On December 25, 2016, Shelly Henning posted a picture on Instagram account with a beautiful little girl who created speculations among her followers that she has revealed her baby daughter on the occasion of Christmas.She was single for a lengthy period, and news of her having a baby secretly was surprising to everybody. But, Shelly cleared the air by addressing the little girl, not as her daughter but as her best friend, and further revealed that they fought for three hours over the choice of filter and finally settled for 'Nashville.'
Not being in a relationship often raises speculations about one's sexuality, and Shelly could not escape from that as some speculated her to be a lesbian. But she has not revealed anything about the matter, so the truth remains with her.
The former Miss Teen USA 2004 keeps her dating affair secluded but does not hesitate when it comes to teasing her audience for that matter. Recently. She also made a Tweet about her TV boyfriend Trevor Donavon.
While on the other hand, her friend/actress Chloe Bridges Tweeted about Shelley's show When we first met and tagged her as her wife to which she Tweeted back.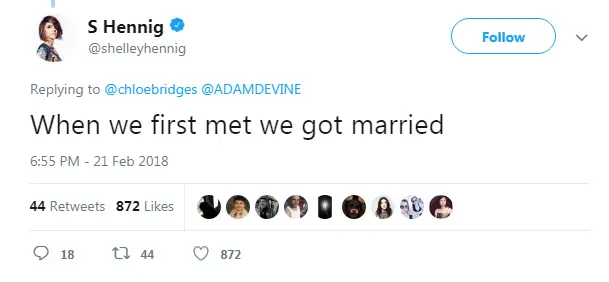 Shelley Hennig replies to Chloe Bridges's Tweet (Twitter)
Apparently, Shelley and the actor are on the new Netflix show named When we first met. Although she is not dating anyone at this instant, we hope she finds her soul mate soon enough.