Entertainment
Why BBC's Emily Maitlis Hide About Stalker? Has that Affected her Married life? Husband and Children
If we follow BBC, we know who Emily Maitlis is! Yes, she is the same lady who's been presenting news programs and bulletins across the national channels of the BBC and in front of our television sets or say via website since 2001.
Along with limelight and fame comes cautions. For a matter of fact, she's been followed by the stalker for more than quarter of a century i.e. 25 years. Could you believe it? She's married indeed and has raised two children. Surprisingly Emily has hidden about stalker for a matter of time.Why is it so? We'll follow the trilogy of herself, her husband and stalker. And has stalker affected her marital status? More to follow:
Stalked for last twenty-five years!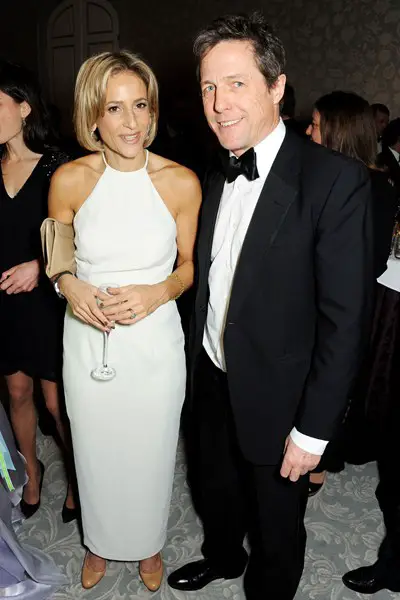 Caption: Emily with her husband, Mark Gwynne in The London Evening Standard Theatre Award in 2013.
Source: photoshelter.com
The fuzz began a long time back when she was a student at Cambridge. The man, Edward Vines met Emily when they were undergraduates at Queen's College, Cambridge University, United Kingdom. And then the chase of Cat and Rat had begun.In 2016, speaking to Times magazine, Emily also revealed the fear in which she and her family has been living in since the eighties.
Vines had been messaging and harassing her. It must have been tough for her, for sure. Emily herself stated she felt powerless, fears for her family and even has to have an escort to go to the local supermarket as well as her children to go to the school bus.
You can feel the pain in her words:
"There is a weariness to it. It feels never ending. His life is ruined; I try to blank it. It's a heaviness that sits on you, and when he comes back, it's dreadful. I get calls at all times of the day and night. It feels desperately sad. I can't see how it will end."
How can you not sense the fear she's been living since last 25 years over stalker hanging over her?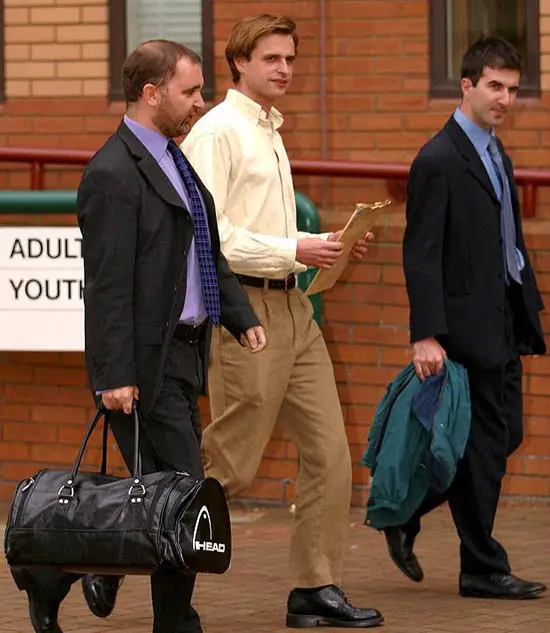 Caption: Emily Matlis Stalker Edward Vines were walking to the court in 2002.
Source: dailymail.co.uk
Vines has confessed about stalking Emily She has stated that she is still suffering a 'never-ending' campaign from schizophrenic Edward Vines although he was sent to jailed for four months. Maitlis was compelled to go in the witness box when she took Vines to court in 2002 after he sacked own lawyer.
She kept her head turned away from the dock and tried to ignore, but she struggled to keep her patience during the questioning, which was brought to an end after 45 minutes when a court legal adviser decided it was too distressing for the Emily to continue. Vines believed that they had a special bond and shared a mutual feeling. Right, who knows?
She said:
I wasn't a celeb; I was just a student who knew him a bit. But it soon became very intense, and he turned up everywhere. My whole family was trying to protect me.'
From her words, we can relate she didn't open up about stalker earlier because of her and her family safety. Vines was jailed for four months for harassment in 2002 as well.
Emily was cautious before, and though it would all come to an end, it wasn't meant to be.
Telegraph of UK explains despite her bright and strict character on media world she's in fact girl's next door character. She also talked about Mark Gwynne, her banker husband, and her happy family life. Emily has two children with Mark.
Emily is married to Mark Gwynne and has two children, both sons with her husband. There is no news found when and where the couple exchanged their vows with each other. Despite all her issues with vines, he still continues to harras her.
"I had a police presence outside my house two months ago. There is an injunction and, when he breaches it, it starts again". Emily said to the guardian.
An offender is finally behind bars!
Finally, 2016 was the year obsessed stalker was behind bars for three years after harassing Emily for last 25 years with emails and letters. Edward Vines was found guilty of breaching a restraining order at Oxford Crown Court on September 5, 2016.Vines told the court:
"We remained friends throughout the whole of the Easter term. She wrote to me over the Easter holidays – letters which I still have. But in April it changed dramatically, in my eyes. She appeared not to want to see me. She occasionally put me down in small ways, but nonetheless hurtful ways."
Vines said that Emily's rejection had caused him mental problems and he continued to contact her for next quarter of the year, demanding to know why she had severed links with him.
A jury of the court found Vines guilty of two counts of breaching the order by sending two letters to the journalist and also was found guilty of sending emails and letters to her mother, Marion Maitlis, between 10 May and 26 June last year.
Emily Maitlis is a British Newsreader cum Journalist, best known for 'Newsnight' on BBC Two and news bulletin on BBC Network.She graduated from Queen's College, Cambridge. Before news journalist, she was also a documentary maker. Emily has worked with Sky News and BBC London News.