Entertainment
Why Hasn't Kelly Hu Married yet? Is It Because of Her Unsuccessful Relationships? Husband or Boyfriend?
Crowned as Miss Teen USA 1985, Kelly Hu mostly stays in the limelight for her relationship updates. Kelly remained in a long-term relationship thrice but ended up with break ups. Let's go through her past affairs, recent relationship status and professional career in our story today.
Kelly Hu relationship history:
1. Ahmad Ali Moussaui (1996-1998)
To know about Kelly's relationship history, we have to go a long way back. After Kelly had won the beauty title of Miss Teen USA 1985 and Miss Hawaii 1993, millions of hearts fell for her. However, the only person who could win the heart of Kelly was Ahmad Ali Moussaui. Kelly started dating Ahmad from 1996, but the relation ended in 1998. Kelly and Ahmad stayed in a relation for about two years.
2. Gordon Gilberstan (1999)
Shortly after her split with the former boyfriend, Kelly started dating Gordon Gilberstan in 1999. Kelly later appointed Gordon as her personal manager. Gordon was committed to lead her towards success. Kelly shared in an interview with people.com about her motive to appoint boyfriend as a manager. She said,
"I thought Gordon as my manager was really a bad idea at first. But he convinced me. Nobody is going to work harder for you than your boyfriend. And it's worked out wonderfully."
We don't know exactly when but the couple broke the relation. Do you know when they were separated? Or do you know the reason for their separation?
3. Mitch Allen (2010)
After the break with Gordon, Kelly stayed away from relationships for a long time. Kelly resumed the romance in her life starting an affair with Grammy-nominated selling producer, Mitch Allen.
The couple started dating from 2010. Kelly and Mitch were happy in the relation. They were spotted together at various events. Moreover, Kelly used to talk openly about her relationship with Mitch. She shared about Mitch in an interview with examiner.com. She said,
"My boyfriend is a musician and writer and producer. This sounds really cheesy, but I actually love listening to songs from his band. I think it's because I'm so close to it that it really touches me in a way that other music can't. It puts me in a different space. His name is Mitch Allan and he actually has a song that he wrote and produced called 'Heat Attack' by Demi Lovato. He's currently in a band called 'Satellite'."
But lately, it seems that the couple has broken the relation. Till 2015, Kelly used to share the post on social media including her boyfriend and was also seen together in events.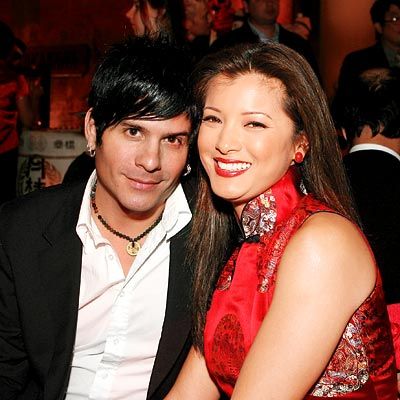 Caption: Kelly with ex-boyfriend Mitch Allan in the MTV Movie Awards 2004 Arrivals.
Source: bdbphotos.com
Kelly has started talking less about her relationship status recently. We don't know whether or not she is in secret relation. Do you think she has a secret lover?? Or is she married and has a husband?
However, there are no rumors of her marriage and divorce so far. We don't know what stops her from getting married after staying in relation for a long time.
Her Beauty Pageant Journey:
Born on February 13, 1983, Kelly Hu is of Chinese descent and Native Hawaii. At the age of 17, Kelly became the first Asian American female to be crowned Miss Teen USA. Then she competed in Miss Hawaii USA 1993 and won the pageant.
The crown of Miss Hawaii opened gates of Miss USA for her. She could not win the title of Miss USA, but she entered in the top 10 position. Let's watch a video of Kelly being announced as a Miss Teen USA 1986.
Caption: Kelly Hu being announced as Miss Teen USA 1986, published on June 1, 2007.
Her Acting Career:
Kelly has acted in various movies including "X-men 2", "The Scorpion King," "Cradle to the Grave," "Yuriko Oyama/Lady Deathstrike," "The tournament" and so on. She has also featured in various television series like "The Vampire Diaries," "Arrow," "Warehouse 13" and "Phineas and Ferb" and others. Here we have some pictures of her different looks from her movies.
Her Skills:
She strictly follows her workout routine. Similarly, she enjoys visiting new places and doing adventurous stuff.
Kelly is close to her family
Her Parents and Ethnicity:
Kelly Hu was born in Honolulu to a family of chinese origins. Her father Herbert was a salesman and an exotic bird breeder and her mother; Juanita was an engineering drafter. However, their parents were separated when she was a child, and her father married Esther, who stood next to him until death.
On her father's Birthday, Kelly Hu revealed how close she was with her stepmother and how deep their relationship was. Esther, died the day after her father's birthday and Kelly seemed quite melancholic about it.