LifeStyle
Low-Calorie Recipes To Help You With Weight Loss And Have That Amazing Summer Body
The arrival of summer replenishes one's mind with airy fashionable dresses, ice-cream carts, refreshing drinks and most importantly curvy bikini body. But if the season is right next to your door most of you opt for liquid or no food diet and even consume unhealthy weight losing capsules in the process of shredding few kilos quickly, so with such cumbersome act, you either end up being fragile or get haunted by the side effects of pills.
Hence, for those who are willing to reduce weight for the summer purpose, we bring in few low-calorie recipes which gradually allows you to decline weight in a prominent and healthy manner.
1. Poached Egg toast, Kale, and Tomato:
Eating right food in a good portion is a key factor in reducing weight, so for the foodies who can't keep themselves off from craving yummy food, get your day started with poached egg toast, kale, and tomato. The food exactly comprises of 251 kcal with 3gm fiber and 15 gm protein while it gets prepared in approximately 10 minutes.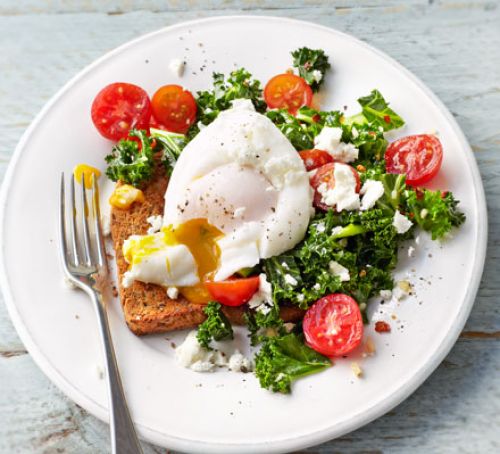 Caption: Make Kale your best buddy for the yummy breakfast.
Photo Credit: bbcgoodfood.com
For the preparation of this meal, you need 100g ready-chopped kale, one crushed garlic clove, two tsp oil, two slices multigrain bread, 50g half cherry tomatoes, 15g crumbled Feta cheese, half teaspoon chili flakes and two eggs. From the above ingredients, we can prepare the dish for two people.
To prepare the dish firstly boil your eggs until 2 minutes and in a frying pan heat the oil on a medium flame. Add kale, chili flakes, and crushed garlic and stir the components till the kale becomes crisp and half size. Secondly toast the bread followed by placing the poached eggs on top of the toast with kale, cherry tomatoes and simply grating the feta cheese on top of it. Well, the delicious breakfast is ready to be served and your first step towards weight loss.
2. Lunch time special for veggie & non-veggie lovers:
If you miss your lunch time favorite food, Spaghetti with cheese, you can still head for your favorite food by just replacing the traditional spaghetti with the Kamut one filled with beans and caramelized fennel. So to get it done in a veggie style, all you need is Kamut® Spaghetti half box, finely chopped coriander, black olives, diced onion, salt as per your taste, one tablespoon of champagne or vinegar, vegetable broth, dried thyme, soy milk, sliced garlic clove and chicken breast (optional) or poached egg(optional).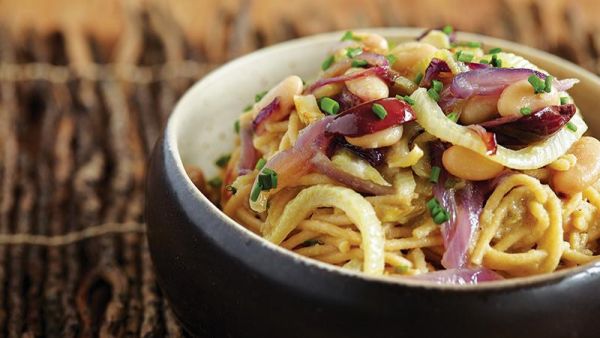 Caption: Enjoy your all time favorite Spaghetti lunch in a low-calorie version.
Photo Credit: vegetariantimes.com
Firstly, combine soy milk, fennel, broth, garlic and dried thyme in a saucepan and cook it for about 20 minutes, and after the fennel gets delicate blend it in a mixture to bring it in a puree form.
Secondly, in a large skillet, heat oil over a medium flame and add chopped onion, fennel seed, thyme and cook for another 20 minutes till the mixture gets caramelized. You can add or sprinkle water from time and often prevent your mixture from getting burnt.
Add beans, olive oil, and pureed fennel sauce. In the third step Cook your spaghetti as per the directions on the container and toss it with the prepared mixture of caramelized onion, fennel sauce and if you are meat lover add small pieces of boiled chicken breast or poached egg and sprinkle some coriander on top. The entire lunch meal comprises of 384 calories, 18-gram fiber, zero cholesterol, 9-gram sugar and 67-gram carbohydrates. Have a happy meal!
3. Diet with Blueberry cupcakes:
How can blueberry cupcakes help you get a flat shape? To be honest, yes you can indulge yourself into the cupcakes infused with secrecy. The almighty cupcake is the mixture of coconut, mashed potatoes, blueberry extracts and fluffy frosting. The cake comprises of 206 calories, 47 g carbohydrates, and 16 mg cholesterol.
To prepare this magnificent piece, you require 45 minutes of a time interval. With the ingredients like coconut extract or vanilla extract, large egg, cup canola oil, granulated sugar, salt, baking soda, baking powder, ¾ of flour, ¾ cup whole-wheat pastry flour, Yukon Gold peeled and diced potato, nonfat buttermilk, and 1 cup blueberries, fresh or frozen blueberries.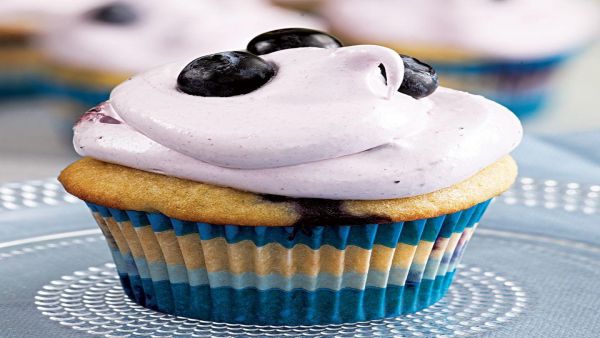 Caption: Blueberry cupcakes with a secret infusion of coconut.
Photo Credit: eatingwell.com
For the frosting, you require granulated sugar, water, dried egg whites, cream of tartar, a pinch of salt, blueberry preserves or jam and coconut extract or vanilla extract.
Firstly, Preheat oven to 350°F and line 12 ( ½-cup) muffin cups with paper liners. Boil the potato and mash the potatoes after it gets cooked and keep it aside. Then whisk whole-wheat flour, ½ teaspoon salt in a medium bowl, cake flour, baking powder and baking soda.
In a big bowl, beat granulated sugar, oil, egg, extracts and mashed potatoes and add buttermilk. When the mixture gets blended well, divide the batter amongst the blueberries cup and bake the cupcakes for around 25 minutes till the center of the cakes is clean. While for the frosting you can prepare it in your traditional style with the given ingredients and place it on the cupcakes.
4. Dinner with Asian fused chicken salad:
After taking in all your favorite food, your dinner should be light. Eating soup or fruit salad or vegetable salad and chicken salad are some best alternates which can be taken as your night meal.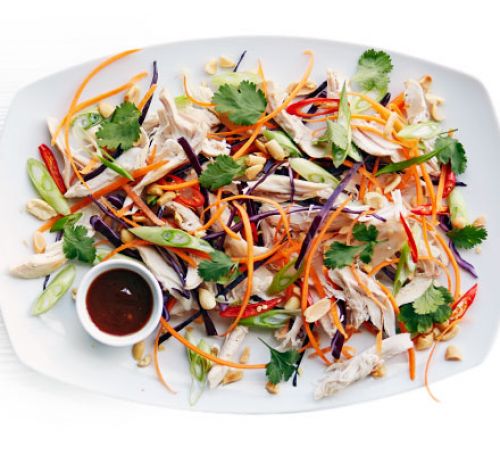 Caption: Asian chicken salad with loads of veggies.
Photo Credit: bbcgoodfood.com
For the Asian fused chicken salad, you need small roasted chicken, finely grated carrot, sliced red cabbage, finely sliced spring onion, thinly sliced red chili, roughly chopped coriander, roasted peanuts, hoisin sauce and toasted sesame oil.
In a mixing bowl get all the dressing ingredients, i.e., hoisin sauce and toasted sesame oil.
Secondly, put the boneless chicken in a container. Then add cabbage, carrots, spring onion, chili, and coriander. Toss the dressing into the mixture and mix it well and add peanut while serving the salad on the platter. This salad is extremely healthy for it contains 352 calories, 5g fiber, and 29 g protein.
Well, in between meals make sure you eat right portion of fruit and nuts, and if you are a tea lover, you can replace your regular coffee and tea with green tea. In the process of eating low-calorie food don't forget to drink ample amount of water for the study states that water plays a significant role in reducing few kilos from your body. So, girls this summer go more for airy and light meals rather than fried foods and if you want a curvy figure for attractive appearance to make sure you get your exercise job done properly every day.