LifeStyle
13 Exquisite Plus Size Swimsuits! From Stylish & Sexy To Budget Friendly
Summer is back on!
So is the heat and the desire to plunge into the cool water to soak off sun's heat. While summer is knocking on the door, you may be looking for a perfect swimsuit to bring out figure and comfort to aqua-zone.
If not right, finding a perfect swimsuit can turn into a nightmare, which might fail to deliver the style and comfort you desired.
Worry not, for we have compiled 13 modish and budget-friendly plus size swimsuits all at once!
1.) Patterned Swimsuit
The fully lined shaping nylon swimsuit with sculpting effect on the tummy, hiding the extra fats can be a perfect choice for this summer.
And the line comes with safety too!
Wrapover top along with padded cups keeps you on the safe side with an adjustable shoulder strap.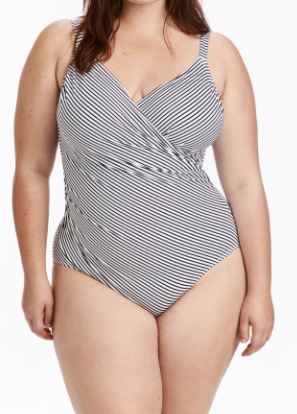 White lined Patterned Swimsuit (Photo: hm.com)
Available in grey, black and red, you can grab the line just for $34.99 at H&M.
2.) Lined swimsuits with shoulder straps
If padded cups are "a must" on your list, you might want to bring this stylish line home.
Lined with racer back and concealed elasticated suit below the bust gives you all the comfort. And the extra four arrow shoulder straps braided at back adds dimensions to your outfit and style.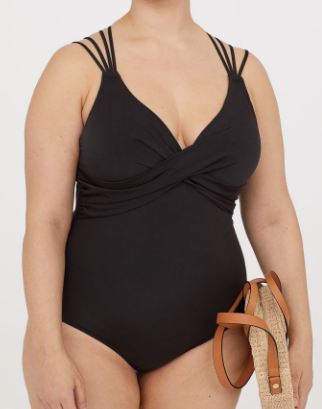 Black swimsuit with shoulder straps (Photo: hm.com)
And above all, you can order for $39.99 only!
3.) Off-the-shoulder Swimsuit
Looking for something unique in the basket?
Brace yourself for the fully lined swimsuit with elasticized top section and ruffle extending over arms, which can definitely make stand out in the crowd.
The suit is provided with padded cups along with detachable and adjustable shoulder straps.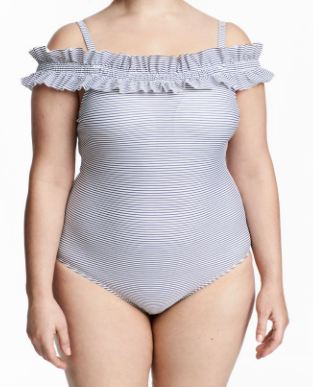 Off-shoulder patterned swimsuit (Photo: hm.com)
The eye-catching design is just for $49.99, which does not disturb your budget-expenses too!
4.) Swimsuit with Flounce
Are you a fan of flowers?
Then, this swimwear is just for you!
Fully lined floral printed swimsuit with lightly padded cups and a V-neck with ruffle trim extending over shoulders speaks style and comfort at best. The adjustable shoulder straps are crossed at back is a bonus to the perfect outfit.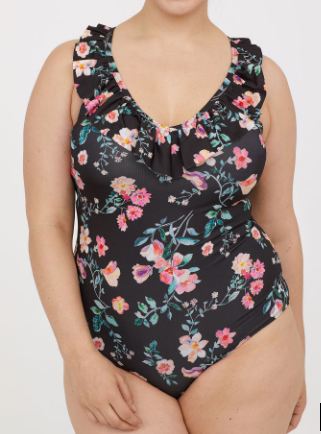 Ruffled V-neck swimsuit in floral print (Photo: hm.com)
And above all, you can add it to your collection for $34.99 only.
5.) Haltered Shaping Swimsuit
Who says florals and style can't meet in a swimsuit?
This next item is every answer to both, florals and style. This fully lined swimsuit with triangular cups and removable inserts gives sculpting effect on your tummy.
Wait, there's more!
The swimwear has wide straps to tie at the back of the neck.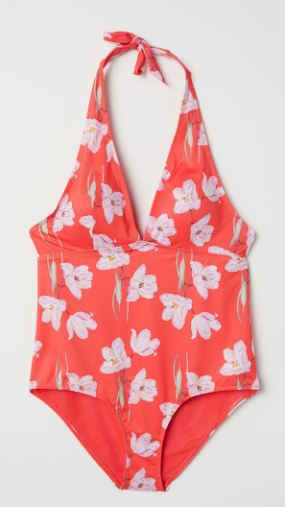 Red haltered floral print swimsuit (Photo: hm.com)
Replace your old swimwear with this new one just for $39.99.
6.) Mesh Bikini Top
Talk about adjustable cami straps and style lines across the bust, this wetsuit-inspired bikini top has it all!
The swimwear also features a zip front closure consisting of mesh inserts towards the hem and contrast trim with an elasticized hem.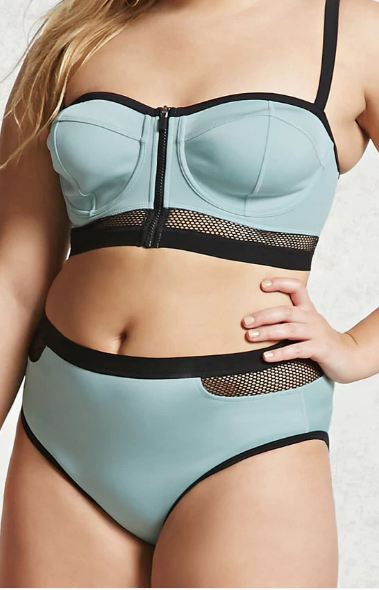 Mesh Bikini Top and Bottom (Photo: forever21.com)
You can get your hands dirty with just $19.90.
7.) Cutout Mesh Swimsuit
No color defines sexy and stylish as black!
Well, this black one-piece swimsuit ace in everything. Featuring waist and back cutouts with mesh panels and an adjustable shoulder strap can make your whole summer sexy.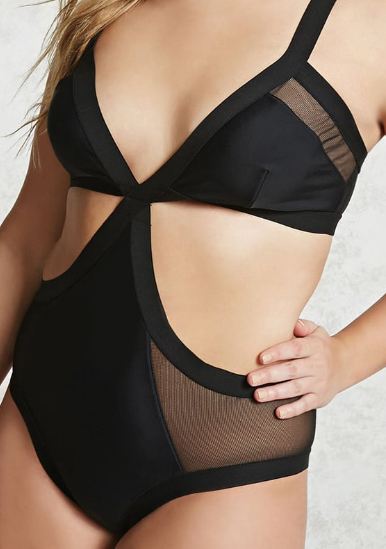 Black cut-out mesh swimsuit (Photo: hm.com)
You can fit into sexy swimwear for just $29.92.
8.) Crochet Bikini
The bikini top featuring a crochet lace overlay with V-neckline and removable padded cups. The adjustable shoulder straps aids in comfort and a back hook closure. The crochet laced overlay bikini bottom with high-rise fit.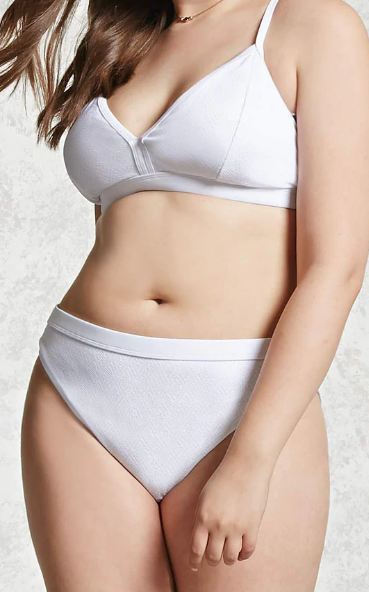 White Crochet bikini from forever 21 (Photo: forever21.com)
You can get bikini top and bottom for $15.00 each. Doesn't it sound budget-friendly?
9.) Tie-Front Bikini Top
Searching a perfect top to fit black bikini bottom?
This knit bikini top might just be what you are looking for. Featuring a sweetheart neckline, lightly padded cups along with removable cami straps, and a self-tie front, this suit can make your summer sexy and stylish.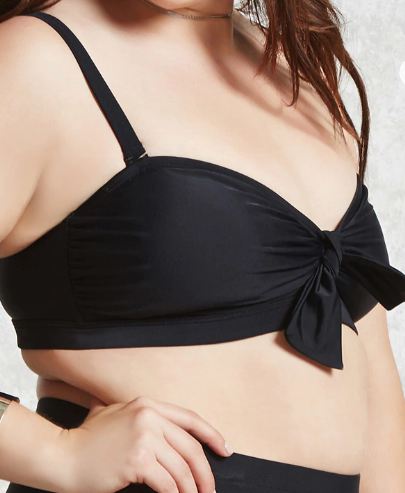 Black tie-front bikini top (Photo: forever21.com)
You can make the top yours in just $15.00.
10.) Mint Border X-Back Swimsuit
Some prefer showing off their waistline while some likes it better under the suit.
For the ones, who like covering their waist, comes the mint bordered swimsuit with most coverage. Coverage along with comfortability is guaranteed.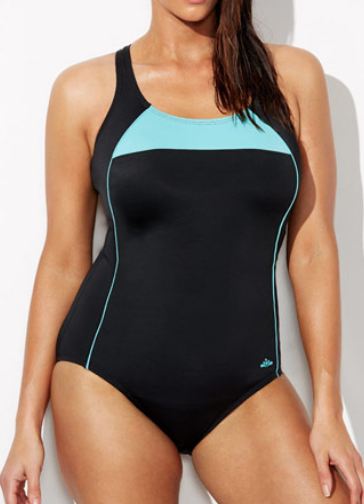 Mint bordered cross-back swimwear (Photo: swimsuitsforall.com)
The X-Back bikini can be grabbed for $42.90.
11.) Cerise Swimdress
The Cerise swim dress with a built-in one piece and soft wore free cups along with fully encircled power mesh tummy-control lining. It provides comfort and coverage at the same time.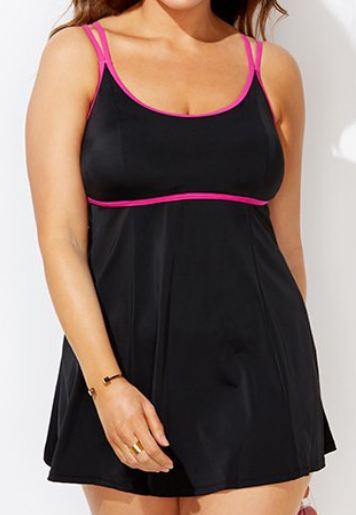 Cerise Lingerie Swimdress (Photo: swimsuitsforall.com)
The suit is priced $46.80.
12.) Retro Navy One-piece Swimsuit
Blue can be the next cool!
Retro Navy One-piece Swimsuit can be your piece, decorated with banded waist, striped bottom, and ruffled legs. The vintage-inspired swimwear might style you enough to steal your fellow beachgoers' attention.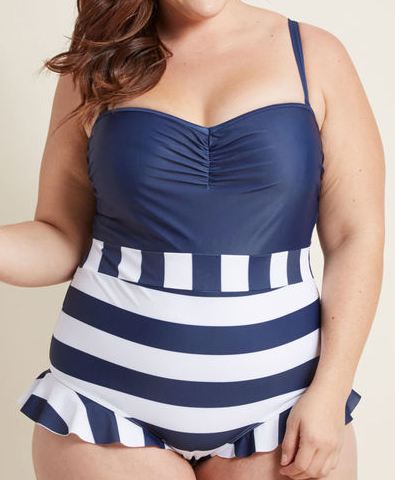 Navy one-piece swimsuit (Photo: modcloth.com)
This unique suit can be yours for just $75.00.
13.) Swimsuit in Royal Velvet
The Royal Velvet swimwear is a retrofit with a flattering side ruching and low-cut legs, which you can't help but wow. Well, flaunt your flair for vintage fashion without hesitation with this bold look.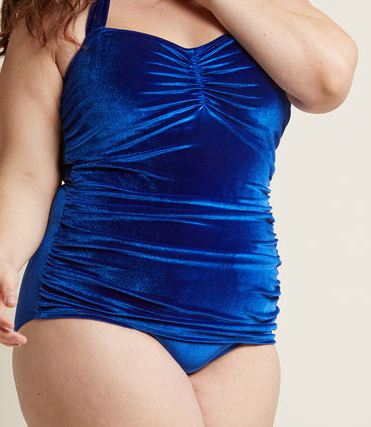 Royal velvet retro swimsuit (Photo: modcloth.com)
The suit can be bought at ModCloth for $89.90.