LifeStyle
Top 5 Pretty Tattoo Designs For Girls
Tattooing has become a huge fashion these days. It is an attractive form of body art and most importantly, there are abundant varieties of tattoo designs to choose from to ink your body. Also, the tattoo has been effective to hide the scars of a body that people prefer to get inked than undergo an operation as surgeries are more expensive than a tattoo.
If you are female and if you are thinking about getting a tattoo, you have come to the right place. Here's a list which provides top 5 awesome tattoo designs for girls. Choose one for yourself from these top and eye catching designs to decorate your body!
Cherry Blossom:
The Cherry Blossom design is one of the most sought after designs among the women. It is the symbol of feminine power, beauty, and independence. It also represents female love and sexuality. Girls get this design to show their independence in life, to enhance their beauty, and to show a positive change in life. The design is gorgeous and considered as the favorite tattoo option by most of the girls. You can ink this beautiful Cherry Blossom on your ribs, wrist, and ankle.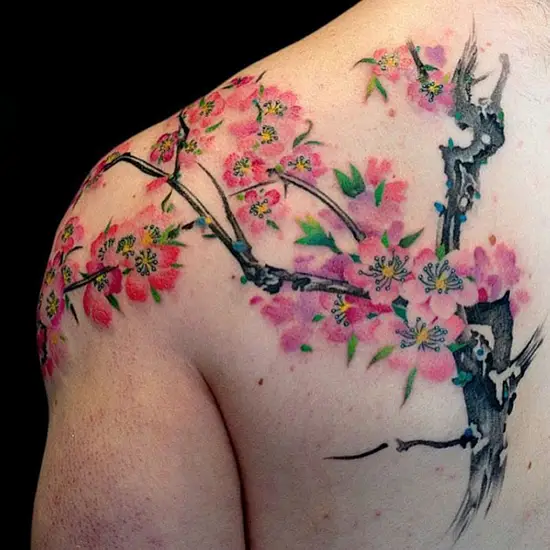 Photo Credit: fabulousdesign.net
Butterfly:
The butterfly is one of the most common tattoo designs among all the designs. Especially, butterfly tattoo design is very famous among young girls. If you're getting your first tattoo, then Butterfly design can be the best choice for you. The design is very less spaced but charming. This beautiful design is also considered as the symbol of beauty and love. You can ink it on your back & lower back, upper arm, shoulder, abdomen or foot.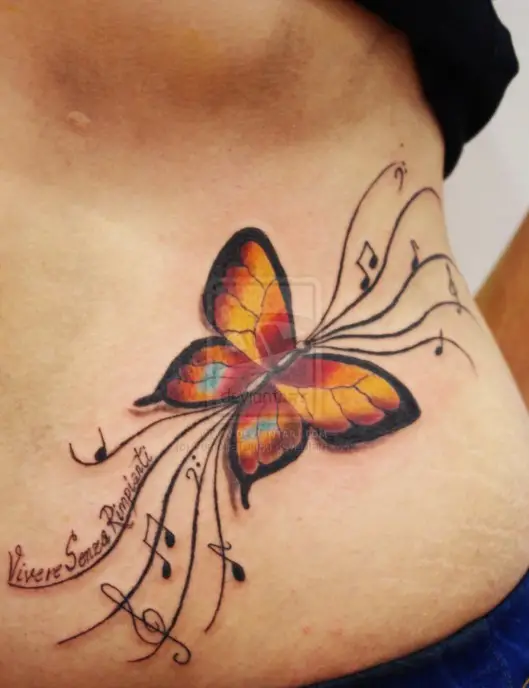 Photo Credit: tattooesily.com
Rose:
Rose tattoo design is very popular and famous after the butterfly and cherry blossom. It symbolizes the goddess of love. The design looks beautiful as the rose itself is a very exquisite flower. The color of the rose gives different meaning, according to its various color. The design is colored as per need. You can ink it on your wrist, arm, neck, back or wherever you want.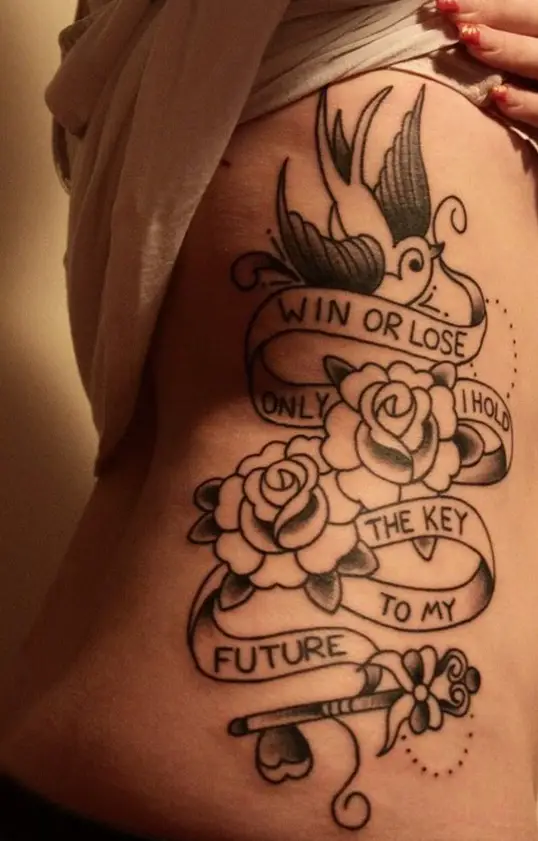 Photo Credit: tattooeasily.com
Dreamcatcher:
Dreamcatcher Tattoo is the best tattoo for you if you believe that it will help you to protect from all the negative, evil and bad auras. It is believed that a dream catcher filters out all bad dreams and allows only good thoughts and dreams into our mind. The design has become popular among the teenagers. You can also blend this design with roses to make it more unique, beautiful and meaningful. You can ink it on your wrist, back or legs.This tattoo in women's hands looks attractive.
Photo Credit: tattoo-journal.com
Text tattoo:
Text tattoo design is one of the most simple tattoo designs. The design is popular among both men and women. You can ink quotes, lines, verses or phrases, your words or the name of you and your partner.You can combine the text tattoo with other designs to make it more meaningful and beautiful. Make sure you choose a nice font for the design. They are mostly inked on the lower back or the back of the neck and fingers.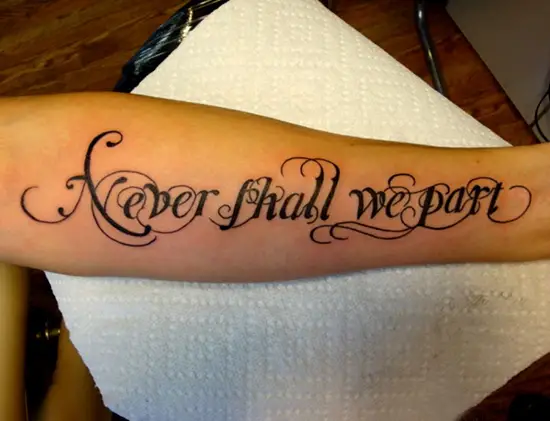 Photo Credit: itattooz.net
Tattooing is not that painful if the artist maintains the speed of your body. You should have a good sleep, a night before getting a tattoo. Consumption of any kinds of drugs, alcohol, tobacco or pain killers should be entirely avoided before getting a tattoo!!
So, you can choose one of the designs mentioned above but make sure that you won't regret it later because once you get tattooed, it will be with you for the rest of your life. Decorating your body is like painting your soul. Get one for yourself!