LifeStyle
Top five magazine racks: For Your Office And Home
Wooden Mallet 8-Pocket Cascade Magazine Rack, Mahogany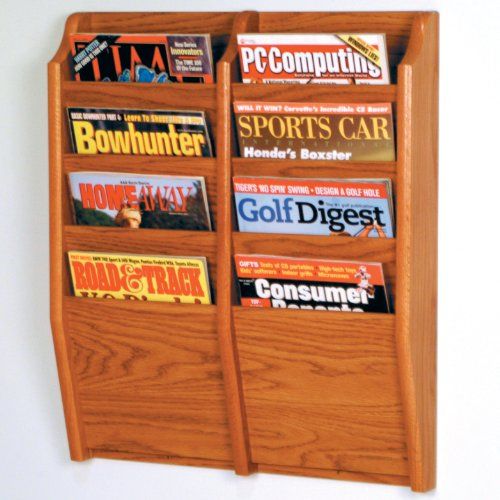 Source: pinterest.com
Worried and tired of managing the magazine, if you come to come up with the verity of the magazine either in your home or office then think of Wooden Mallet 8-Pocket Cascade Magazine Rack, Mahogany, it contains eight pocket in it so that you can manage different magazine as per their brand or categories. It will help to find and manage magazine hassle free .It is an 8 pocket magazine racks available in three design and it respective colors and they are in beam oak, focus oak, and mahogany. All the designs are well furnished with Wooden Mallet's Dakota and it comes with the warranty of one year against defect in the materials. It is the product made in the USA and it can organize you manage in the proper manner.
All-in-One Beige Wood Desktop Organizer Rack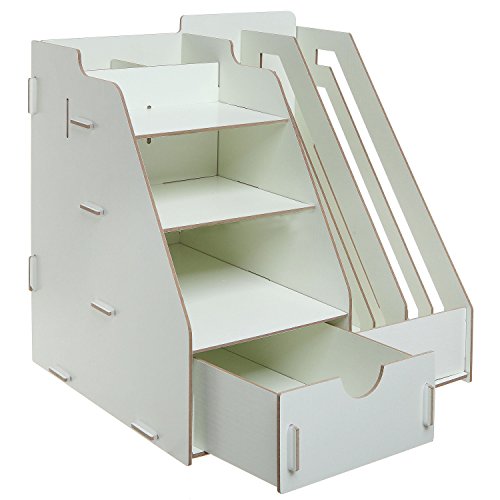 Source: flipkart.com
Thinking of arraigning all your files, magazine in one rack then all-in-one beige wood magazine organizer rack it is build up with four cabinets and one drawer and laminated with protective material from outside as it is made up of wood with a beige finish. It is also called a self-organized rack as you can organize your material yourself without any difficulties. Along with magazine you can manage your other material like a pen, pencil, sharpener important piece of paper and files in the different cabinet. It is available in three different colors as it is red, maroon and black with affordable price.
Wooden Mallet End Table with Magazine Pockets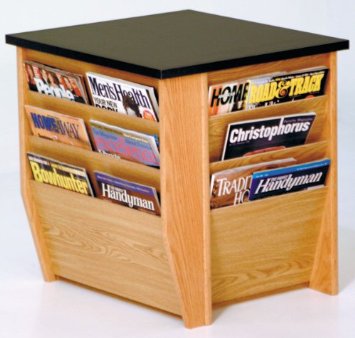 Source: amazon.com
Wooden mallet end table with magazine pockets is very beautiful and elegant deign in the present day as it famous for domestic and commercial purpose both. The unique feature in this magazine racks is it holds a black granite look top. From four side of the rack, pockets are made to keep your magazine. It will help you manage your magazine and keep it free from the cluster. It is attractive and very fancy as it attracts the attention of viewers. It is available in three different colors they are light oak, medium oak, and mahogany .
Safco Products 6461BL Onyx Mesh Floor Rack, 5 Pocket, Black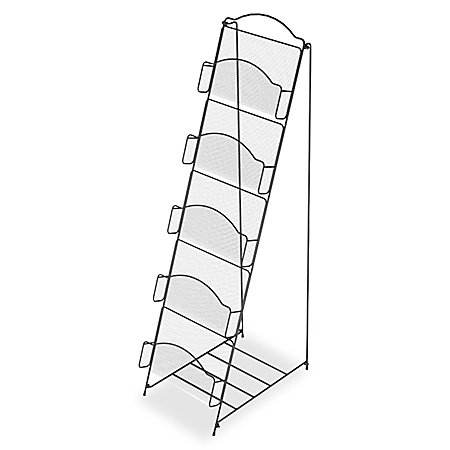 Source: searchub.com
This magazine holder which contains 5 pockets is widely used nowadays. It is made up of stainless steel and can hold many magazines and its dimension is 51.5 x 13.8 x 4.5 inches with the black backdrop. This magazine rack can be a good for you because it is easy to maintain and clean and you can easily move it from one place to another and it is durable as especial kind of powder is coated in it. In some of the rack, wheels are assembled in its legs. Al stand is bounded by the steel tiny pipe so that magazine can keep inside it. So if you are thinking of buying a Safeco products 6461BL Onnyx mesh floor rack would be better for your office.
Spectrum Diversified 37210 Seville Magazine Rack, Black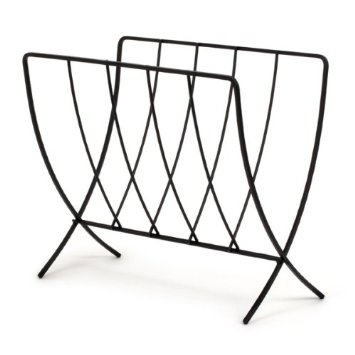 Source: amazon.com
If you want to give a unique look to your room, library or office then simply you can get a spectrum Diversified 37210 Seville Magazine Rack because it is very stylish and got a stunning look. In this rack, you can find one big pocket and the top black park is easy to clean.