News
The Bachelorette's Georgia Love and Lee Elliott are on the course to Getting Married! Are they Already Engaged?
The" Bachelorette" television show couple, Georgia Love and Lee Elliott are madly in love, and it seems that they are on the verge of getting married.
Lee Elliott was thinking of proposing Georgia but says that he is interested in doing it in the old style and wants to ask Georgia's hand for marriage to her father first. Only after getting the permission from Georgia's father, the couple would come up with further plans. He expresses this as,
"I've got the right person ... I am old school ... I want to do it right," he said.
"I will ask her dad [Chris Love] for her hand in marriage and do something special."
Georgia also said that they have discussed about their marriage and are looking forward to it.
'We certainly both want to,' she confessed.
In a recent Instagram post, Lee Elliott puts in his definition of love. Of course, the inspiration must be his love, Georgia.
George, who is 28 now, chose Lee as her partner among the other 18 men who were competing for her affection. She did it by handing the final rose on the finale show on October.
Caption: Georgia Love expressing her love and picking Lee Elliott in the touching Bachelorette Finale (2016).
Lee expressed that he was successful in winning Georgia's heart because they shared a good bond with one another from the beginning of the show and the competition for him meant 'a one-horse race.' only.
Whether the couple is already engaged or not has not found the publicity till date.
Recently Georgia had to face a tragedy. Due to pancreatic cancer, she lost her mother Belinda Love this October and is having a hard time. She then moved back to Melbourne to live with her father. In this tragic hour, Lee is doing everything he can from his part to soothe her pain.
Caption: Georgia Love is tearful while talking about her dead mother (2016).
He also worked with Pancare to raise funds against this deadly disease. He organized a fundraiser with his former Bachelorette boys in honor of Belinda Love. Georgia has become the ambassador for Pancare Australia since her mother's death.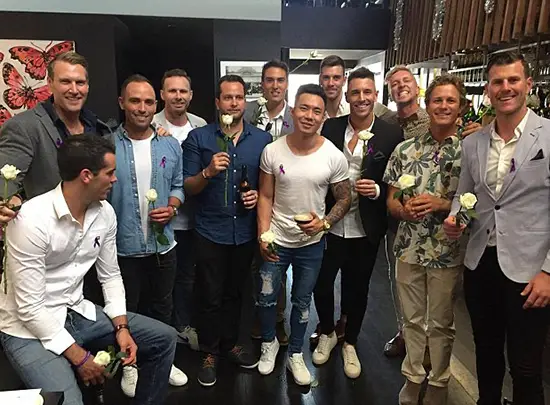 Caption: The Bachelorette boys in honor of late Belinda Love (2016).
Photo Credit:dailymail.co.uk