News
With A Bunch Of Chilren Already Behind Him, Singer Mick Jagger Welcomes Another Baby At the Age Of 73
The rock and roll legend back in the 70s seems he's still a rock star in his heart. Mick Jagger, The man, is keeping it active and alive with another child to add to his collection of children.
Thinking he had laid down the old life of chicks and booze, but yet he's still not giving up the title. Maybe not with those moves, but Mick Jagger's got himself another child to look after. Does this mean the end for the legend?
Eighth time's the charm for Mick Jagger.
He is known worldwide from his band The Rolling Stones and more for his undeniably charming swing of moves and now as the seventy-three-year-old rocker declared to his long time personal rolling stones publicist, Frank Curtis that he would father another son. Jagger's son was born in New York on the seventh of December 2016 on a Thursday. Jagger was at the hospital at the time of the arrival flying a total of 3500 miles from London to New York to be at the birth of his son. Mick Jagger gave the statement.
'He made sure he was there. He wouldn't have missed it for the world.'

Soon after the birth of their son he updated the media about the conditions of Melanie and their new-born son saying
"Delighted"
And afterward, he added,
"Mother and baby are doing well and we ask and we request that the media respect their privacy at this time."
On the 25th of August 2016, the ballerina Melanie started growing signs of a bump. Though both not being a couple, Jagger has given Melanie a hundred and fifty thousand dollars a year of maintenance for the child until the child turned to the age of eighteen.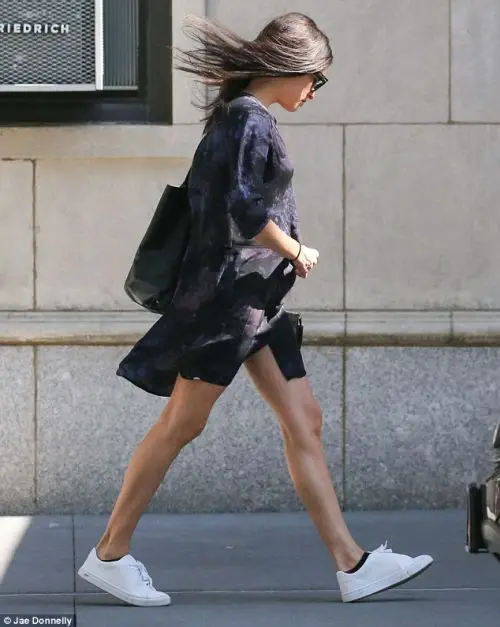 Caption: Ballerina Melanie Hamrick showing signs of the first bump of Pregnancy
Picture Credit: dailymail.co.uk
So far the age is just a number for Jagger as he seems unafraid of the fact he has eight children and two grandchildren. His wife is a twenty-nine-year-old American Ballerina. Both dated in 2014 when they announced that they were expecting a baby on July 15, 2016.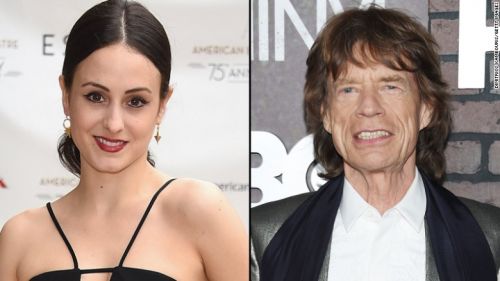 Caption: Mick Jagger(right) and ballerina Melanie Hamrick in 2016 side to side.
Picture Credit: i2.cdn.cnn.com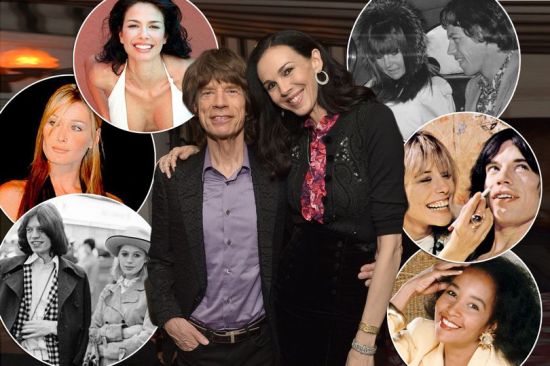 Caption: Jagger with all the women he has been with throughout his life.
Picture credit: mirror.com.uk
Jagger has plenty of women he has children with, tall, small, old and young. You name it he knows her. He has eight children with five women altogether.
The first daughter, Karis Hunt Jagger on 4th of November in 1970 with Marsha Hunt, his wife at the time.
A year later, daughter Jade Sheena Jezebel Jagger was born with wife Bianca Jagger on the 21st October 1971.
Elizabeth 'Lizzie' Scarlett Jagger was born on 2nd of March 1984 with Jerry Hall, James Leroy Augustin Jagger, a year later on August 28th, 1985, Georgia May Ayeesha Jagger, on 12th January 1992 and finally Gabriel Luke Beauregard Jagger, on 9th of December 1997.
Later on, he had his 7th child with Luciana Gimenez Morad, Lucas Maurice Morad Jagger who was born on 18th May 1999.
Finally now, Melanie Hamrick with his son born in December 2016.
It seems he wants to continue his legacy after him, so he left a lot of his offspring behind to mend what he has left. It's good to know old habits never die young.