News
She's Pregnant! Beautiful Model Danielle Lloyd is Expecting her First Child with her fiancé Michael O'Neill
Danielle Lloyd is pregnant again with baby number four. This is her first pregnancy with her electrician fiancé Michael O'Neill after moving on from her failed marriage with ex-husband Jamie O'Hara.
On February 11, 2017, The Sun exclusively revealed that Danielle is preparing with Michael to welcome their first child. A source told The Sun that mother of three Danielle kept the news about the pregnancy private until she had her three-month scan.
Opening up about the pregnancy, the source said-
"This is really lovely news for Danielle and Michael. With three boys already, Danielle would love a little girl, but she and Michael will be happy either way."
"They kept it a secret when they first found out but Danielle has had her three-month scan and they feel comfortable enough to start letting people know."
"The baby is due around June, which is very exciting. And after all the anguish Danielle has been through in recent months — ever since Jamie went on CBB — it's nice for her to be able to focus on the future."
This is Danielle's fourth pregnancy, as she already has three sons; Archie, 6, Harry, 5, and George, 3 with her ex-husband Jamie O'Hara. Danielle and Jamie married in 2012, but they got divorced in December 2014, after the report of Jamie's unfaithfulness surfaced.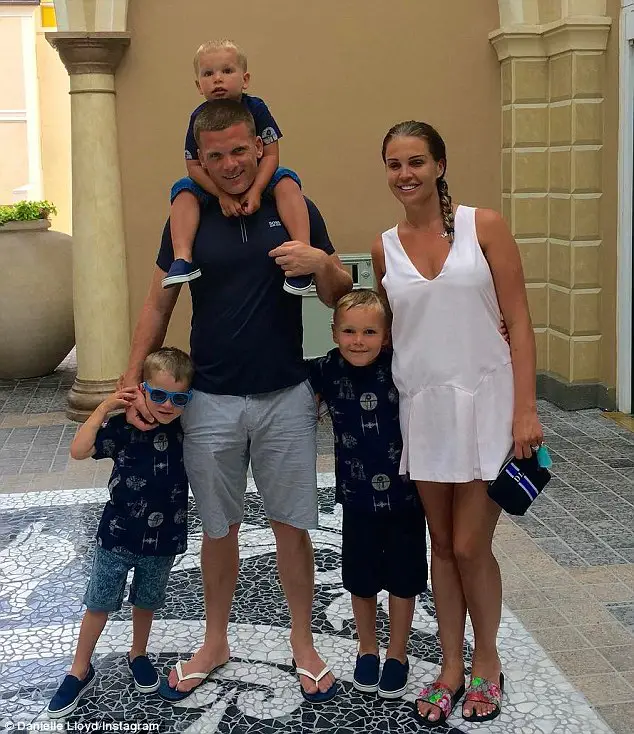 Caption: Danielle Lloyd posing with her three children along with her ex-husband Jamie.
Photo Credit: Dailymail
Danielle got engaged with her fiance Michael O'Neill on Valentine's Day last year. Michael proposed her at lavish London hotel Claridge's. On January 2017, Danielle talked to Ok! Magazine regarding the particular moment where she stated that she and Michael bought their first house together and are planning to tie the knot in summer 2018.