News
You can't hide Love! Beautiful Actress Suki Waterhouse is Supposedly Dating GOT's Star Richard Madden!
Twenty-four-year-old actress Suki Waterhouse has moved on from her past relationship with her ex-boyfriend Bradley Cooper. She is reportedly dating thirty-year-old Game of Throne's actor Richard Madden.
A source spoke to The Sun about their blossoming romance where they revealed Suki and Richard met through mutual friends and started dating each other. The source stated,
"It's early days but they've got a great connection and are looking forward to spending quality time with each other next year."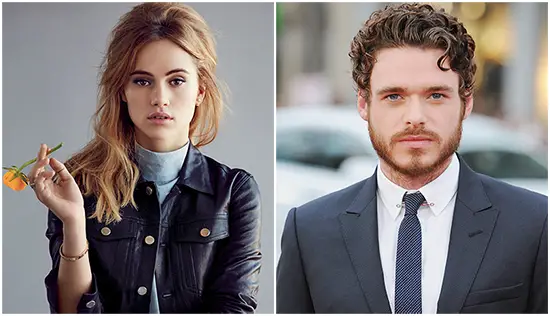 Caption: Twenty-four-year-old You can't love! actress Suki Waterhouse is reportedly dating thirty-year-old Game of Throne's actor Richard Madden.
However, Suki's friend Cara Delevingne's is not happy with her pal's new romance as she has a long-running squabble with Richard. Last year, in a TV interview, Richard accused Cara of being "seemed ungrateful" and "too difficult." Cara took no time to tweet back saying-
"I have no idea who you are but I think it's a little desperate for a grown man to be bad mouthing someone they don't know. If you really want attention that badly, try focusing on your own work and not other people's."
Richard then responded-
Suki was previously in a relationship with hunky Hollywood actor Bradley Cooper from the year 2013 to 2014. Cooper is now with Irina Shayk with whom he is expecting his first child.
Likewise, Richard was previously rumored to be hooked up with Laura Whitmore. Later, Richard and Suki linked after their mutual friend Kit Harrington introduced them.