News
WME Agent Adam Venit Indicted of Sexual Harassment by Terry Crews! View Full Report
Terry Crews is not silent anymore!
American actor, artist, and former football player, Terry Crews spilled the beans on his sexual harassment story, accusing the WME agent Adam Venit of inappropriate behavior, in an interview with 'Good Morning America' on Wednesday.
Caption: Terry Crew details sexual assault accusing Adam Venit.
Video Credit: vulture.com
Crews explained in details about the incident that took place at a Hollywood function in February 2016, when he met Venit for the first time, and as per him, their encounter wasn't so comfortable!
Terry divulged that Venit made unwanted 'inappropriate tongue movements' which he found bizarre,
"He's basically staring at me and sticking his tongue out and just [doing] overtly sexual tongue moves. I'm looking like, 'Is this a joke? I don't understand.' It was actually so bizarre."
Crews added, Venit allegedly 'squeezed Crew's genitals' along with more sexual tongue gestures when Crews attempted to shake his hand.
"I jumped back like, 'Hey, hey, dude, what are you doing?!"
But, Venit's acts didn't stop there! He groped Crews for the second time, and despite Crews backing him off, Venit continued "laughing and giggling." Crews said he felt 'horrified,'
"I've never felt more emasculated, more objectified. I was horrified".
Terry further expressed that he talked about the incident to actor Adam Sandler, who was also present at the party but, Adam too was confused about it. Crews, who thought he didn't want to be seen as a "thug," left the party with his wife after half an hour.
Before the interview, Crews uploaded a series of sixteen tweets on October 10, talking about his harassment experience, mentioning that the sexual assault scandals against Harvey Weinstein helped him to share his story as well,
This whole thing with Harvey Weinstein is giving me PTSD. Why? Because this kind of thing happened to ME. (1/Cont.)

— terrycrews (@terrycrews) October 10, 2017
Terry has now left the matters up to the court, as he filed a police report with the Los Angeles Police Department against Adam Venit on November 8. Terry recently tweeted saying he is now free on November 15.
However, Venit is yet to share his response on the matter!
Who is Adam Venit?
Adam Venit holds the position as a Head of WME (William Morris Endeavor) motion picture department at William Morris Endeavor Entertainment, LLC.
He started his career with Endeavor in 1996, and later on, the company combined with William Morris in the year 2009. Adam represents a handful of A-Lister actors like Emma Stone, Diane Keaton, Shawn Levy, Vince Vaughn, Kevin James and Eddie Murphy, and adding to the list are actor Dustin Hoffman and producer Brett Ratner, who also have been deemed as accused sexual harassers.
However, he has recently been suspended from his job after receiving a trail of sexual accusations against him.
While getting to know more about Adam, he is also a married man to wife Trina Venit, and they share four children, sons, Matthew Venit and Michael Venit, and daughters, Sarah Venit and Olivia Venit.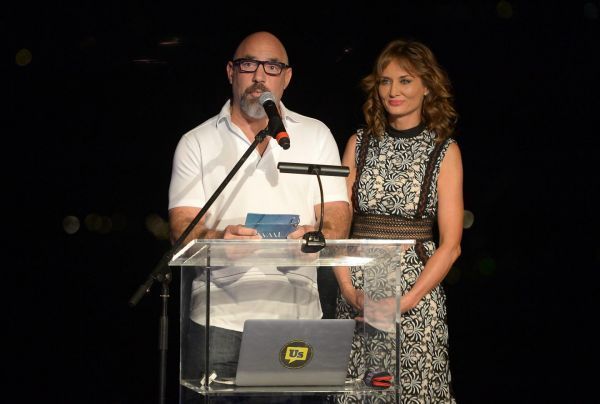 Caption: Adam Venit with wife Trina Venit at OF BY FAR Awards in 2016.
Photo Credit: newsweek.com
With accusations against Adam piling one upon another, it will be interesting to wait for the response from his wife!
Stay with us for the emerging updates on the developing story!