News
Andy Dick Was Fired From Not One, But Two Movies Citing Sexual Harassment Allegations! Report
Following accusations of sexual harassment and delinquency on set, the 'Love' star Andy Dick has been fired from the horror comedy movie 'Vampire Dad,' just days after he was dismissed from the indie movie 'Raising Buchanan.'
According to the allegations, Dick misbehaved with at least four members of the production. His contravention includes "groping people's genitals, unwanted kissing/licking, and sexual propositions."
Though two sources detailed Dick's inappropriate behavior to The Hollywood Reporter, the team was not able to reach any of the alleged victims, and it's unclear if those victims were actors or crew.
The allegations came in the wake of numerous claims against movie mogul Harvey Weinstein, Fox Business Host Charles Payne, political commentator Bill O'Reilly, Baby Driver actor Kevin Spacey, and Political Analyst Mark Halperin.
According to The Hollywood Reporter-
"Late Monday, THR spoke to Dick, who confirmed he was let go from his small role in the film. Though he vehemently denied groping claims, he said it's possible that he licked people and he confirmed that he did make advances on others."
In a telephone interview, Dick stated that he is aware of his reputation and jokingly gushed that his middle name is 'misconduct.' He explained-
"I don't grope people anymore. I don't expose myself anymore. I do understand that the temperature in the world right now is delicate."
Furthermore, Dick said-
"I didn't grope anybody. I might have kissed somebody on the cheek to say goodbye and then licked them. That's my thing — I licked Carrie Fisher at a roast. It's me being funny. I'm not trying to sexually harass people."
The fifty-one-year-old actor didn't deny that he propositioned others but claimed that he didn't grab anybody's genitals. Dick explained-
"Of course I'm going to proposition people. I'm single, depressed, lonely and trying to get a date. They can just say no, and they probably did and then I was done."
There is a long documented history of Dick's legal troubles, which includes sexual harassment and assault accusations.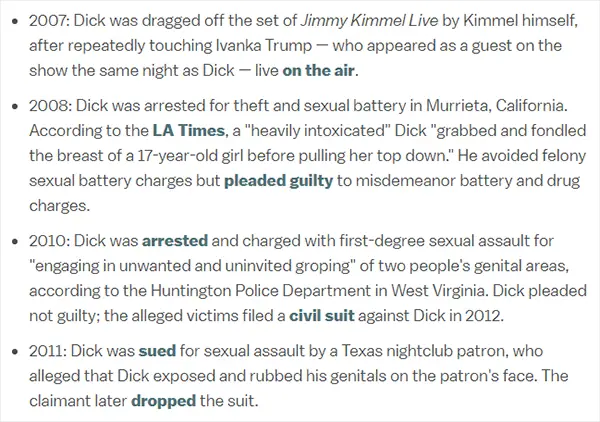 Caption: Dick's alleged sexual harassment and assault accusations which are on the records.
Photo Credit: Vox
Dick, who is known for his often controversial comedy and behavior, said that he doesn't know the difference between trying to get a date and sexual harassment. He continued-
"In the '70s, all the girlfriends I got was by kissing and licking their cheek. I don't know anymore, There were beautiful women and beautiful guys on the set. I flirt with them. I might kiss someone on the set and ask them to go to dinner. They are the ones that took it south."
Most incidents involving Dick are inevitably linked to his alcohol addiction issues, and such behaviors of Dick have reportedly been in the limelight in Hollywood for years. And yet, here he is once again, stating that he doesn't know why people are upset!