News
Annette Roque & Husband Divorce 'On The Verge'! Settlement At A Premium?
Awaited divorce finally happening!
Things have turned messier for the Dutch model Annette Roque and her anchor husband Matt Lauer since Matt got tangled in sexual misconduct scandals. It now seems like nothing can save their married life as their split buzzes the media day by day.
The problems initiated when Annette was in her third pregnancy. Annette filed for divorce in September 2006 accusing Matt for "cruel and inhumane acts." She also claimed that Matt gave more priority to his job rather than his children and wife.
But, after three weeks Annette withdrew the divorce file and continued her life with Matt.
Matt and Annette, who wedded back in 1998 after falling in love via a blind date, parent their three children: Jack, 16, Thijs, 11, and a daughter Romy, 14.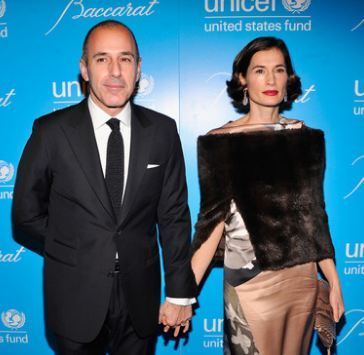 Annette Roque attends the Unicef SnowFlake Ball with husband Matt Lauer in New York back on 27 November 2012 (Photo: zimbio.com)
Things were pretty cool until Matt got fired from his job at NBC in November 2017 because of his sexual misconduct throughout 2014 with a female staffer. There were also many anonymous accusations regarding sexual harassment and assault from Matt.
Amid the scandals, Matt was also accused of cheating on his wife. Perhaps that's why, soon after the array of allegations surfaced in the media, both Annette and Matt were seen without their wedding ring despite living under the same roof.
Matt even talked about the accusations to the People in April 2018. He said that he never spoke of the allegation because he didn't want further embarrassment for his family.
Saying that he felt the need to speak up, Matt stated,
I fully acknowledge that I acted inappropriately as a husband, father, and principal at NBC. However, I want to make it perfectly clear that any allegations or reports of coercive, aggressive or abusive actions on my part, at any time, are absolutely false.
Though Matt tried to defend himself, he could not defend his marriage. And as of now, his divorce with Annette is going to cost him a hefty fortune.
One of the sources to the US Magazine claimed that Annette is seeking two of her family homes with Lauer in the divorce settlement. She also asked a one-time cash payout of $20 Million instead of spousal support. Although she won't file for child support, Matt will pay all the major expensed of their children until they are 21.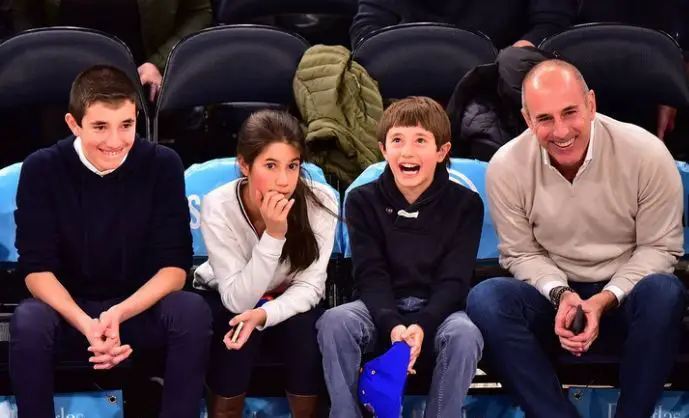 Matt Lauer attends The Philadelphia 76ers s. New York Knicks game with three children in NYC(Photo: closerweekly.com)
Furthermore, the pair will also share the profit they get from selling their New Zealand ranch. The divorce attorney Bernard Post pointed out that Matt, who was previously married to Nancy Alspaugh, could be losing fifty percent of his net worth. He has earned over $100 million with a salary of $25 million per year.