News
Baby Bliss! Meteorologist Dylan Dreyer Welcomes a Baby Boy to the Family! Came up with a Name Already?
The Today show's meteorologist, Dylan Dreyer, and her husband Brian Fichera, a cameraman for NBC Nightly News, were blessed with a baby boy on 17th December, Saturday.
They have named their baby Calvin Bradley Fichera. The baby was born at 11:52 am, and he weighed 8lbs,3oz (8.3 pounds) at the time of birth. The couple has become parents for the first time, and they are excited about parenting.
Dreyer posted on her Instagram that the baby had come at the right time and she also mentioned about the labor pain that she had to undergo during childbirth.
Husband Brian also expressed his happiness through Instagram. He expressed from now on he has to be more committed to his son. It shows that the man has already taken his share of responsibility. Way to go!
The baby came into reality after both of them wanted the same thing at the same time. She said,
"We weren't in a rush to have kids and, to be honest, there was a time when we declared we never wanted kids!"
Furthermore, she added,
"Then one day we both looked at each other and said 'I want a baby!' As usual, we were on the same page and it all just seemed right."
It was this summer, during the month of June when she announced on the morning show that she was pregnant.She also revealed that as soon as she saw the baby's image in a sonogram, he seemed to dance around and touch his hand to his face and she fell in love instantly.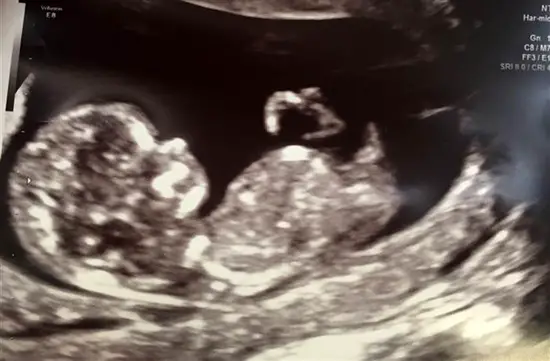 Caption: Sonogram showing Dylan's fetus (2016)
Photo Credit:today.com
As this was her first experience of pregnancy, Dylan confessed that she panicked at times, but he was able to calm her down reminding her that the baby is both of their combination and also the representation of love for each other.
This is what she said when she was in her pregnancy period,
"As a first-time mom-to-be, I'll admit I don't know a thing,"
"My husband has been excited since the day we got the positive pregnancy test. I just can't believe I'm this lucky. I am so grateful and thank God every night and pray for him to keep his angels around our little one so that he's safe and protected."
Despite her fears, anxiety, and lack of experience, the baby is finally here in good health. Congratulations to both Dylan and Brian!