News
Baby Bliss! Rosalind Ross Welcomes a Baby Boy with her Boyfriend Mel Gibson
Rosalind Ross the twenty-six-year-old screenwriter along with her boyfriend and movie Star Mel Gibson, the sixty-one-year-old has a first child together on January 20, named Lars Gerard Gibson weighing five pounds, and five ounces, the baby boy, was born at a hospital in Los Angeles on a Friday.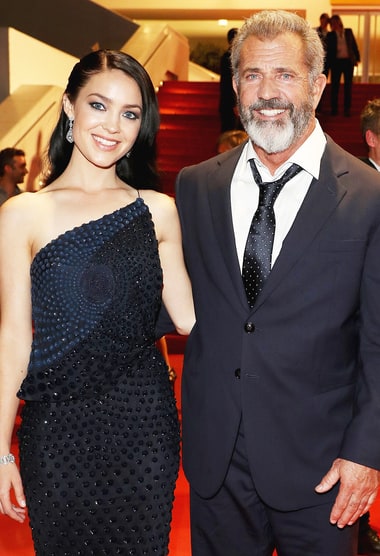 Caption: Mel Gibson and his girlfriend in the red carpet together in 2017.
Picture Credit: usmagazine.com
First baby number one and included in the basket of babies Mel already has in his arsenal this is Mel's number eighth child, welcoming their newborn baby into the world of stardom, fame, and fortune, the couple reactions towards their newborn child said by a source explained that;
"They're thrilled and Lars is adorable. Their family is all around them and Mel is over the moon. They're home and everybody is healthy and happy! She has her own life, but also seems to enjoy Mel's … They are very much on the same page."
A close friend also added
"Mel loves being a dad and he and Rose can't wait to be parents together. The last two years have been some of his happiest years he's ever had."
This is a first child for young Rosalind Ross and Mel Gibson together.The couple first met when Ross was applying for a job in Mel's production company in 2014 and unsure of when they started dating, but in two years' time, they were a regular on the red carpet. The lethal weapon movie star first announced to People when his girlfriend of two years was pregnant.
He also jokingly added in having the most children then Clint Eastwood in a conversation with him saying,
"I was talking to Clint the other day. I said, 'How many kids you got?' He said, 'Eight.' So I'm beating him."
Mel Gibson has a total of nine children (Including this one) altogether but of course, seven of which belonged to Robyn Moore, an ex-wife he divorced, Gibson and Moore separated in 2006, and their divorce was finalized in 2011 he has two daughters, Hannah and Lucia and six sons Christian, Milo, Louis, Thomas, Edward, and William. Oksana Grigorieva is the girlfriend whom he shares a daughter Lucia, seven-year-old, back in 2009 with his ex-girlfriend, Russian singer-songwriter Oksana Grigorieva with back in 2009.