News
Baby On The Way! Footballer Scott Pendlebury's Wife Alex Davis is Pregnant With A Baby Boy!
Alex Pendlebury, the wife of Scott Pendlebury, is pregnant with a baby and she is due in May of 2017. Captain of Collingwood Football Club, Scott shared his first ultrasound signs of his unborn son on Instagram on December 20, 2016, with a caption "Hey little buddy….see you in May."
Scott's wife, Alex Pendlebury, a nutritionist and Chadwick model, posted the sex of the baby with another Instagram photo of her husband when he was a child with the caption "Little SP...we will have one of these in our lives soon... It's a boy."
The post she uploaded included many congratulatory comments flooding in from family, friends, and fans of the sports industry with a sense of awesomeness such as,
The couple has been dating since 2008 and five years later, Scott finally proposed to Alex and got engaged in 2013. The couple then got married in an exotic place in Bali which included all of Scott's teammates and his coach in October 2015. They run a business together such as Progression Fitness, in Melbourne, both creating a family of fit and sporty lifestyle.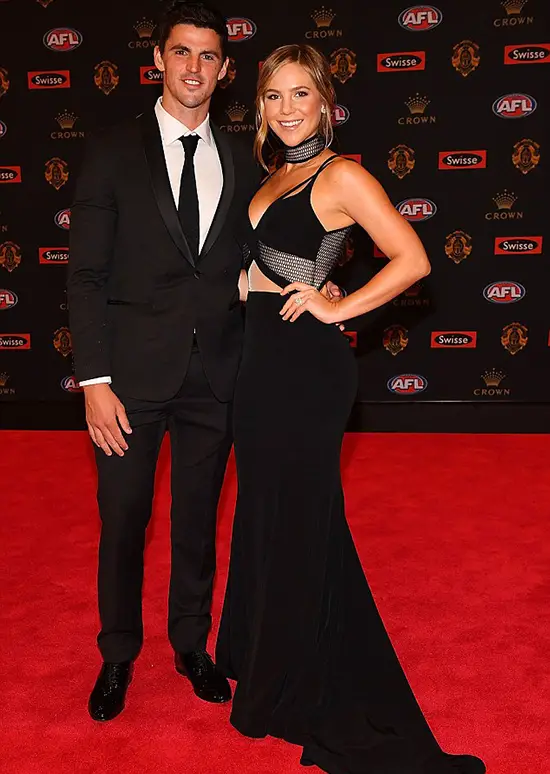 Caption: The happy couple, Scott and Alex Pendlebury side by side on the red carpet in 2016.
Picture Credit: dailymail.co.uk
Alex Davis is set to have the motherly glow about her. She might, however, have to take a break from her career and let it come down as a secondary because this is her first child, who needs attention.
We wish the couple a healthy journey to bring their sweet blessing into the world.