News
Catherine Giudici's Married Life is 'Goal'! Celebrated 3rd Wedding Anniversary With Husband With More To Come
"The Bachelor" has often produced stars and famous personalities in the entertainment field. One of those stars is the winner of the show's 17th season, Catherine Giudici.
Catherine has always been in the spotlight for her career as a graphic designer and a TV personality, but apart from her professional achievements and accomplishments, she also is a very successful family woman.
She is in a happy and close knit relationship with her husband, with whom she shares a son. Moreover, the couple is now on the way to welcoming baby number two. Today, let us take a look at this relationship between the two, which is often termed relationship goals!
The Beautiful Relationship Catherine Giudici Has With Her Husband:
Catherine Giudici is married to former Bachelor Sean Lowe since 2014. They have been redefining love and letting people broaden the meaning of love inside of them, ever since.
Caption: Catherine Giudici married Sean Lowe in 2014.
Photo Credit: people.com
The pair tied the marital knot in a beautiful wedding ceremony held in Four Seasons Biltmore Resort in Santa Barbara. Catherine, knowing her partner, well predicted that Lowe would be in tears. Indeed there were tears in the eyes of the man, who had his woman of dreams in front of him.
"As soon as I saw Catherine I started crying, I couldn t hold it in!"
The then bride also added,
"I was nervous for about 10 minutes [before] walking down the aisle, As soon as I saw Sean, I wasn t nervous anymore. It feels right."
The then groom also added that he wanted to wait until their marriage to be involved in physical intimacy.
"My faith is so important to me, Our family was founded on it. And [now], tonight will be a very special night for the two of us!"
If you think that all of these is not enough to prove how loved up they are; well this will. The vows they exchanged is out of this world and is sufficient to make everyone's hearts melt.
Catherine told Sean at the altar,
"The first time that I saw you, you were like a light to my bug. I had to find you. You mesmerize me with how brightly you shine," "Sometimes I feel like I'm going to explode by how much I love you … I'm completely consumed by you … I promise to love you after my heart bursts … You are my dream and my reality."
Sean then said,
"From the moment I met you I wanted more. You had me hooked from the beginning and I didn't want to let you go, We met in the strangest way possible … I know that we met on The Bachelor so that I could fall in love with my best friend … Every day I am encouraged by your love and your selflessness … I'm going to love you for eternity."
Adding to the occasion, after some months of their wedding, the couple announced Catherine's pregnancy.
Soon after, they welcomed their first child, a baby boy, Samuel Thomas Lowe, on July 2, 2016. Lowe took over Twitter to share his happiness seeing his junior arrive in this world.
God is good! We had a healthy baby boy named Samuel Thomas. Thank you everyone for your prayers and support!

— Sean Lowe (@SeanLowe09) July 3, 2016
The then new mother also took over her Twitter to share her joy.
I'm in love with another boy, my son Samuel Thomas Lowe ????

— CatherineGiudiciLowe (@clmgiudici) July 3, 2016
Catherine also took over her Instagram a couple of days after her son's birth to share how much she was in love with her newborn.
Sean also kept on gushing about his love for their child.
Someone get me some cargo shorts and Crocs quick. I'm digging the dad life.

— Sean Lowe (@SeanLowe09) July 5, 2016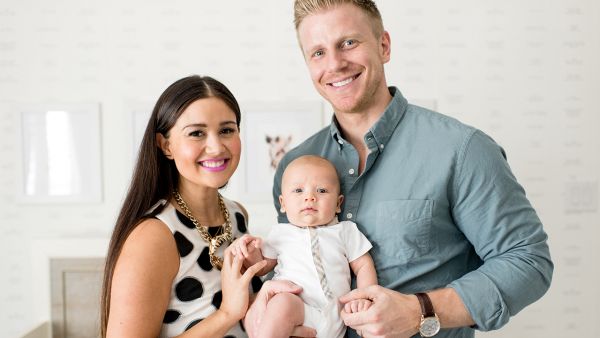 Caption: The adorable family picture of Catherine and Sean with their son Samuel.
Photo Credit: etonline.com
Becoming parents and enjoying parenthood seems to have brought them even closer to one another.
Additionally, now the couple has also made it public that they have plans for baby number two.
Back in late 2016, the pair revealed their plans with Catherine saying,
We want them to be close together. I'm not pregnant or anything, but it's definitely important that we knock it out! My sisters and I are really close in age, and that's something that I loved … experiencing a lot of the same things. So we're hoping that the next one just gets to be best friends with Samuel. … [I'll probably get pregnant] early next year, in the next 6 to 8 months.
Sean too added,
2017 or 2018 is a fair bet we'll have another kid come along!
The two are adding up to their love with yet another child soon. So let us hope that the couple comes forth with the happy news of Catherine conceiving.
Regardless of when the gorgeous lady conceives, she has utmost love for her husband and vice-versa. Making it evident is the instance; when the couple celebrated their three years of marriage.
Sean took over his Instagram to share how lucky these three years have proven to him.
Catherine shared an equally adorable post over on Instagram.
Let us take a look back at the video of their beautiful marriage, to congratulate them on the happy occasion, even though we are way late.
Caption: Sean Lowe and Catherine Giudici's marriage video.
Video Credit: usmagazine.com
We hope that the love between them just keeps getting better and stronger with time!
Catherine Giudici was born in Seattle, Washington to her parents, Carey and Cynthia Mejia-Giudici. She is of Filipino, Italian (her Swiss ancestors are thoroughly responsible for her Italian name) & Scottish descent sharing a mixed ethnicity.
Think we missed something? Do let us know in the comment section below!