News
Model Chloe Ayling Opens Up About Her Kidnap by 'sex slavery gang' in Italy, Reveals She was Going to be Sold on Dark Web
Glamor model Chloe Ayling recently went public about her terrifying experience of being kidnapped and almost being sold to the dark web for sex slavery.
The model, who went to Milan for a supposed photo shoot arranged by her agent, found herself in the car trunk, inside a bag with just a small hole to breathe.
The model, age 20, revealed the fact that she was held captive in a small house group members of an alleged sex trading group called Black Death.
She, fortunately, was released just because she was a young mother and it was against the rule of the organization for such trade.
The Kidnap!
The kidnap took place when the aspiring model was asked to come near an abandoned shop near Milan's Central station, by the criminal group, only to be later grappled and injected with a dose of a drug called Ketamine and transported to Borgia, an isolated village near Turin.
She visualized the scene and stated,
"A person wearing black gloves came from behind and put one hand on my neck and one on my mouth to stop me from screaming. A second person wearing a black balaclava gave me an injection in my right forearm. I think I lost consciousness. When I woke up I was wearing a pink bodysuit and the socks I am wearing now."
After gathering consciousness, the model realized that she was in the boot of a car.
"I realized I was in the boot of a car with my wrists and ankles handcuffed, adhesive tape on my mouth. I was inside a bag and was only able to breathe through a small hole."
The actress, who arrived in Britain in her home four weeks ago on July 17, acknowledged the work of police of both nations for contributing in her safe rescue. She said,
"I'm incredibly grateful to the Italian and UK authorities for all they have done to secure my safe release. I have just arrived home after four weeks and haven't had time to collect my thoughts. I am not at liberty to say anything further until I have been debriefed by the UK police."
Police claimed that the model release came after finding out that she was a young age mother to two-year-old.
Before learning that, the kidnappers tried to sell the model for more than $300,000 and demanded the same price for her freedom.
The Kidnappers!
From the case, a man named Lukasz Pawel Herba of age 30 got arrested, as he was accompanying the model when she got delivered near the British Consulate.
According to police, Herba confessed that he was involved in the crime and also that before knowing that Chloe was a young age mother, he negotiated her release price to around $65,000 (£50,000).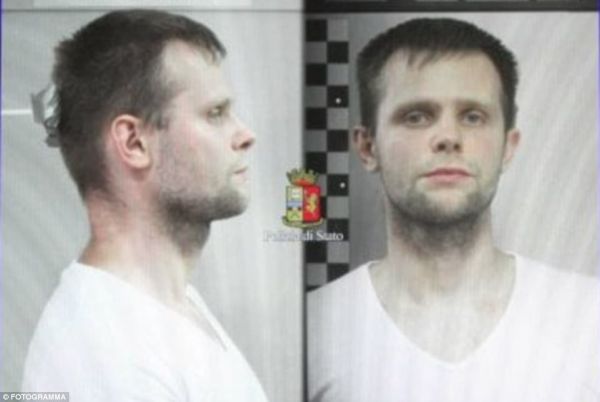 Caption: Lukasz Herba - A 30 years old man involved in the kidnapping of glamor model Chloe Ayling
Picture Credit: Dailymail
After investing a computer belonging to a gang member, authorities found a letter from the sex trader group Black Death, mentioning that her release was an act of gratitude and that she should never speak ill of the group or any of the members.
The letter also included a notice that she should pay the agreed negotiated amount of £50,000 thorough BitCoins in one month or she gets eliminated. The letter read the following,
"You are being released as a huge generosity from Black Death Group. Your release does, however, come with a warning and you should read this letter very carefully. You are certainly aware of your value on human slavery market (sic) and must make a note that this isn't personal, this is business. For your release we have taken a number of factors into consideration.
It also mentioned,
A mistake was made by capturing you, especially considering you are a young mother that should have in no circumstances be lured into kidnapping. Second important factor (sic) you are very well aware of is your overall protection by one of our main and very well respected men who made a very clear and solid stance in your case.You will, upon your landing in your home country cease any investigation activities related to your kidnapping. You also agreed to sneak a pre-determined set of information in to the media and we will expect to see evidence that has been done in the near future.
The letter additionally stated,
You and your family will, in no way ever talk about us in bad language and without respect. You have been treated fairly, with respect and we expect to hear exactly the same about us in return. You can release any information you have heard from MO while your holding as he would never give you any information that could harm our activities. We will not tolerate lying about anything that has happened.You have also agreed to pay outstanding costs of your release of $50,000. We expect that money to be paid in BitCoins within one month. Any sort of disobedience with the above will result in your elimination."
As per the reports, two people were involved in the kidnapping, but only Herba, whose version of events is barely credible, admits that he was with her for the time she was missing.
Police are continuing the investigation to find the other member of the group who was involved in the model's kidnap.
Stay with us for the emerging updates on the story!